Reviews
Garden to Table in 417-Land
The 417-land food scene is growing in more ways than one. Several local restaurants are managing on-site gardens and serving up fresh fare to tickle the taste buds.
By Lillian Stone | Photos by Vivian Wheeler, courtesy Shutterstock
Aug 2016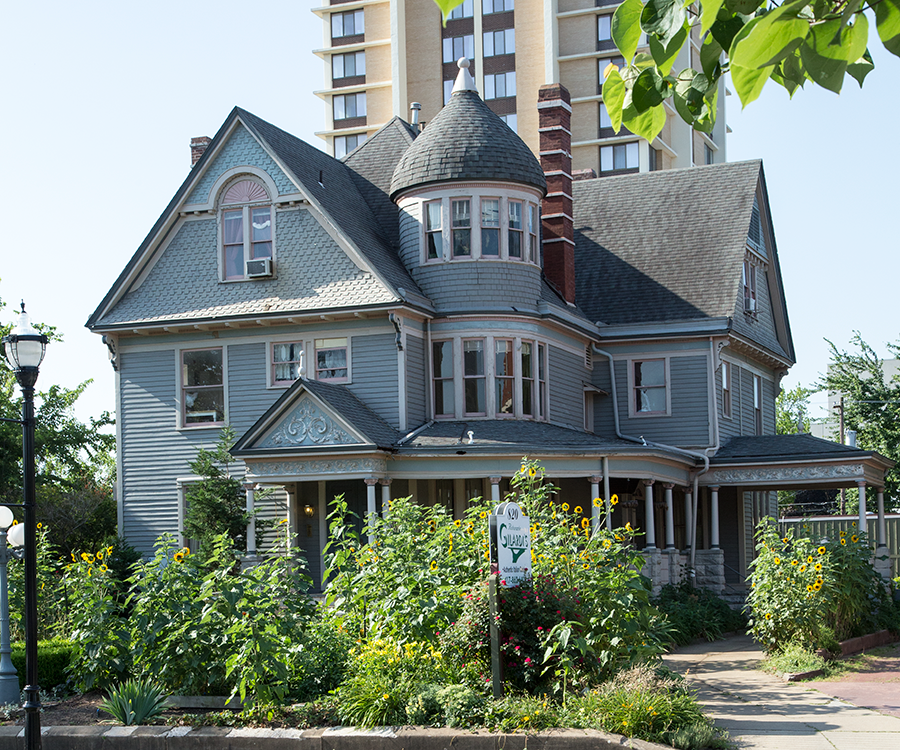 Visitors to Gilardi's are often met with a delicious sensory experience long before entering the red-walled eatery. An entirely organic garden, bursting with juicy strawberries and vibrant green stalks of garlic, grows along the restaurant's winding driveway. The garden has been blooming since 2013, when chef and owner James Martin purchased the restaurant from Nicola Gilardi. Today, the cheery patch is open to visitors, including those with dinner reservations and the occasional family of rabbits. 
Gilardi's isn't the only local restaurant growing its own ingredients—in fact, it's safe to say that 417-land is getting very fresh. Several other tasty spots around town are creating menus centered on food from restaurant gardens, resulting in homegrown fare that's sure to please the palate.
Urban Growth
Martin remembers the day he purchased Gilardi's (820 E. Walnut St., Springfield; 417-862-6400). As he signed the papers, a crew worked steadily in the yard of Grey Gables, the historic home that shares a driveway with Gilardi's. That crew set the stage for the restaurant garden that now feeds many of the restaurant's signature dishes. Gilardi's menu is largely centered on the products of the garden, as well as those of Queen City Urban Farm, also located downtown. Martin expanded the restaurant's urban gardening operation to Queen City Urban Farm in 2015. According to Martin, the restaurant needed more space to explore profitable gardening opportunities—plus the strawberries were taking over at Grey Gables, Martin says.
Queen City is housed in the lot behind Rogue Barber on Walnut Street and is now home to the majority of the produce served at Gilardi's. The impressive plot houses an abundance of produce and herbs including potatoes, lettuce and pea shoots. The plot is currently sustained with a small amount of city water—only about one 8-gallon tank every two weeks—but Martin would like to move toward a solar-powered garden completely fed by rainwater. The garden at Grey Gables, which grows many of the herbs used in the restaurant's dishes, is closer to that goal. That garden is sustained mostly by rainwater, only requiring the use of city water in the driest summer months. Martin takes pride in the organic operations at these plots and recommends the restaurant's signature Eggplant Milanese for those interested in getting a taste of the fresh picks at Gilardi's.
Green Gastropub
Farmers Gastropub (2620 S. Glenstone Ave., Springfield; 417-864-6994) chef and owner Andy Hampshire grew up around his grandparents' homegrown goodies. According to Hampshire, when his grandparents grew tired of dairy farming, they began growing mushrooms in their dairy barns. Today, he continues the family tradition at Farmers Gastropub. All of the restaurant's herbs are grown on-site, along with some vegetables including peppers, carrots and lettuce. Gastropub's commitment to freshness has existed since Bill Griffiths opened the restaurant downtown in 2009. Hampshire says you can try the restaurant's herbs year-round. The staff serves fresh herbs until the last freeze when they dry the herbs to be used during the winter. Want a taste? Try the Scotch eggs, which are served with sage and thyme.
A Slice of Freshness
Chef and owner Jacob Moschner of Parmesan's Pizzeria (14608 MO-13, Kimberling City; 417-739-3999) began growing his own ingredients two years ago. Why? "Everything is better fresh," Moschner says. Today, the Kimberling City pizzeria grows tomatoes, peppers, herbs and other fresh offerings from organic seed. Moschner runs an outdoor growing space for his produce with the help of a gardener. To  keep his veggies growing year-round, he also operates a hoop greenhouse. Any produce not grown on-site at Parmesan's, Moschner purchases at local farmers markets. The majority of the produce is used in salads, Moschner says. We recommend getting a taste of the homegrown tomatoes in Parmesan's caprese salad. The veggies and herbs are also used in pizza sauce and garnish.


Fresh ingredients from Gilardi's Queen City Urban Farm often make it onto the menu at the Italian eatery. Lettuce, onion and cabbage are just a few of the vegetables that are grown in the off-site garden. 
Leafy Libations
The folks at Lindberg's Tavern (318 W. Commercial St., Springfield; 417-868-8900) are proud of their herb garden, which grows on the patio of the Commercial Street landmark. Lindberg's co-owner Eric Weiler says the herbs are both beautiful to look at and convenient to use. The garden has been producing green goodness for four years with a focus on innovative herb-garnished cocktails. The herbs are grown on a seasonal basis, allowing Lindberg's to craft herb-infused cocktails in the late spring and summer. Thirsty? Try the Lindberg's Lemonade, which combines mint grown on-site with house-made lemonade and cucumber vodka. 
Getting Schooled
Chef Robert Stricklin of Dobyns Dining at the Keeter Center (1 Opportunity Ave., Point Lookout; 417-690-2146) has created a menu using products from a small army of College of the Ozarks students—students who grow a massive amount of ingredients for their own meals. Dobyns Dining is unique for several reasons: First, the gardens and farms that feed the restaurant are run largely by students interested in fields such as agriculture and culinary arts. Students contribute to the restaurant's menu in a variety of ways, growing produce, raising and slaughtering hogs, managing a dairy herd and more.
The restaurant also features a much larger volume of ingredients grown on-site, using more than 10,000 pounds of vegetables, meat, dairy and flour products annually. According to Stricklin, the garden dates back to the 1920s when the college community made its way through the Great Depression by canning its own vegetables. Today, Dobyns works to be as self-sustainable as possible. "We use everything the campus can provide," Stricklin says. Produce is used on a seasonal basis and grown year-round in a hydrochloric greenhouse. During the winter season, the greenhouse is also used to start seeds for spring. Most products not grown on-site are purchased through partnerships with local farmers.
Fire & Spice
Fire & Ice (2546 N. Glenstone Ave., Springfield; 417-522-7711), the upscale restaurant housed in Springfield's Ramada Oasis hotel, certainly has a fresh take on hotel dining. Like others in 417-land, Chef Aaron Gregory incorporates herbs grown in the restaurant's garden into the menu. 
The herbs are grown seasonally in the entirely sustainable garden, which operates without the help of city water; the herbs are watered solely using rainwater collected on-site. When the herbs are in season, Gregory enjoys using them to spice up the restaurant's various dishes. Take, for example, Fire & Ice's smoked salmon and orecchiette pasta dish, which incorporates several of the restaurant's summertime offerings including arugula, artichokes and various peppers.