Health
Live Pure Yoga Buti Yoga
Digital Director Dayle Duggins gets her glow on for a Friday night fusion of yoga, dance and positive energy.
Written by Dayle Duggins | Photos by Chuck Travers
Aug 2016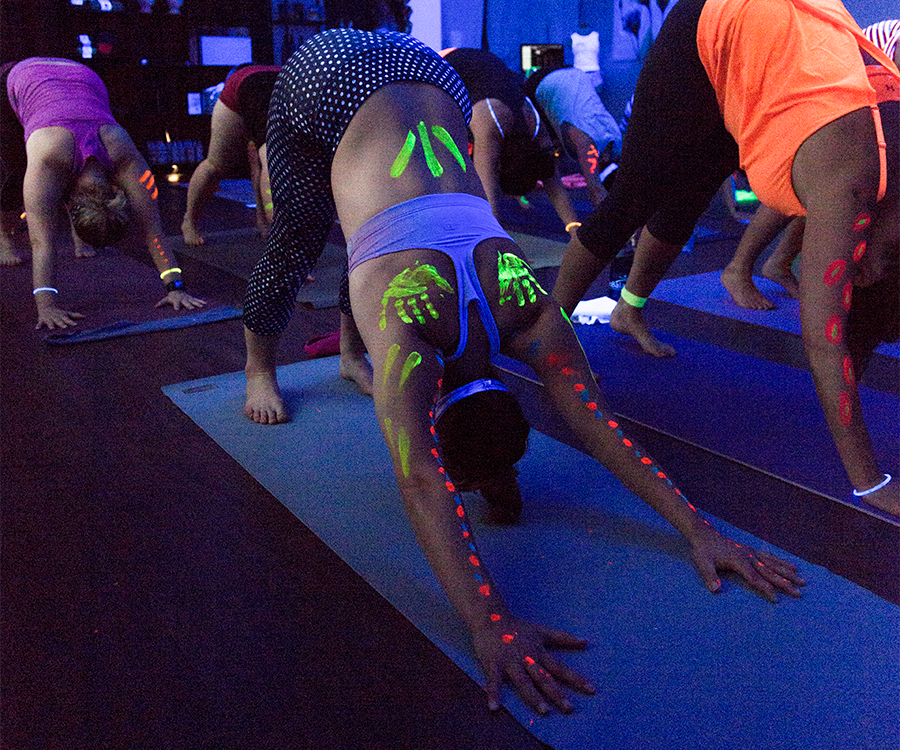 Live Pure Yoga
2208 W. Chesterfield Blvd., Ste. 105, Springfield, 724-777-3093, livepureyoga.com
It's Friday night, and my polka dot pants are glowing under black lights. Bass-rich music is pulsing as I grab a paintbrush and begin to decorate my body in fluorescent colors. I've come to Chesterfield Village to immerse myself in positive energy. 
I look like I'm ready to rave, but I'm actually here to try a class called Buti Glo Yoga. It's a yoga fusion class that combines tribal dance, plyometrics, Hatha yoga and deep abdominal conditioning. Every month or so on a Friday night, Live Pure Yoga takes the class a step further and installs black lights to create a nightclub-esque workout environment. 
THE STUDIO
I drove to Live Pure Yoga prepared to slather my body in glow-in-the-dark paint and dance my way into the weekend. Located on the first floor of the building that houses the Chesterfield Lofts, the single room studio has floor-to-ceiling mirrors at the front, cubbies along one wall, and merchandise and sunless tanning at the back. Owners Stephanie and Eric Wubbena sold their house to live above the business, which opened its doors July 5, 2015. "We made it a full-time commitment," Eric says. 
Eric spearheads the marketing and numbers side of the business while Stephanie serves as the face of the studio. Her fitness journey began as a Certified Personal Trainer and marathon runner before a hip injury sent her to yoga. After spending some time on the mat, her pain dissipated, and she was a believer in the healing nature of the practice. She became a Registered Yoga Teacher and trained under local fitness maven Mandy Vela. Vela brought Buti to Springfield in 2013, and Stephanie was hooked.
"Buti is my No. 1 jam," Stephanie says enthusiastically. "I was creatively suppressed before I opened the studio on it. It draws you in and helps you find identity. I've seen aesthetic improvements as well as improvements in communication and friendships." 
Along with Buti, which is women-only, the studio offers all levels of classes for both genders including Ashtanga, HotCore®, Vinyasa Yoga, Sculpt Yoga and Yin Yoga. There's also Hot Buti Yoga where the room is heated 90 to 95 degrees Fahrenheit.
"We have about 100 monthly members, and 125 is our max," Eric says. "After that, it'll be by invite only to keep the intimate boutique vibe of individuals who are dedicated to the practice."
Luckily, I weaseled my way into the Buti Glo Yoga class that helped raise funds for Rescue One, a local no-kill animal shelter.
THE CLASS
I rolled out my yoga mat and joined the 20-some women who were painting their and their classmates' faces and bodies. I knew I wanted to match my polka dot pants, so I got busy dotting myself with a variety of glowing colors. One lovely soul gave me some glow bracelets, which upped my Buti street cred and made me look way cooler. I noticed that the Springfield Buti babe herself, Mandy Vela, was on the mat in front of me (OMG), so I was pumped to get started.
Stephanie plopped into her spot at the front of the class, gave a quick intro and cranked up the music. Sitting on the floor in half lotus, we arched and hollowed out our backs and stomachs in cat-cow like motions. We picked up the speed as the music's pace increased before transitioning to circular movements that reminded me of belly dancing undulations. We pulsed and gyrated to the beat of the music, adding on tribal-esque arm movements that made us look like a synchronized, glowing sea beneath the black lights. I quickly realized why men weren't in the class.
Once we were warmed up, Stephanie led us through a variety of moves that we mirrored on both sides like warrior II, planks with hip circles and knee drops, mountain climbers, up dogs with side dips, side-to-side squats and more. Instead of regular, vanilla yoga moves, I'd rate these moves PG-13 and higher. It felt like a sexual tribal dance or as one Buti-goer put it, it's like you're moving through honey for an hour. 
When the pulsing squats and lunges felt like they were going to burn our buns off, Stephanie was right there with us, encouraging us to "Get that booty down!" Some sassy soul from the back of the room shouted, "Oh, it's down!" After the bum-burning sequences, we'd transition into downward-facing dog with a Buti shake to loosen up our hamstrings and glutes. We weren't twerking, but there were jiggling similarities. Buti has signature moves that consist of foundational yoga poses and dynamic, fluid freestyle motions that instructors make up based off of their playlist's tempo. And as any exercise class-goer knows, music can make or break a class. Stephanie's playlist included Zhu and SBTRKT—two of my favorites—so I was feelin' myself. The fast-paced class flew by, and before I knew it, the hour-long class was nearing an end.
We cooled down and ended the class with three synchronized taps of our palms on the floor to unite as a tribe of women. Girl power!
THE EFFECTS
Because Buti isn't super high-intensity, I wasn't dead the next day. I work out on a regular basis, but my core is probably the area I neglect the most, so I did feel the effects a bit in my invisible six pack. 
The euphoria I felt immediately after Buti made the biggest impact on me. I felt refreshed, relaxed and kind of zoned-out talking to Stephanie and Eric after the class. Maybe that was the opening of my second and third chakras as Stephanie would put it. "It really unleashes my creative side and allows me to connect energetically with women," she says. "We get to dance together in Buti bliss, which is feminine energy." 
Although I don't feel like I got the moves down perfectly in my first Buti session, I felt like I did a pretty good job. Some of the Buti goddesses in the front row (Stephanie and Mandy) made all the moves look easy and gave me something to aspire to and try to replicate. 
"A lot of women come in the first and second times and say their body doesn't move that way. Then, the third time you're Beyoncé," Stephanie says. Let's just say I left feeling like Beyoncé after my first time. My abs felt like hers, too.