Dishes
Fried Tofu at Thai Peppers
Plus six other things that passed the test of our taste buds.
By The Editors
Dec 2013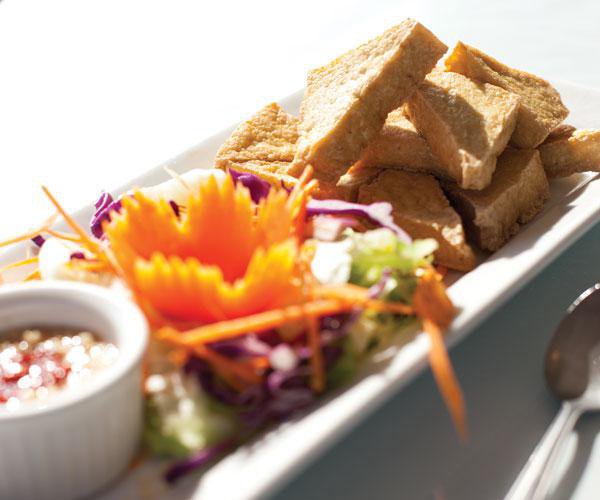 1. The fried tofu triangles at Thai Peppers (1411 E. Sunshine St., Springfield, 417-882-1979) are the perfect piping-hot treats to dunk into the restaurant's sweet dipping sauce. We can't get enough.

2. We can't stop swooning over the beet and barley salad at Aviary Café & Creperie (400 E. Walnut St., Springfield, 417-866-6378). Fresh arugula is topped with roasted red and yellow beets, nutty barley, creamy feta, tart pickled onions, and a bright citrus vinaigrette.
3. Lately we've been enjoying the Paige Veggie Wrap from 3 Corner Bar & Grill (400 South Ave., Springfield, 417-720-1018). It's a tortilla filled with delicious roasted eggplant, feta cheese, tomato, lettuce, onions and either hummus or baba ghanoush. We recommend the baba ghanoush—just go all the way with the eggplant goodness.
4. Legacy Bagelry (3049 S. Fremont, Springfield, 417-501-1345) makes some of the most authentic New York–style bagels we've had in 417-land. Don't miss the everything bagel with asiago cheese—a tasty combo! Top it with homemade schmear. Perfection.
5. The chicken tandoori at Gem of India (211 W. Battlefield, Springfield, 417-881-9558) features tender chicken marinated in yogurt and spices and baked in the tandoor. Bonus: It comes with delish grilled onions.
6. Chocolate cobbler at Dobyns Dining Room at The Keeter Center (1 Opportunity Ave., Point Lookout, 417-690-2146) comes to the table oh-so-warm with a luscious chocolate sauce. It's true love, served in a cast iron skillet.
7. The bread service at Roma's Italian Restaurant (911 Kenneth St., Nixa, 417-724-1000) is one of our favorites. The huge homemade rolls are soft on the inside and flaky on the outside with a salty-cheesy-herby seasoning sprinkled on top. They are beyond addictive.