Recipes
Fail-Proof Mashed Potato Recipes to Serve on Your Holiday Table
Step up everyone's favorite Thanksgiving and Christmas savory staple with a fail-proof mashed potato recipe and tips from Executive Chef Robert Stricklin.
By Savannah Waszczuk
Dec 2014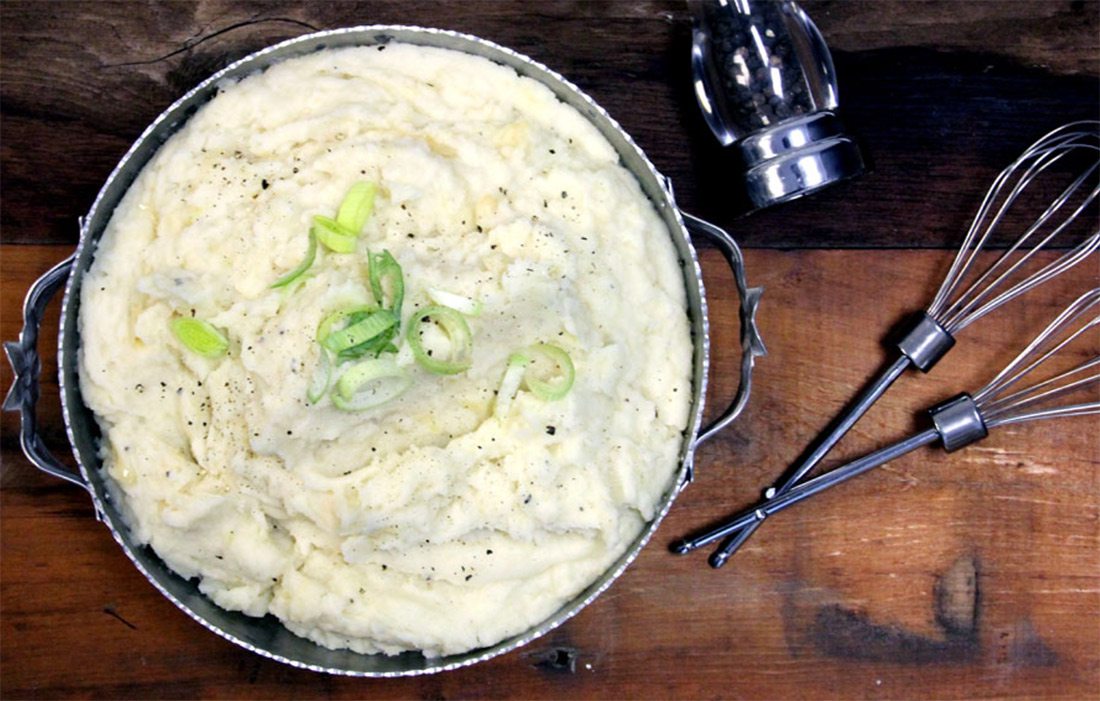 Sometimes in life, the things that should be the simplest turn out to be the most difficult. For me, this applies while trying to make homemade mashed potatoes. 
The weirdest thing about this is that I'm no stranger to the kitchen. In fact, I love cooking, and I'm always preparing meals for my friends and family. But when it's time to make that beloved savory side, I fail, every single time. 
Since temperatures outside are dropping, and mashed potatoes are the perfect comfort food, we thought it was an ideal time to turn to a pro. The mashed potatoes at the Keeter Center at College of the Ozarks are as creamy and dreamy as they come, so we asked Executive Chef Robert Stricklin for a few tips on how to successfuly whip up this much beloved side dish.
"Russet potatoes have a mild earthy texture and are light and fluffy," Stricklin says. "They are high-starch potatoes. When they're cooked, their cell structure opens up and allows them to soak up milk, butter and air. Russets are ideal for mashing." 
If you're a fan of mashed potatoes with a little consistency, reach for the white variety. "These potatoes are medium in starch and slightly sweet with thin skins, so they are ideal for mashing with the skin on," Stricklin says. And if you have the same problem that I have—your mashed potatoes turn out gummy—monitor your mixing. "The cells rupture during the mashing process and release more starch," Stricklin says. "As more cells become ruptured, the mashed potatoes become gummier. For the best results with plain mashed potatoes, I would use a potato ricer to mash them."
Next time you tie on your apron and prepare this savory staple, take the advice of a pro. Chef Stricklin shared a tried-and-true mashed potato recipe (below), and we shared three tasty variations, including his family's favorite: Swiss-style mashed potatoes.


Recipe from Executive Chef Robert Stricklin, The Keeter Center at College of the Ozarks
Ingredients
4 pounds Russet potatoes
Kosher salt
1 cup milk
4 tablespoons butter
Freshly ground black pepper
To Prepare
1. Peel the potatoes, and cut them into 1-inch pieces. 
2. Place potatoes into a pot of cold water. Add a big pinch of salt, and place the pot over high heat. When it comes to a boil, cook the potatoes until just cooked through, approximately 20 minutes. 
3. Once potatoes are finished cooking, drain them in a colander, then place them back in the pot and let them dry out over low heat. (The potatoes absorb water, too, and this dries the water back out.) 
4. In a small pot over low heat, add the milk and butter. Heat until the butter melts. 
5. Mash the potatoes with a potato masher and break up lumps, and season with salt and pepper.
Variations
Swiss-style Leek Mashed Potatoes
Sauté the white parts of two leeks in butter. Stir sautéed leeks and one tablespoon of chopped garlic into potatoes after mashing.
Pepper-swirled Mashed Potatoes
Saute 2 chopped red peppers and 1 teaspoon thyme leaves in olive oil, covered, until tender. Puree, then swirl into potatoes after mashing.
Bacon-Cheddar Parsley Mashed Potatoes
Cook ½ pound bacon until crisp, then crumble the bacon. Replace 2 tablespoons of butter from the Classic Mashed Potatoes recipe with 4 tablespoons of the bacon drippings. Fold in a handful of the crumbled bacon, a ½ pound of grated sharp cheddar cheese and ¼ cup each minced parsley and scallions. Top with remaining bacon.