Recipes
The Only Thanksgiving Stuffing Recipe You'll Ever Need
Dressed to impress! Fresh, local ingredients and a few simple tricks are all you need to make the perfect Thanksgiving stuffing.
By Vivian Wheeler
Nov 2017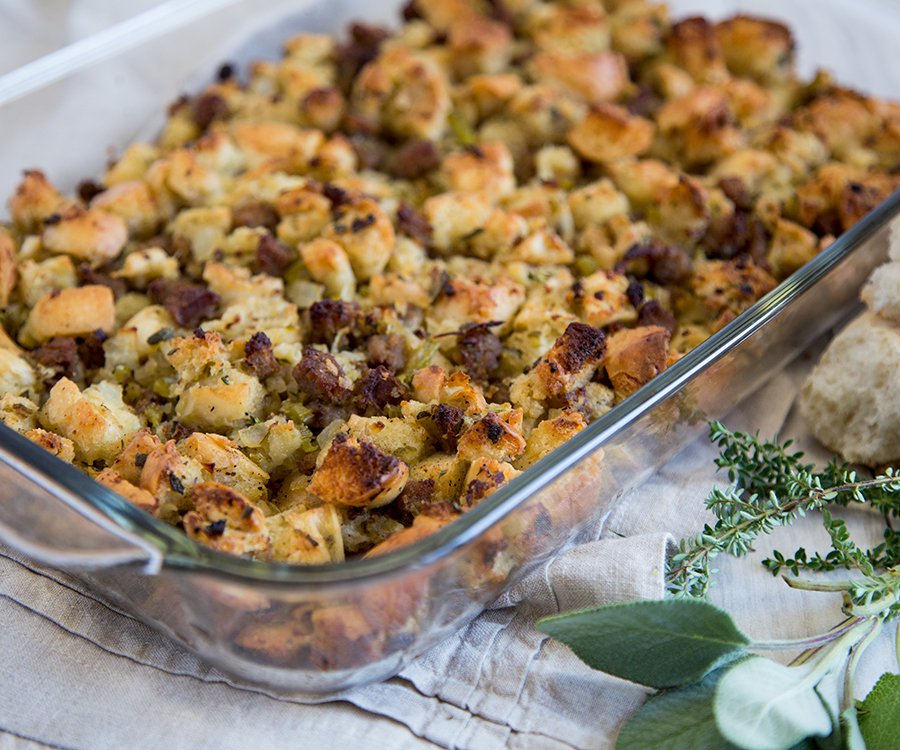 If you're anything like us, when it comes to Thanksgiving dinner, stuffing—not turkey—is the true highlight of the meal. What's not to love about a big pan of simple carbs gussied up with vegetables and herbs and soaked in poultry broth? However, as with most traditional holiday dishes, there are a thousand recipes floating in the culinary ether, and it can be tough to separate the wheat from the chaff. We did the hard work for you and crafted a stuffing recipe from local ingredients that is not only delicious but fail-proof.
First things first, technically what we're talking about here is dressing, not stuffing. Stuffing is made by—you guessed it—stuffing the mixture into the turkey and baking it. The problem with this method is by the time the stuffing reaches a safe internal temperature, the turkey meat is overcooked. The good news is, dressing is easier to make, and by following a few simple steps, just as good.
When making a dish as simple as dressing, the key is to use fresh, high-quality ingredients. Because bread is the bulk of the dish, it's crucial to start with a great product for your base. We love the French baguette from Artisan's Oven for its crusty outside and soft inside. It's a perfect blank canvas. For sausage, Circle B Ranch can't be beat. This small Seymour farm uses sustainable and humane practices to raise heritage breed pork. The hogs are free-range, and they graze and root for most of their food. Circle B Ranch has several varieties of sausage, but for stuffing we like the German-style brats because their simple flavor does not overpower the other ingredients.
When it comes to preparing the bread, take the extra step and oven-dry it. Oven-dried bread stands up better to liquid than naturally stale bread, and the resulting texture is moist but not soggy. Another bonus that comes from baking the dressing is that the top of the dish gets nice and crispy, which creates a textural contrast to the soft inside. Making homemade broth is another step you don't want to skip if you can help it. Do yourself a favor the next time you roast a chicken for dinner and save those bones to make a batch of broth to freeze. It's worth the extra work, but in a pinch, store-bought broth will work just fine.
Depending on how the growing season went, you might be able to find other dressing ingredients locally, so we recommend swinging by one of southwest Missouri's farmers markets and checking on what's available before you hit the grocery store. MaMa Jean's Natural Market typically has a variety of fresh herbs. Stock up on all the fresh ingredients you can find; your tummy and your guests will thank you.


Ingredients
10 cups of Artisan's Oven French baguette, cubed
1½ cups onion, finely chopped
1 cup celery, finely chopped
½ cup butter
2½ tablespoons fresh sage, diced
2½ tablespoons fresh marjoram, diced
2½ tablespoons fresh thyme, diced
½ teaspoon celery seed
1 can beer of your choice
¾ pound Circle B Ranch German sausage 
3 cups chicken broth 
Salt and pepper to taste
To prepare
1. Preheat oven to 200ºF.
2. Spread bread cubes evenly over baking sheets. Bake for 10 minutes.
3. Check to see that bread is sufficiently dried. If not dry, toss cubes and put back in the oven for five minutes.
4. While bread is drying, cook sausage in a large skillet with half a can of beer until cooked.
5. Pull sausage from pan, slice into rounds and then quarter the rounds. Set aside in a large bowl. Drain any remaining beer.
6. Melt butter in a large skillet. Sauté onions and celery until tender.
7. Add spices and sauté for another minute then add mixture to bowl.
8. Mix all ingredients together and add broth slowly until moistened but not too wet.
9. Bake at 325ºF for 40 minutes.