Style
JaxKelly Jewelry
A Five Pound Apparel customer favorite, the JaxKelly jewelry line embodies the importance of small business and passion for creative design. With earrings and pendants, these handmade accessories wow in style and their impact on community.
Written by Peyson Shields | Photo by Brandon Alms
Dec 2016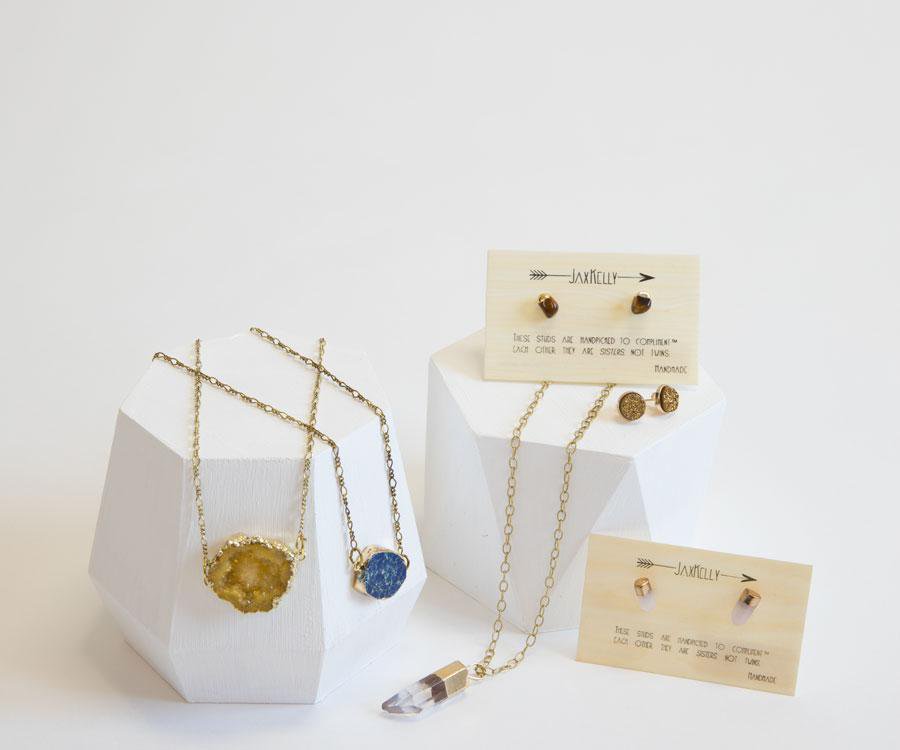 Whether your favorite accessory is a pair of earrings, a necklace or daring bangles, there's no doubt that jazzing up your look with jewelry expresses your personality. In true Five Pound Apparel fashion, when that accessory has a story, they can't stay away. 
"JaxKelly began two years ago when a woman in San Diego started hand-making jewelry to sell at farmers markets," says Five Pound assistant manager Amber McGuire. 
The jewelry is made with tumbled stones, quartz points, geodes, gold-dipping, silversmithing and more, and McGuire says the earrings and pendants are right up Five Pound's alley. The store, which sources brands that do good for the world, was attracted to JaxKelly due to its style and commitment to the place it got its start.
"We love that JaxKelly's jewelry is made by hand in the U.S., and that a percentage of profits is reinvested in the San Diego community," McGuire says. "And of course, we love the designs—from the products to the cool, eco packaging."
"Each piece is one-of-a-kind, and pairs of earrings are called 'sisters,' not twins," she says. McGuire says the uniqueness of the jewelry is parallel to the person wearing it. For people ages 15 to 95, and all the years in between, the subtle pieces can spruce up any outfit. "Some of these are definitely statement pieces," McGuire says. "Some are more understated and delicate, perfect for every day. But just about everything can be styled bohemian or glam."
Even though this isn't a 417-land product, most agree that this local store supporting the essence of community—whether it's close to home or in a city miles away—is something to get on board with.
"I love that JaxKelly began with one inspired woman who values family, community and creativity," McGuire says. "I love the simplicity and natural beauty of her designs, and that each piece is so different, like its wearer."