Health
Physique Thighs & Assets
Digital Assistant Lillian Stone works her Thighs & Assets at downtown boutique fitness studio Physique Fitness.
Written by Lillian Stone | Photo by Kevin O'Riley
Dec 2016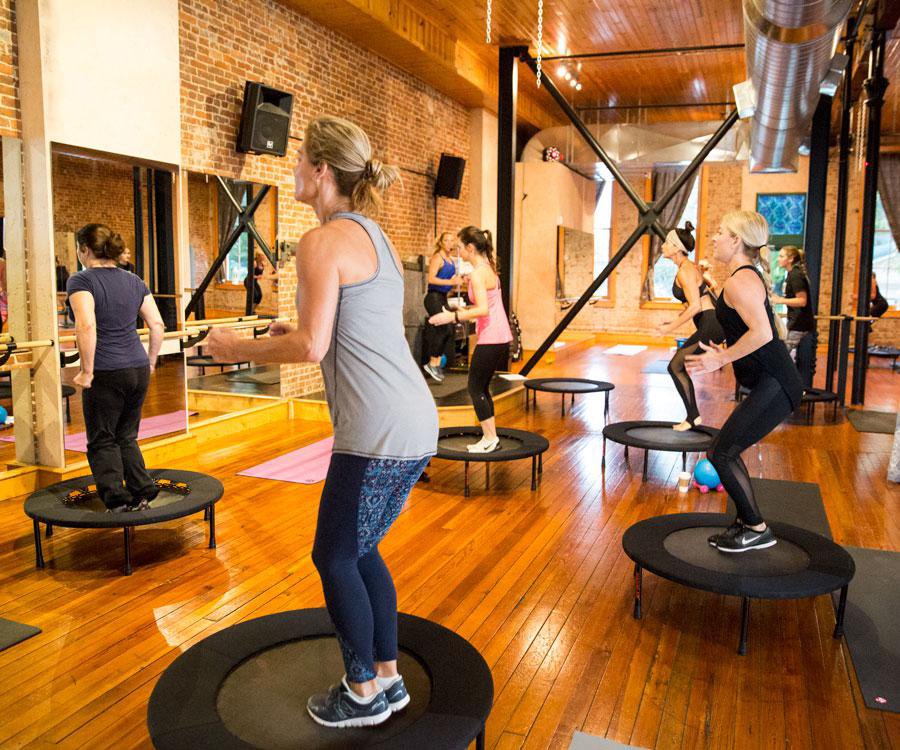 Exercise can be very unpleasant. There is sweat. There are smells. There is physical discomfort. Thankfully, boutique fitness studios are working to transform a traditionally yucky experience into something sleek, client-focused and more exclusive than ever before. I headed to Physique Fitness in downtown Springfield to get a look into the boutique fitness movement at the Physique Thighs & Assets class.
THE STUDIO
Physique specializes in innovative, high-intensity classes to keep members looking and feeling great. The studio offers classes seven days a week, including some "happy hour" classes at a discounted rate for non-members. Located just off of Park Central Square, Physique exemplifies the revival of downtown Springfield. Its design combines restoration hardware elements like lofty brick walls and towering ceilings with undeniable glam to appeal to its largely female clientele. The space maintains the building's history while softening its rougher elements with cascading drapery and plush lounge furniture. The restrooms are fully stocked with soft towels, perfume and other primping tools. Physique's lobby also houses a small boutique, which features high-end gym attire, candles, essential oils and more. Before class, I waited in the lobby among smiling women sipping bright green, chlorophyll-infused water. Very trendy. Overall, the vibe at Physique is friendly, upbeat and definitely more glamorous than my sweaty runs in the park.
Lillian Stone bounces to the beat at Physique Thighs & Assets, an upbeat class to get the heart pumping and the booty burning.
THE WORKOUT
Physique's website describes Physique Thighs & Assets as "an upbeat class that will get your heart pumping and your butt burning." Members utilize personal-sized trampolines, or rebounders, for low-impact cardio during each 55-minute session. I was, admittedly, pretty nervous going into the class. I've been neglecting my thighs and assets as of late. The idea of spending time on a small trampoline also filled me with dread. I imagined myself accidentally bouncing too high, zipping over the heads of tightly toned women and flying out of the nearest window. Regardless, I laced my tennies up extra tight and walked into the studio, ready to sweat.
The room was filled with Physique members who lined the space with rebounders and yoga mats for floor exercises. I set up my equipment, and our instructor, Jennifer Wallace, walked me through a few moves. She's been teaching at Physique for almost two years, and she's an absolute pro on that tiny trampoline. Jennifer gave me a few rebounder tips while we were still safely on land. The key to most of the high-flying moves was staying "zipped up"—keeping your limbs in tight and making your movements purposeful for good form. Staying low helped with that and really brought out the booty burn. Jennifer went on to explain that the class would be divided into four rebounder sessions and four floor sessions. The rebounder sessions each last about four minutes, focusing on low-impact, booty-burning cardio. The floor sessions focus on sculpting moves to tone small muscle groups.
We mounted our rebounders, shoes on for stability, as the tunes started bumping. We did a few jumping jacks to warm up, then cycled between moves like high knees, tight ski jumps and bunny hops to really get our hearts pumping. I began to feel the burn almost immediately, but the women around me were all smiles, so I geared up to push it to the limit. Keeping up was easy for the first two rebounder sessions. The last two were more of a challenge after my legs started to quake a bit, and I really had to work to keep my movements tight and on the beat.
The class concluded with a wicked ab workout highlighted by a set of monstrous V-Ups.
One word to describe the class: upbeat. When things got really tough, the ladies would hoot and holler to keep the good energy flowing. The music was crazy-good, making it easier to keep my knees up to the beat. We moved to the floor after each rebounder session, but there were no squats or lunges in sight. We cycled through moves like modified leg lifts and donkey kicks, complete with killer sessions of tiny pulses. The class concluded with a wicked ab workout highlighted by a set of monstrous V-Ups. Everyone breathed a sigh of relief as class ended. We were invited to spend a few minutes relaxing in silence as Jennifer dimmed the lights for a quick restorative session. We all received cool cloths soaked in essential oils, and we settled into a collective deep stretch to celebrate a job well done.
Lillian Stone works her core with a relentless ab workout toward the end of the class.
THE EFFECTS
Leaving Physique, I had several thoughts. One, it's obvious that classes like Thighs & Assets do the trick, because the women at Physique look incredible. Two, you might expect a studio with a seemingly flawless clientele to put off a stuffy vibe. Not so—Physique owner Darby Brownfield is the kind of gal you want to befriend immediately. Entering the studio, you can feel a wave of warm, friendly energy. Physique's instructors are definitely tough, but they're endlessly supportive and encouraging. Simply put, Physique is the kind of place you go to find your girl squad.
I definitely felt the impact the next day. The workout had activated parts of my buns and thighs that hadn't been worked in a while. And, while parts of the rebounder sessions felt absolutely torturous, I found myself wanting more. That's the effect that a Physique workout has. Regardless of frustration, soreness or a stressful workday, you'll want to come back for more. Physique's boutique appeal makes you want to strap on a pair of cute leggings, grit your teeth and get sweaty with an army of like-minded ladies. Why? Because it feels good and you deserve it. I think that's really the core of boutique fitness—the firm belief that you deserve self-care. Everybody deserves to look and feel awesome, and that belief resounds daily at Physique Fitness.