Profiles
Metropolitan Farmer in Springfield MO
Chef Wes Johnson returned to 417-land to take the helm at Metropolitan Farmer, the farm-to-table phenomenon once located at Farmers Park.
By Matt Lemmon
Feb 2014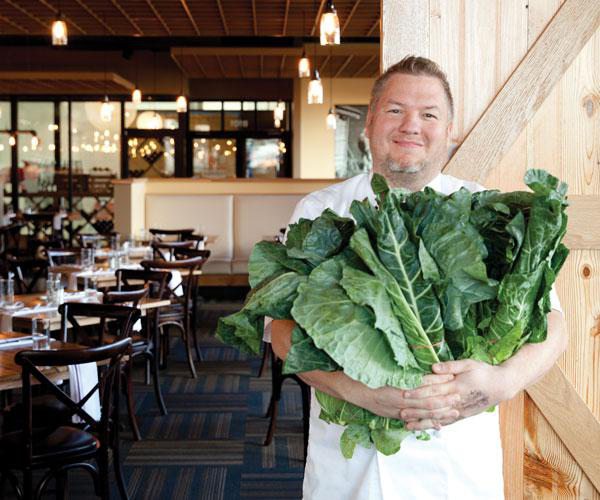 Metropolitan Farmer
2144 E. Republic Rd., Ste. B 101, Springfield, 417-720-1665, metropolitan-farmer.com

It's a bit trite to say someone was a founding father of anything. Every movement hasa beginning, and pioneers who took risks to make it happen. But when it comes to Springfield's burgeoning locavore culture and emphasis on farm-to-table dining, no Mount Rushmore of the 417-scene would be complete without chef Wes Johnson.
Johnson worked alongside Erik Zackrison, as well as Gilardi's new owner James Martin, when Zackrison opened the now shuttered Agrario—the downtown Springfield restaurant that Johnson insists was just a decade ahead of its time. Johnson graduated from Ozarks Technical Community College's culinary program and cut his teeth under James Nicholas at Highland Springs Country Club before moving to Seattle in the mid 2000s. At the urging of another ex-Agrario cohort, Ted Kilgore, Johnson made his way back to the Midwest and settled in St. Louis where he cooked in some of St. Louis's most beloved eateries including the Zagat-rated Shaved Duck, the Eclipse Restaurant at the Moonrise Hotel and Salt.
Then in 2013, Johnson—a Buffalo, Missouri, native—had a chance to return to the Springfield dining scene as chef at Metropolitan Farmer, the farm-to-table restaurant in the new, ultra-green Farmers Park business development that was being built by Matt O'Reilly. Johnson was a logical choice to run the restaurant. By late November, Johnson had moved into Metropolitan Farmer's kitchen and was busy dishing out savory, locally sourced fare. The restaurant was the first business to open in Farmers Park.
Metropolitan Farmer and its ever-changing menu are Johnson's charges. The décor is as locally sourced as possible—everything from the lights (upside-down Mason jars) to the tables (refurbished barn wood) to an impressive light fixture (custom-made by Grayson Home in downtown Springfield) is at the height of the sustainable movement. As much product as humanly possible is purchased from local farmers, which is made easier by the fact that Farmers Market of the Ozarks convenes weekly just feet from the restaurant's back entrance. And up on the fourth floor, diners can imbibe at the Barley, Wheat and Rye Social House.
As head chef, Johnson hopes flavor winds up being Metropolitan Farmer's mantra. The menu is decidedly gourmet but with a down-home spin you can only find in the Midwest. He describes the overall experience using his general manager Reid Roberts's description: Michelin Star in Mayberry. "Obviously I don't consider Springfield Mayberry," Johnson says. "But that's the feel we're going for— food your family made, but with more of an adult, modern feel to it."
The recipes are accessible but original, with an ever-changing list of sides and specials that depend entirely on what's available from local suppliers. The menu features 30 or so items at a given time, with 40 to 50 percent of the menu turning over several times a year in order to use the freshest produce available. But of course, there will be staple menu items that regulars will be able to enjoy year-round. Johnson is excited about the braised bacon and brown butter chicken, as well as the challenge he and his kitchen will face when a local farmer brings in a mess of persimmons, and they have to find a way to use them.
While the Springfield market is becoming more populated with restaurants promoting a farm-to-table menu, Johnson isn't worried. "There is a certain amount of competition, but if we can help better the situation and increase the quality of the product available, everybody wins," he says.
Read five more tidbits you need to know about Metropolitan Farmer before you visit, including Springfield's long-awaited first rooftop bar and details on the restaurant's wine philosophy.
Five things you need to know about Metropolitan Farmer
1. The upstairs social house, Barley, Wheat & Rye Social House, features an outdoor balcony that can easily accommodate 40 people. Tall glass partitions allow for a stellar view of southeast Springfield. A rooftop bar has been "next" in the eyes of many 417-landers, and it looks like Farmers Park may be ground zero.
2. Head chef Wes Johnson is proud of Metropolitan Farmer's wine philosophy, which is less strictly local (although a Missouri wine or two should appear on the menu) and leans more toward social responsibility. "We're trying to find the right story," he says. "Which wineries are out there trying to make a difference?" To that end, the downstairs bar area features kegged wine, which cuts down on solid and transportation waste associated with recycling glass bottles. Plus, Johnson says, the wines (one red and one white) are really good.
3. The aforementioned downstairs area, which Johnson informally (for now) calls the Pickling Jar, has no TVs (Barley, Wheat & Rye, on the fourth floor, has only two). "We all have a relationship with our TV. Here we want people to have a relationship and connections to one another, and to us." There is a large TV in the private dining room, which can seat up to 16 people comfortably and is available for meetings and events.
4. Johnson hopes to use his national media and dining-press connections, developed in St. Louis, to help promote Springfield as a whole as a travel and dining destination. Don't be surprised if Metropolitan Farmer gets a name check on the Today show sometime in the future. Samantha Guthrie sighting, anyone?
5. If you get a chance, walk around and check out the décor. One remarkable piece is an antique cash register, set between the Pickling Jar and the entrance to the kitchens. The back bar metal is all recycling piping.