Dishes
Poutine on the Ritz
Indulgent plates of crispy French fries topped with goopy gravy and cheese are popping up on restaurant menus all over 417-land, and we found three local eateries serving up their take on some pretty tasty poutine.
By Katie Pollock Estes | Photos by Brandon Alms
Feb 2016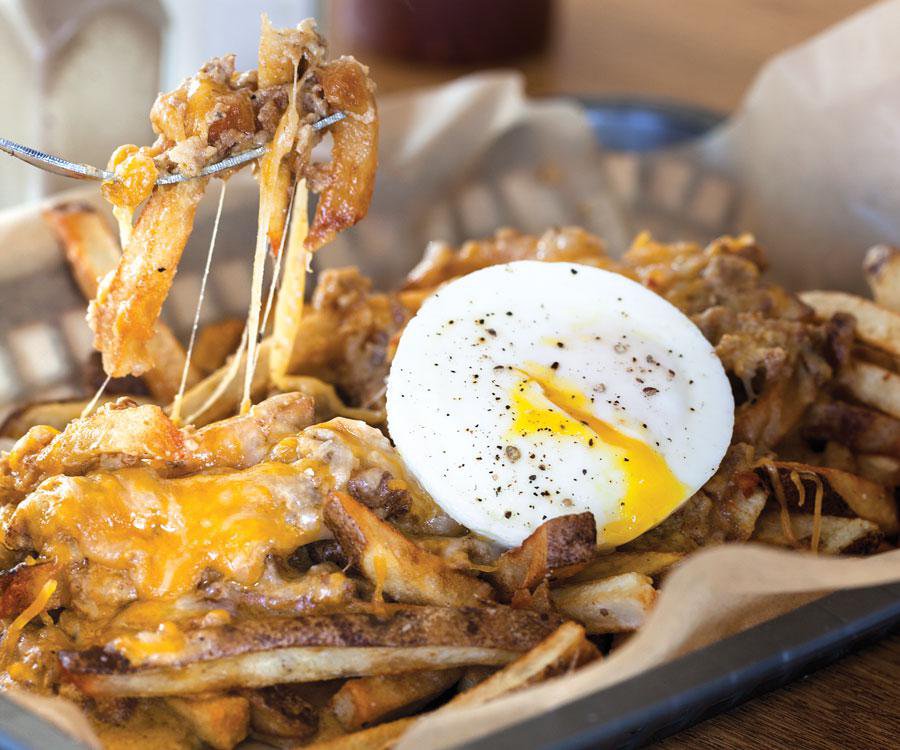 If you've never dipped your fork (or your fingers… let's be real; these are fries) into a plate of poutine, then you're missing out. The classic Canadian snack puts a comfort-food spin on French fries by adding thick brown gravy and tender chunks of cheese curds to salty, crispy fries. It might sound like an unusual combo, but it's actually perfectly delicious. Although the poutine (pronounced like "poo-teen") dishes we often see locally have popped up as one-time specials—like the waffle fry poutine at Instant Karma Gourmet Hotdogs—there are a few local restaurants that have made the gooey-good dish a part of their regular menus, and each one of them puts a one-of-a-kind spin on the fries. Pick the poutine that suits your fancy, then dig in.
Lindberg's Tavern
318 W. Commercial St., Springfield, 417-868-8900, lindbergsbar.com
Special ingredient: Cashew chicken
Why it's delish: Instead of just serving up fries in their daily special poutine, Lindberg's presents a basket of super-crispy hand-cut French fries mixed with two-bite-sized chunks of fried chicken breast. The gravy on top is a thicker, richer cashew chicken sauce instead of the classic dark beefy gravy you see on most plates of poutine. It wouldn't be poutine without some tender cheese curds, so those make an appearance as well. For that added classic cashew chicken touch, chopped cashews and freshly sliced green onions top it all off. A little bit of Springfield fusion, for sure.
The Order
305 E. Walnut St., Springfield, 417-832-1515, theordersgf.com
Special ingredient: Bone marrow
Why it's delish:  The Order calls their take on poutine Taters & Gravy, and it features upscale ingredients that bring this luscious bar food up a notch into the fine-dining category. Start off your dinner with this warm, rich appetizer. First, hand-cut fries are smothered in a one-of-a-kind bone marrow gravy. Instead of using the chunky cheese curds called for in a classic poutine recipe, the restaurant drizzles on a hefty serving of a house-made rich gouda fondue that's made with Mother's Brewing Company's Towhead American Blonde. The result is an unctuous mouthful of truly addicting flavor.
The Bruncheonette
424 N. Main St., Joplin, 417-781-3447, thebruncheonette.net
Special ingredient: A poached egg
Why it's delish: This Joplin morning eatery serves up some creative and luscious breakfast- and brunch-inspired fare, and we love their take on poutine. As with all poutine, the base is made of fries, which are house-cut and so crispy. The fries are topped with gravy, which is made with cream and  half-and-half for extra indulgence, and then smothered in cheese (shredded cheddar, in this case). But  it wouldn't be brunch without early morning staple breakfast meats. This restaurant takes it to the next level by using chorizo, breakfast bacon and breakfast sausage to make the extra-tasty gravy. On top is the ultimate breakfast ingredient: a perfectly poached egg.