Spaces
From Market to Modern
Interior Designer Andrea Deckard of A. Deckard Interiors helped transform the old Deerfield General Store supermarket into a headquarters for Pyramid Foods.
Savannah Waszczuk photographed by Steve Pearcy
Jul 2014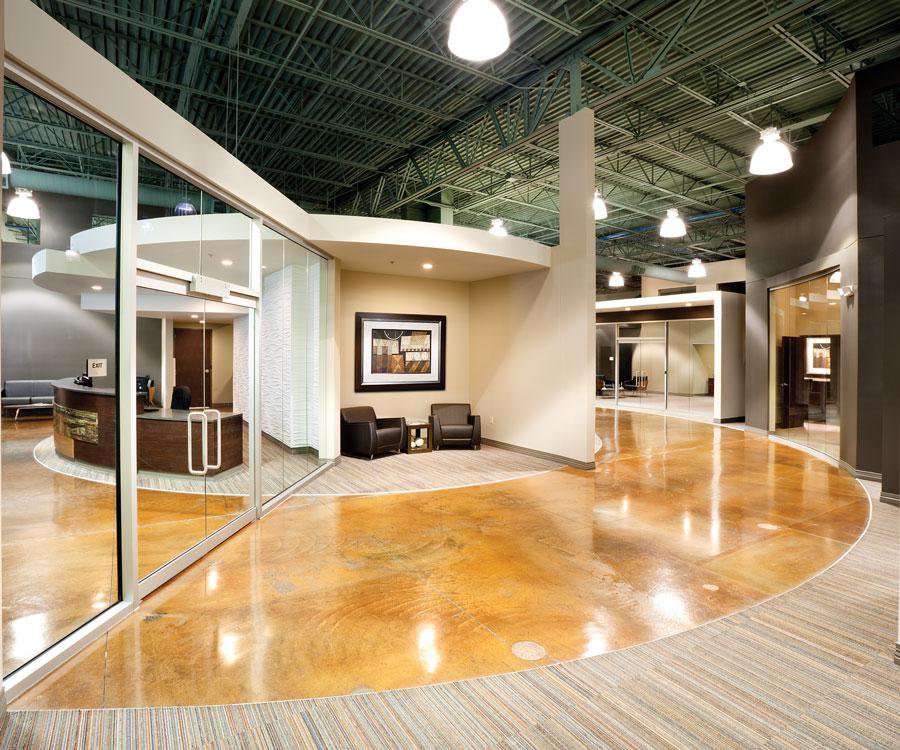 In her 16 years as an interior designer specializing in both residential and commercial spaces, Andrea Deckard of A. Deckard Interiors has come across many not-so-typical requests. But when the owner of Pyramid Foods, the umbrella company over a handful of local grocery stores and catering companies, asked her to design the company's new corporate office, she was presented with a challenge she'd never faced before. "They wanted to transform an old supermarket into their new headquarters," Deckard says. 
The building was once home to Deerfield General Store, a former grocery store in Rogersville. While the exterior of the space remained untouched, Deckard teamed up with architects from Bates & Associates Architects, spearheaded by Steve Warlick, to completely transform the interior. "I was involved from the very beginning," Deckard says. "Basically, we started with a giant empty store."
The team carefully planned out the many details of the project, all crucial in transforming the once-vacant building into a swanky contemporary corporate office. They added partial walls throughout the space to bring it down to scale, and they designed a simple-yet-elaborate reception desk to set the mood. Most of the store's concrete flooring was covered by carpet or luxury vinyl tile. They added splashes of vibrant color in the cubical area, and they set off the executive offices with a glass wall to both add to the spot's clean look and provide extra security. "It doesn't seem like a grocery store at all anymore," Deckard says. 
 Executive Offices
The Pyramid Food executive offices (above) are located on the opposite side of the reception area. To add security and work with the space's clean look, the offices are separated with a glass wall and doors. The entrance is outlined with white soffit for a more dramatic appearance. A couple of conference rooms flank the executive office area.
Executive Waiting Area
The executive waiting area (opposite, top) is dressed with modern, clean-line furniture composed of leather and wood veneer. Wood veneer was also used on the reception desk to add richness to the space. The open ceiling was painted a light soft sea glass color, and all of the original supermarket lighting was left intact. 
Cubicals
Deckard chose shades of orange, lime green, aqua and plum for the cubical area (opposite, bottom). The flooring is covered in Stringworks carpeting, which is made of recycled carpet fibers that are tufted into tiles. 
Resource Listing
Carpet, Furnishing, Interior Design
Andrea Deckard
A. Deckard Interiors
411 D Northview Rd., Nixa, 417-831-9300, adeckardinteriors.com
Architect
Bates & Associates Architects
433 W. Walnut St., Springfield, 417-865-2065, batesarchitects.com
Contractor
Missouri Supermarket Builders
435 E. South St., Ozark, 417-581-7873