Spaces
Built for Familiy
When Gaylen and Dedra Jones built their custom Old World–style dream home on 200 acres north of Springfield, they made sure to include plenty of room for when their kids and grandkids visit.
Written by Savannah Waszczuk | Photos by Terry Sweeney
Jul 2016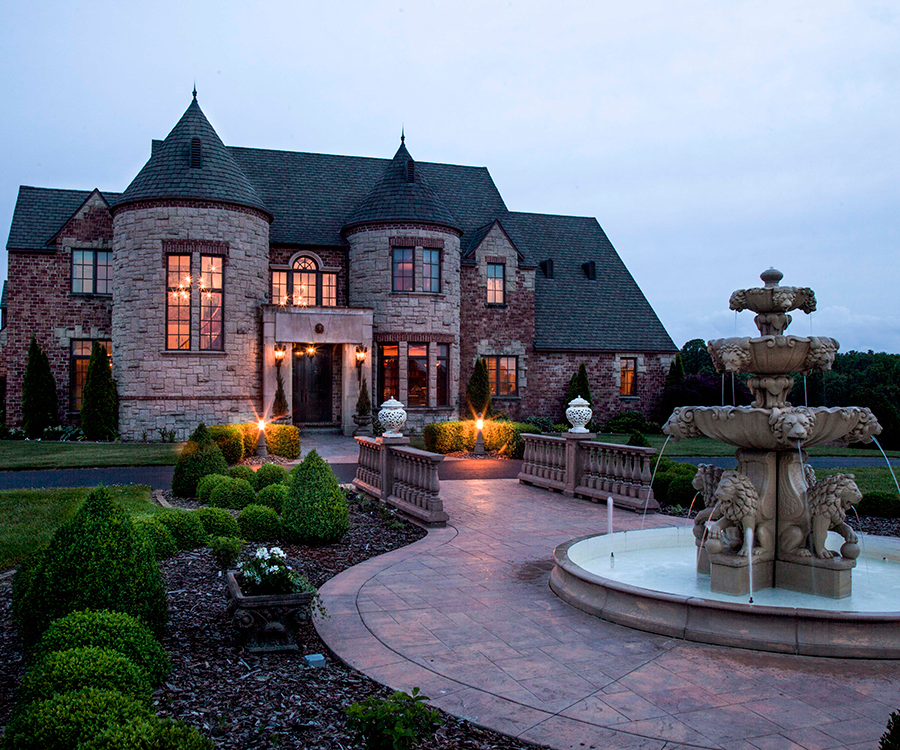 As the parents of four children, Gaylen and Dedra Jones know all about sharing space in the household. But when it was time for their youngest child to move out, the couple decided it was time for them to move on up. They dreamed of having a home with plenty of space and privacy. So they did what anyone building a custom home does: They started putting their ideas down on paper and conceptualized their dream house using sketches.
Next the couple took those sketches to what was then Howard Bailey Company (now known as Bailey Company), the building company that helped them build their very own custom Old World–style dream home along with Steve Busch Design Group. They began the planning process in 2001, purchasing several architectural salvage pieces to incorporate into the construction. But with lots of custom finishes and special touches in the master plans, it wasn't until 2003 that the four-bedroom, four-and-a-half bathroom house was complete. 
Located on 200 acres just north of Springfield, the 8,000-square-foot house provides plenty of room for the family to stretch their legs. "We wanted a house big enough for our family to come home and visit," Dedra says. This includes the couple's four children and their spouses, plus Gaylen and Dedra's five grandchildren who range from 2 to 8 years old. With two children living nearby and the other two living in Kansas City, family gatherings are a regular occurrence. They enjoy a houseful of kids or out-of-town family on most holidays, and Christmas in particular is always a guaranteed reunion with all of the children and grandchildren coming home to spend Christmas Eve night at the house and celebrate family traditions. 
Summer is filled with plenty more family fun, with a pool, gardens and a pool house providing hours of entertainment outdoors. Gaylen and Dedra worked with builder Travis Miller to add the pool house in 2014, and a fire table, plethora of seating, a hot tub and even an outdoor movie theater of sorts came along with it. "I hang a piece of canvas, and we watch movies out there," Dedra says. "It's always a lot of fun for all of us." Dedra also spends much of her time outdoors gardening and mowing, and Gaylen stays busy taking care of their cattle. "They're a hobby that's kind of gone out of control," he says with a laugh. 
Whether they're outside or inside and busy chasing grandkids or simply enjoying one another's company, one thing is for sure: Gaylen and Dedra will be happy to call this house their home for years to come. "I'd say we won't be moving unless it came to necessity," Dedra says. And Gaylen agrees. "We love it here," he says.
Office
The home's office shines with cherry wood floors, and well-organized bookshelves line the walls. "This room is exactly what we envisioned when we found the old marble fireplace mantel," Dedra says. The couple uses the office most in the wintertime, when they can cozy up around the fireplace with a book.
Kitchen
The kitchen is home to a large island and granite countertops, and it's outlined with custom knotty alder cabinetry by Alpine Wood Products. Some of this custom cabinetry features glass fronts, a feature Dedra purposefully chose to show off her large collection of bowls. An assortment of chicken figurines are also tastefully dotted throughout the space, sitting on shelves and cabinetry. "I used to collect pottery-style chickens and still enjoy displaying some favorites," Dedra says. Colorful panes of stained glass by Merry Go Round Stained Glass Center add a splash of color to the wall above the sink. 
Master Bedroom
The couple refinished the master bedroom a couple of years ago. A highlight of the room's new look is a blue hide-a-bed sofa, which not only adds a splash of vibrant color to the room but also comes in handy when the grandkids come to visit. A light rug adds contrast to the space, and large windows showcase a fabulous view of the custom outdoor space.
Great Room
The great room sits adjacent to the kitchen and features hickory wood floors and custom beam work. Inspired by a piece of stained glass at an antique auction, Gaylen and Dedra took a picture to Merry Go Round Stained Glass, who designed and created a similar piece, which now sits between the great room and entryway. The room's pre-cast stone fireplace has a similar story—the Joneses found a salvage fireplace they liked but weren't able to purchase, so their builders from Howard Bailey Company found a pre-cast designer who could make a replica.
Outdoor Space
Blooming gardens and a sparkling pool highlight the Joneses' outdoor space. "I'm a gardener in the making," says Dedra, who has been experimenting with gardening since the couple moved in 13 years ago. The space also features a pool house and covered outdoor seating areas, plus a hot tub and a magnificent view of a custom-built lake and pillars. The couple has hosted two of their children's weddings in the picturesque backyard.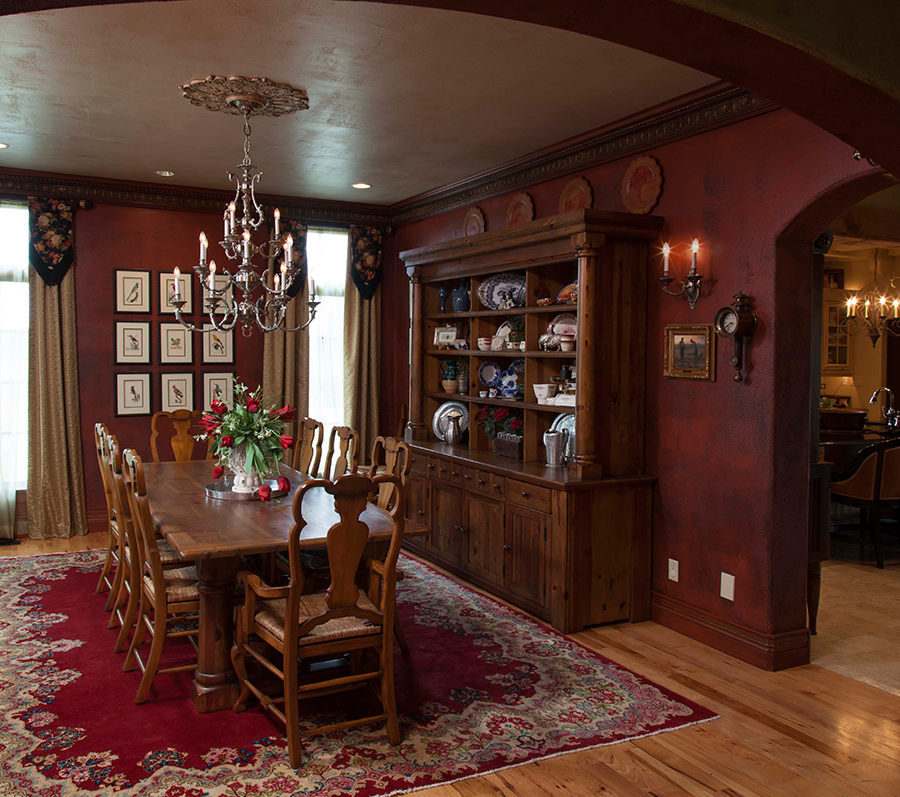 Dining Room
"I wanted a dining room that was casual and comfortable," Dedra says. Connected to the great room and kitchen area, the home's dining room features a large wood table and 10 chairs along with a matching wood hutch. The couple found the pieces while they were building the house. Bird artwork brings life to the walls, and a large chandelier adds a touch of formality to the otherwise casual space.