Style
The Haberdasher
Steeped in vintage style, this downtown Springfield men's boutique blends modern fashion with vintage elegance.
Written by Ettie Berneking | Photos by Kevin O'Riley
Jul 2016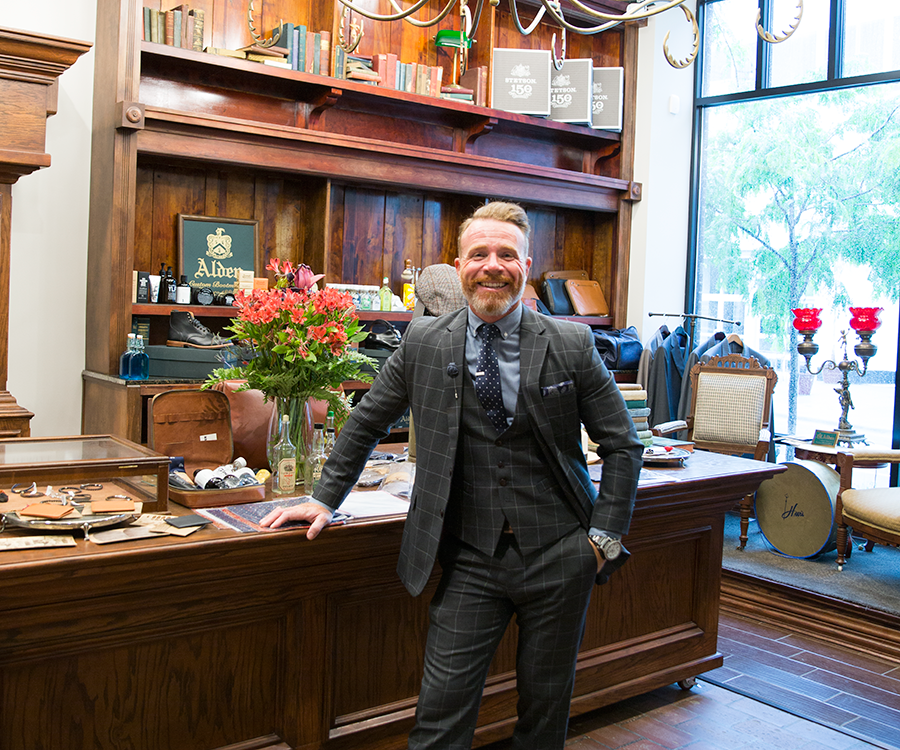 The Haberdasher
312 Park Central East, Springfield, 417-720-1196, downtowndapper.com
Open Mon.–Fri., 9 a.m.–9 p.m.; Sat., noon–7 p.m.
 
Similar to C.S. Lewis's most beloved series, The Chronicles of Narnia, there's something magical about The Haberdasher in downtown Springfield. But instead of being transported to the frozen landscape of Narnia, this men's boutique whisks you back to the 1920s when men's fashion was sleek and fitted, when brightly colored lapel pins popped against charcoal gray suits and when shoes were always shined to a near sparkle. But don't be fooled. The Haberdasher is far from a vintage popup where loved and slightly tarnished fashion castaways are given a second life. Everything you'll find here is brand new and ensconced in vintage style.
Located across the hall from Dapper Barber, The Haberdasher is home to a wide selection of men's fashion and accessories. Checkered ties, pocket squares and polished cufflinks sit on display along with a range of men's shoes and boots. Despite the shop's more-than-cozy size, the atmosphere here is nothing short of elegant, and that's thanks to the shop's owner and curator, Sean Brownfield.
Before opening The Haberdasher, Brownfield sold a limited amount of shaving products and hair care items through Dapper Barber, which he also owns. As his customer base grew, Brownfield took notice when clients swapped stories of shopping in Dallas, Kansas City and Chicago for the latest high-end men's fashions and accessories. These stories gave Brownfield an idea: Why not bring those items to Springfield himself? As Dapper moved into a larger space inside the historic Sterling building, Brownfield got the opportunity and retail space he needed to open a men's boutique. With that, The Haberdasher was born.
Inside, Brownfield refurbished several display cases and wall units to create the polished and high-end elegance he was looking for. 
As for brands he carries, Brownfield is most excited about the Alden line of men's shoes. More specifically, the rich mahogany colored Indy boot. "This is Alden's No. 1 selling boot," Brownfield says. "It gets its name from Indiana Jones. Harrison Ford wore these in one of the Indiana Jones movies, and the boot exploded after that, so Alden renamed the shoe the Indy Boot." Lapel pins, hat feathers, dress socks, ties, leather wallets, bracelets and pocket squares are also on display inside and often spread over the tops of vintage mirrored trays. "We mainly focus on accessories," Brownfield says. "You can change your entire wardrobe with just a few accessories." Or, better yet, you can change your entire suit now that The Haberdasher has started carrying custom-made suits. 


Q&A 

with The Habdasher owner 

Sean Brownfield

 
417 Magazine: Who is your fashion icon?
Sean Brownfield: James Bond for his sleek, modern style. He lived day and night in a full suit even while he climbed buildings and chased people. 
417: What's your favorite piece of clothing?
S.B.: This might contradict my fashion icon, but I have my original Abercrombie jean jacket from my freshman year of high school from 1990. I wear it all the time.
417: What style trend are you excited to see?
S.B.: People are getting more creative and eclectic with their style, so you can own your look and make a signature style. That makes it fun when you're not trying to look like everyone else.
417: What's the secret to a well-dressed man?
S.B.: Your shoes need to be shined! There's nothing worse than a man in unpolished, shabby shoes. It speaks a lot about your means of preparation. A pressed shirt is almost the same. 
417: What's the trick to polishing shoes?
S.B.: If you're using cream polishes, you generally only have to do this every few months, and in between, you can continue to buff them.