Reviews
Vito's Kitchen Perfects New York–Style Pizza
Vito Palmietto is dishing out New York–style pizza so good it's mending relationships.
Written by Vivian Wheeler | Photos by Vivian Wheeler
Jun 2016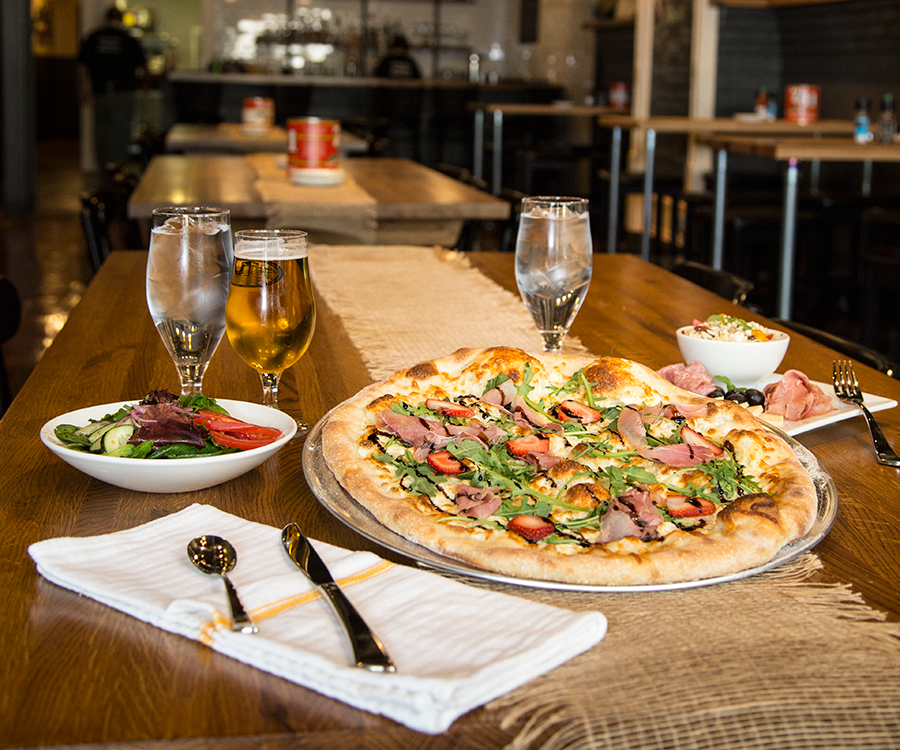 Vito's Kitchen
307 S. Jefferson Ave., Springfield, 417-569-7555, vitoskitchen.net
Open Wednesdays, Thursdays and Fridays 11:30 a.m.–1:30 p.m; 5–9 p.m. unless closed for special events
$$


For years pizza was a source of great contention for me. My Springfield-bred significant other, Chuck Travers, loves pizza. He loves a lot of pizzas. He loves the pizza he grew up on—the McSalty's and Pizza House pizza—and he loves the New York–style pizza he's come to know over the years as he's made trips home with me. A Jersey girl myself, I never appreciated the incredible pizza that could be found on just about every corner until I moved and it couldn't be found on any corners. And here lies the rub. 
Chuck still loves all pizza, and he wants me to love pizza the way he loves pizza, which is to say he wants me to love all types of pizza. And I just can't. For a long time a fight would break out when pizza was mentioned as a dinner option. I would balk; he would sling slurs like "pizza snob" and we would end up hangry: hungry and angry because no compromise could be reached. This was the status quo for years. And then a couple of months ago, Vito's Kitchen came into our lives. 


Vito hand tosses the dough to create the perfect crust for his New York–style pies.
To truly understand what makes the pizza from Vito's pizza so good, you have to start at the beginning. The beginning of pizza is dough, and chef Vito Palmietto's dough is made over 48 hours using a cold-rise process. Keeping the dough cool slows the fermentation process, which allows complex flavors to develop. He lets the dough rise for 24 hours and then punches it down and lets it rise for 24 more hours. The result is an airy, crispy, chewy-in-a-good way crust that is not rivaled in 417-land. Everything that comes on top of the crust is also good. The sauce is an irresistible combination of umami, salt and subtle bitterness that is bright on the palate. But where Palmietto really leaves the rest of the pizza pack in the dust is in his topping combinations. 
Currently, Palmietto is only making pizza on Thursday nights (Editor's note: Vito has increased pizza production since the publication of this article. Follow the restaurant on Facebook to stay in the loop), and over the last couple of months, I've ended up at Vito's more times than I would care to admit. Each week he serves up four pizzas. Cheese pizza is a constant, but the other three pizzas are always a surprise, and they're always changing. I've had quite a few different varieties, but some of my favorites have been chicken pizza with cilantro microgreens and peppadew sauce, the uncured sausage and pepperoni pizza and the mushroom pizza with truffle oil. I haven't had a pizza I didn't like. Along with pizza you'll find a few other items on the special board each week. There's a house salad made of fresh greens and veggies with a simple dressing that's always delicious. Last time I was there I had an orzo pasta salad with olives, feta cheese and herbs. Sometimes there will be a hot pasta dish. Every time you go the experience is different from your last visit, which is part of the appeal. 
I've also come to enjoy the atmosphere at Vito's. Located on Jefferson Avenue, the restaurant's dining room is a bright and homey space. White subway tiles line the wall, and wooden tables fill the room. 
On most visits Palmietto makes an appearance and talks to you like you're family. And speaking of family, both his son and his daughter work there as servers. It's one of those places you feel instantly comfortable and end up staying for hours.  Just be sure to get there early, because when they run out of pizza, they're out for the night. And then you'll have to wait a whole week to get your hands on some of that pie. We've only made that mistake once, and these days the only pizza-related fighting that's happening is over who gets the last slice.