Style
Republic's Scuffed Edge Flea Market
At Scuffed Edge in Republic, one creative maven shares her passion for refurbishing home decor.
Written by Ettie Berneking | Photos by Brandon Alms
Jun 2017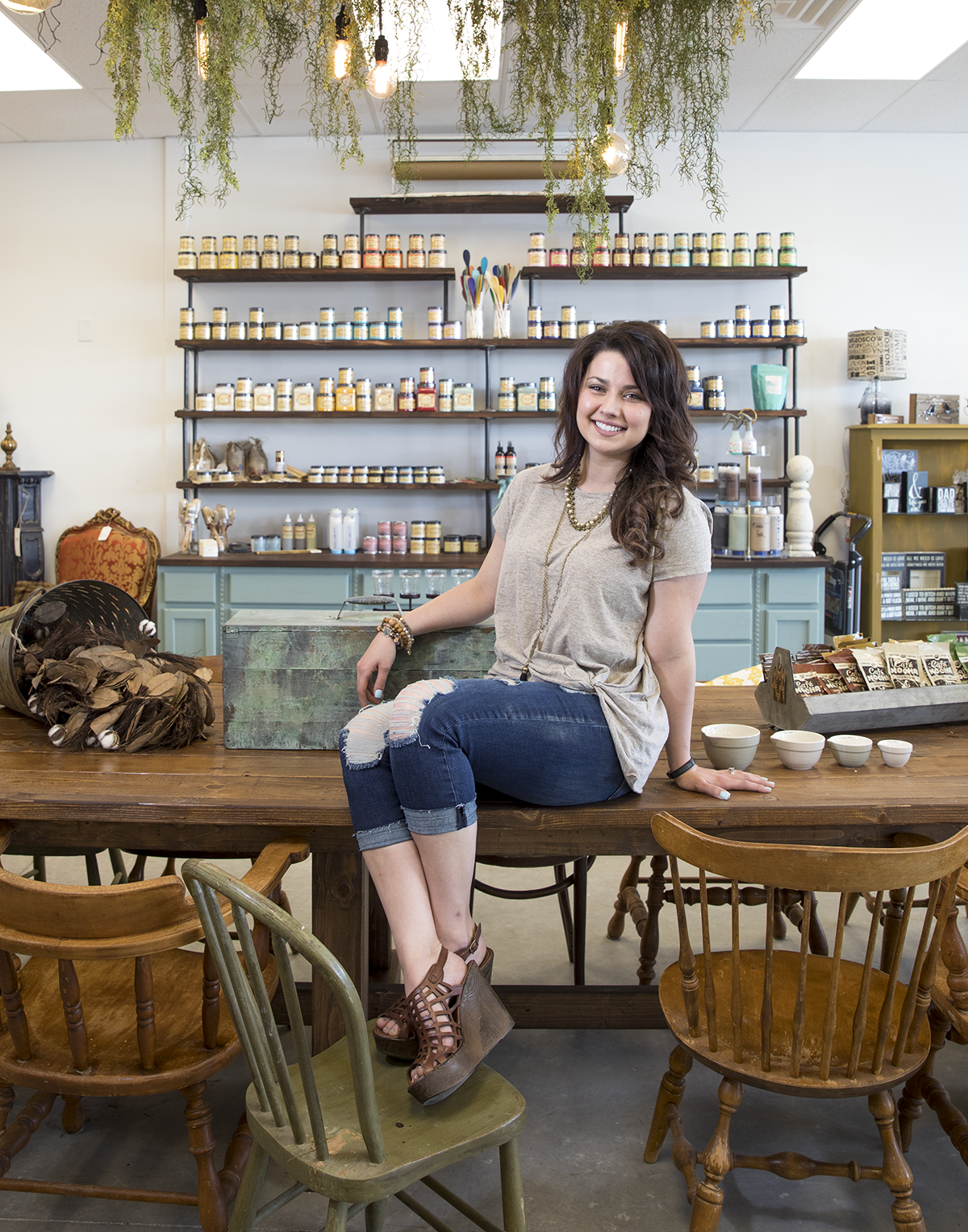 For everyone who has suffered through a Pinterest fail while revamping an old dresser, an outdated chair or a worn-out table, put down that paint brush, step away from the sandpaper and head to Scuffed Edge in Republic owned by Tiffany Myers. Since selling her first piece of rehabbed furniture—a royal-blue dresser she turned into a settee—this queen of flea market flips has been breathing new life and plenty of style into discarded furniture and home decor, and she shares her know-how at monthly classes at the shop.
Myers opened Scuffed Edge in November 2016, but when her furniture started taking over the small storefront, she moved into a roomier space this April. The bump in square footage gave Myers room to display her collection of painted and refurbished dressers, kitchen islands and cabinets and the ability to carry a wider selection of merchandise. 
Racks of soft T-shirts, earth-toned tunics, stackable bracelets, colorful and durable purses, soft leather wedge heels and more fill one side of the sunlit shop. Smaller gift items like coffee mugs; whole-bean coffee; soaps in various colors, shapes and aromas; and wine glasses etched with catchy sayings sit on Myers's refurbished wooden hutches. 
The array of colors, materials and prints gives Scuffed Edge a welcoming vibe in which every style seamlessly blends. "I don't have a rhyme or reason," Myers says. "That's become our slogan. People always ask, 'Oh, what's your style?' I half-joke that it's scuffed edge. We don't follow rules. If you like it, wear it. If you like it in your house, keep it!"
With some 3,000 square feet of floor space, there's no grid or rows of merchandise to walk through. Instead, Myers has arranged a maze of furniture, clothing and giftable trinkets. Everywhere you look, there's something new you haven't already seen. The airy storefront is quite the upgrade from the cramped garage Myers started selling her furniture out of. When she first started tinkering with rehabbing outdated decor, Myers was working a corporate job. After watching several episodes of Flea Market Flip, Myers got the itch and ventured to Canton, Texas, where she filled a U-Haul with tarnished and mismatched furnishings.
Today, those pieces are artfully arranged around Scuffed Edge. Some have been painted mustard yellow, and others were given a coat of bluish gray paint. Myers has hung up dozens of chipped and patinaed levels. They're one of the many items she collects when she travels around the Midwest in search of new furniture to flip. It's a mix of French country and modern industrial.
Myers' favorite piece is a wooden dresser with a slightly rounded front. To give the piece a modern face-lift, Myers painted the casing a light olive green and left the drawers their natural wood grain. When she first started, Myers was mixing her own mineral paints, but she now uses Dixie Belle Company chalk paint. It's the same paint attendees at the workshops use. Myers has hosted a range of classes including a beginner class, a bring-your-own-project class and a class that focused on a new patina paint using a chemical reaction to give even the newest piece of decor that perfectly greenish-blue glaze.
Classes are usually limited to 12 people and last two to three hours with guests seated around the massive 14-foot farm table Myers and her husband, George, built. Love the table? You can custom order one! Love a piece of furniture you see in Scuffed Edge? You can buy it! Want advice about repurposing or refinishing your own battered and bruised furniture? Myers is ready to help, and in no time, you can end the string of Pinterest fails and join the ranks of flea market flippers.
For more information about upcoming classes at Scuffed Edge, follow the shop on Facebook. The next class is Intro to Dixie Belle Paint Company on June 22 from 6 to 8 p.m. Cost is $40, and snacks, wine and supplies are provided.
Q&A with Owner Tiffany Myers
417 Magazine: What was the first piece you refinished?
Tiffany Myers: It was a wine rack. It's so colorful! I call it our Scooby-Doo wine rack.
417: What's next on your list of flea market flips?
T.M.: My newest adventure is fur-covered chairs. They add a dash of glam and are just fun. 
417: How did you decide what clothes to carry?
T.M.: I just went through my closet! I figured if I like it, I bet others would, too. Almost everything is under $50 with the exception of the shoes. Shoes are my weakness.