Reviews
Advantage: The Pitch Pizza & Pub
Bryan Bevel, the former managing partner of Springfield Brewing Co., has embarked on a new culinary adventure with The Pitch Pizza & Pub, which serves up pizza, pasta and a bustling atmosphere.
By Vivian Wheeler
Jun 2017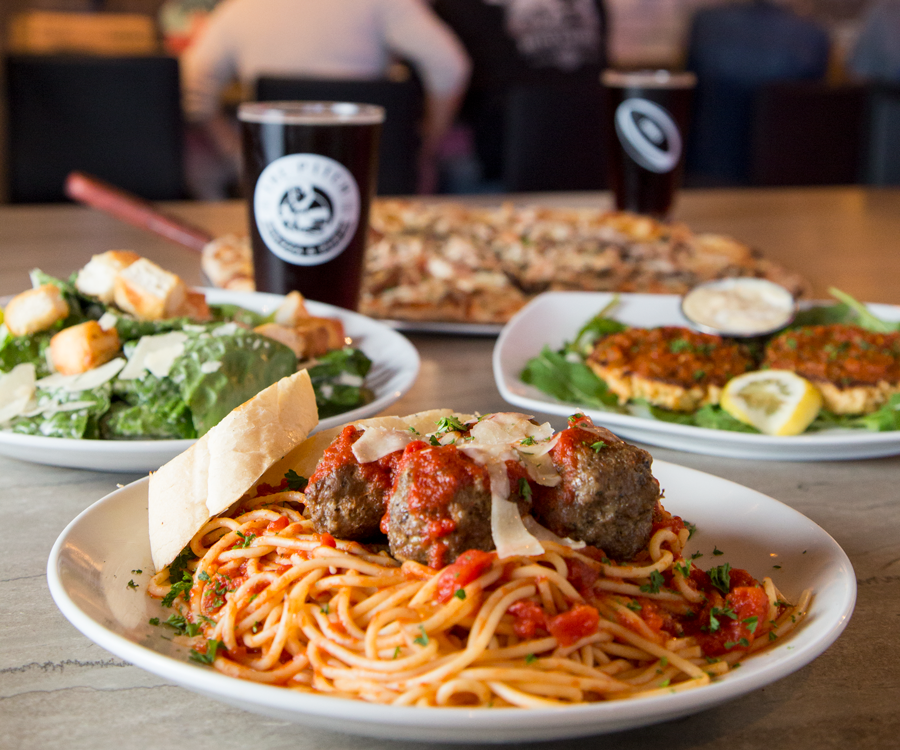 In a town full of baseball fans, it would be a logical conclusion to assume a restaurant called The Pitch Pizza & Pub (924 E. Sunshine St., Springfield, 417-368-0277)would be a baseball-themed sports bar. But in the case of the restaurant that recently opened in Southern Hills shopping center where Panera Bread used to be, the referenced sport is in fact rugby. In rugby, the pitch is what we Americans would commonly call the field. Opened by Bryan Bevel, one of the former co-owners of Springfield Brewing Co. and a rugby fanatic, The Pitch is a casual dining restaurant focusing on pizza, pasta, sandwiches and salads with a beer menu that boasts more than 50 selections.
The Pitch opened in April, and when I found out the pizza crust was homemade, I knew I had to give it a try. I'm a big pizza fan, and as any pizza fan knows, crust is key. If the crust isn't any good, there is little hope for the rest of the pie, and making the crust in-house is half the battle. My mother, who is also a pizza lover, came to town for a visit a couple of weeks ago, and it was the perfect excuse to check out The Pitch.
When we walked in, the place was buzzing. There are two sides to The Pitch: On one side is a pub and on the other, a family-friendly dining room. We decided to sit in the dining room and were led to a large table. An abnormally large table. So large, we decided to sit next to each other instead of across from one another. We found out later the tables had been custom made to accommodate the size of the pizzas: The large is 18 inches. After settling in, we turned our attention to the menu.

The Creamy Chicken and Mushroom Pizza is one of more than a dozen pies on The Pitch's menu.
Because this was our first time at The Pitch, we wanted to try a variety of items. Knowing we were going to carbo-load with our entrees, we opted to start with lighter items. We chose the crab cakes and a Caesar salad for appetizers. When the server brought out the Caesar salad, I did a double take. It was huge. With Romaine, croutons, shredded Parmesan and Caesar dressing, it was a basic Caesar, but I loved that there was plenty to share. The crab cakes were also a nice-size portion. They were topped with a Cajun sauce and came with a side of aioli. Overall they were good, but I was left desiring just a bit more crab flavor inside and a slightly crispier outside.

For our entrees we settled on the spaghetti and meatballs and the Creamy Chicken and Mushroom Pizza. Both were delicious. The meatballs were homemade and had great texture and flavor. The pizza, though, was the shining star with a soft, salty crust; loads of mushrooms; rich Alfredo sauce and plenty of cheese. Between bites my mom and I agreed there was a lot to like about this pizza.
Seldom ones for self-control, we had thoroughly stuffed ourselves by the time our server offered us a slice of gooey butter cake for dessert. We initially refused his offer; however, this particular server was quite the salesman and managed to talk us into taking a piece to go.
Later, over a game of Scrabble, we would thank our insistent server as we fought over the last few bites of that cake. This gooey butter cake was made with the addition of cream cheese, a surprising and delightful choice that set it apart from the many others I've tried. Like The Pitch, it was something a little different that managed to hit the mark.
Q&A with Bryan Bevel
417 Magazine: What's the pitch in rubgy? 
Bryan Bevel: The pitch is where you play the match. I've been playing since 1989, and the pitch was always where we met and we played rugby. But then afterward, the pitch was also where most of the socials were held, where family, friends and rugby players bonded over a meal and a drink. That's why I went with The Pitch. I thought it was a community thing. After a match, there are a whole lot of men in the last 28 years that I've had ill will for on the pitch, but afterward, I've bought them a beer and broken bread with them.

417: How did you come up with your dough recipe?
B.B.: Trial and error, and I worked with a professional chef that was through Springfield Grocer Company. I had a style in mind, and then I went and made the crust to fit the style. And then we added all the flavors in after the crust was our base. We spent several months in development on just the crust.
417: Tell us about the beer on the menu.
B.B.: Of course I've been intimate with the craft beer scene in the last five-plus years developing Springfield Brewing Co., so I led off with Springfield Brewing Co. They're my first beer on tap, and I wanted to have local, regional and then the big craft beer people that were originators of craft beer. I got the big guys that have been around for years and years, and then I have some macro stuff because without Miller Lite, Bud Light and Coors Light, craft beer would never have existed. We're north of 50 beers, so we've got something for everybody.