At Burger Shack, you can get fries, a drink and a burger with as many as 18 toppings for $8.
Cheap eats. There's a certain level of excitement that surrounds these two words when they're used together. There's the thrill of finding a terrific meal for an affordable price. There's the excitement in learning that your very favorite steak house also serves grilled salmon, and it's a fraction of the cost of prime rib. And really, there's just something about knowing you're getting the very best bang for every one of your hard-earned bucks. That's why we scoured local restaurants and put together this list of our very favorite cheap eats.
Some of these items are truly cheap, hovering in the $5 or less section, and others range from $10–20. But whether it's a $3 bowl of chili or a $20 plate of seafood-loaded pasta, all of these items are a terrific deal. They give you the most flavor for the least green, and more than anything, they prove that cheap food can also be great food. Dig in.
Tortilleria Perches
1601 W. Sunshine St., Springfield, 417-864-8195, tortilleriaperches.com
The Deal: Tamales for $.99 each on Tamale Thursday
The Lowdown: The kitchen at Tortilleria Perches whips up nearly 500 handmade tamales every day. Made from corn meal and a few secret ingredients, the tamales here are stuffed in a cornhusk and packed with pork or chicken, then steamed for two hours. The plump bundles of savory goodness will easily calm any grumbling stomach. The limit is six per person, and the deal is only available for dine-in customers. For more cheap eats at this hotspot, stop by for 99-cent tacos on Taco Tuesdays.
Braum's
Various Locations in 417-land, braums.com
The Deal: A cappuccino caramel fudge sundae, $2.99
The Lowdown: This sweet treat is made of two honkin' scoops of Cappuccino Chunky Chocolate ice cream, heavy drizzles of hot caramel and hot fudge, whipped cream and a sprinkling of roasted pecans, and it's topped off with a candied maraschino cherry. Yum! Check out the Braum's sundae menu to drool over other delicious concoctions, such as the Black Forest Sundae or the Brownie Fudge Sundae.
Five-cent favorite: Troy Landwehr enjoys a five-cent scoop of vanilla ice cream at Ava Drug. The shop is known nationally for its five-cent offerings, including ice cream dips, ice cream sodas and coffee.
Ava Drug
124 W. Washington Ave., Ava, 417-683-4127, avadrug.com
The Deal: 5¢ ice cream scoops
The Lowdown: This nostalgic soda shop received national attention for its nickel ice cream scoops. Five cents will get you a dip of ice cream, a small ice cream soda from the old-fashioned soda fountain or a cup of hot Joe. This too-cheap-to-pass-up price is the same as when the drug store opened in 1950. And as for ice cream flavors, taste buds delight with options including strawberry cheesecake, orange sherbet, black walnut, butter pecan, rocky road, mint chip and chocolate brownie fudge. Whether in a glass dish or a sugary-sweet cone, that five-cent scoop won't make too big of a dent in your weekly allowance. And be sure to check out the sandwiches. Options include fresh ham, tuna salad, chicken salad and many more, served on white or wheat bread with a bag of Lay's, all for a meager $3.25.
Purple Burrito
Multiple locations in Springfield
The Deal: Two fish tacos, $4.20
The Lowdown: Fish tacos are a delicious alternative to the usual bean burrito or crunchy beef taco. Of course, at Purple Burrito, part of the attraction is their price tag. Wrapped in a thick corn tortilla, strips of breaded and fried tilapia are mixed with homemade tartar sauce, cabbage, pico de gallo and a shredded cheese medley of Monterey Jack and cheddar. The mix of crunchy cabbage and tender flaky fish is the perfect complement to the tangy tartar sauce.
Lucy's Chinese Food
Multiple locations in Springfield, lucyschinesefood.com
The Deal: Half order of cashew chicken, $4.99
The Lowdown: This half order of cashew chicken comes with a pile of fried rice and is more than enough to fill you up. The chicken is rich and salty, and unlike most places that tack on an up-charge for all white meat, the higher-quality meat is the standard here. For only a buck more, you can get the combo and add your choice of an egg roll, six wontons or three crab Rangoon.
Skybox Grille & Lounge
1271 E. Montclair St., Springfield, 417-877-9595
The Deal: 50-cent wings on Mondays after 4 p.m.
The Lowdown: The hot wings at Skybox prove that some of the tastiest cheap eats come doused in sweet, spicy and tangy sauces. These jumbo wings are loaded with succulent and tender meat. If you're in the mood for something spicy, try the burn sauce. It's not the hottest sauce you'll ever eat, but it's got plenty of flavor. You can also load up with the pineapple habanero sauce, barbecue sauce or Asian sauce. For  fifty cents a wing, you can afford to try them all. But pull up a chair; these cluckers can't be ordered to-go. Skybox Too (1645 W. Republic Rd., Springfield), offers this yummy special on Wednesday.
Casper's
601 W. Walnut St., Springfield, 417-866-9750
The Deal: Frito Pie, $5
The Lowdown: Even though this dive is closed in June, July and August, it has a loyal and hungry fan base during the winter months. One of the favorite menu items here is the Frito Pie—a cheesy, melty, delicious masterpiece featuring a crunchy  pile of Fritos corn chips topped with Casper's homemade chili and covered with a hefty layer of real cheddar cheese. The whole mountain of yumminess is then placed under the broiler, melting the cheese until it runs. If you're worried about not getting enough veggies, go for the Frito Pie Deluxe, which comes with lettuce, tomatoes and creamy ranch dressing for just cents more.

Burger Bargain: Burgers at Whisler's Old Fashioned Hamburgers are $1.55 each,  or you can get two cheeseburgers, chips and a drink for only $5.25. 
Whisler's Old Fashioned Hamburgers
208 W. McDaniel St., Springfield, 417-864-5565, whislersdowntown.com (Editor's note: This restaurant has rebranded since the publication of this article. Check out Slider's for more cheap eats.)
The Deal: Hamburgers, $1.55 each
The Lowdown: These burgers might be small, but they pack plenty of flavor. Cooked to order, each slider comes on a warm bun, and when you toss on juicy pickles and melty cheese, it's no wonder people line up for them.
Nearly Famous Deli & Pasta House
2708 S. Glenstone Ave., Springfield, 417-883-3403, nearlyfamous.net
The Deal: Pecan bars and lemon bars, $.99
The Lowdown: These homemade desserts are as delicious as they are cheap. The oh-so-flaky crust resembles a shortbread cookie, and the lemon bar is filled with a luscious lemon curd. The pecan bars are equally scrumptious with pecan pie filling and crushed pecans. Delish!
Louie's Drive-In
2415 W. Division St., Springfield, 417-831-0883
The Deal: Quarter-pound hamburger or cheeseburger, $3.69
The Lowdown: Don't let its size fool you. Louie's might by tiny, but its kitchen is pumping out some of the most delicious burgers Springfield has to offer. And get this—cheese doesn't cost anything extra. Made fresh for each order, every burger is loaded with lettuce, tomato, pickle and onions, all settled on a pillowy-soft bun. And even though these burgers could easily quell even the most side-splitting hunger pain, we recommend throwing down a few extra bucks for a large order of homemade French fries or the breaded mushrooms or fried pickles.
Dublin's Pass
2767 W. Republic Rd., Springfield, 417-877-7625; 317 Park Central East, Springfield, 417-862-7625, dublinspass.com
The Deal: $2 burgers on Tuesday nights
The Lowdown: From 7–10 p.m., single patty burgers join this bar's happy hour menu. For two bucks, you can enjoy a plain burger, or add additional toppings for a slight upcharge. Drink specials run from 8–10 p.m. downtown and from 10 p.m.–close at the Republic Rd. location.
Sam's Cellar
101 N. Wood St., Neosho, 417-451-3330, samscellar.com
The Deal: Wood-fired jumbo pretzel, $4.95
The Lowdown: This soft and chewy jumbo pretzel is reminiscent of those ballpark bites that always seem to cost a fortune. But these salty puppies are far from breaking your wallet. Fresh from the bar's wood-fired oven, this pretzel arrives piping hot and plenty soft. It comes with a scrumptious and spicy ballpark mustard, or you can splurge on cheddar fondue for $1.50 more.
Pappo's Pizzeria
221 E. Walnut St., Springfield, 417-866-1111, pappospizzeria.com
The Deal: Pizza by the slice, $3
The Lowdown: On Thursday, Friday and Saturday nights from 11:30 p.m.–2 a.m., this pizzeria switches to by-the-slice only. Offered in cheese, pepperoni and sausage (made in-house), slices are dripping with gooey cheese and a special homemade red sauce. These hand-tossed pies are a thicker version of droopy New York–style pizzas, and they're plenty filling.
Pappy's Place
943 N. Main St., Springfield, 417-866-8744
The Deal: BBQ Pork sandwich, Southern style, $6.95
The Lowdown: When talking about cheap eats, it's impossible to ignore the beloved sandwich. Almost a food group all on its own, you can pile almost anything between two slices of bread and still bite into a taste sensation. That's why we have to share one of our favorite sammies with you: the barbecue pork sandwich at Pappy's Place. Heaping spoonfuls of barbecued pork are topped with creamy southern-style coleslaw before being sandwiched between a hamburger bun. This massive sandwich comes with an order of hot-and-crispy fries for only $6.95. Once you become a Pappy's fan, take home some of its legendary barbecue sauce in pint and gallon sizes.
J.O.B. Public House
319 E. Walnut St., Springfield, 417-831-1158
The Deal: Two sliders and unlimited fries, $8.50
The Lowdown: The classic slider gets a name change at this downtown eatery. Dubbed "cubicles" to stick with the J.O.B. theme, these tiny treats are served with an unlimited supply of hot and salty French fries and come in a variety of flavor combinations. The Ham & Apple, a popular cubicle, is a bite-sized sammie made with country-style Dijon ham, a heap of tart Granny Smith apple slaw and a slice of melted Swiss cheese. They might be small, but each of these sammies packs an extra-large punch of flavor and is plenty filling. Of course it might be the tasty unlimited French fries that really seal this deal and make it a total steal.
Houlihan's
2431 N. Glenstone Ave., Springfield, 417-862-7777; 2110 E. Republic Rd., Springfield, 417-883-3434, houlihans.com
The Deal: Not-so-tiny bites from the Tastes & Shareables lunch menu, $6
The Lowdown: Almost everything on Houlihan's Tastes & Shareables lunch menu costs less than $10. One of our favs, the Chipotle Chicken Nachos, could easily feed three ravenous diners. For this Mexican-inspired favorite, a bed of crispy chips is smothered in loads of cheese, perfectly seasoned chicken and homemade salsa and topped with massive dollops of sour cream and guacamole. The lettuce wraps, another cheap lunch option, come with several crisp butter lettuce boats that are ready to be filled with scrumptious sautéed chicken, julienne vegetables and crispy wonton strips. Both the nachos and lettuce wraps normally cost a meager $9.50, but during any of the spot's three happy hours, they're only $6.

Bambu Vietnamese Cuisine
1338 E. Battlefield, Springfield, 417-881-9881, springfieldbambu.com
The Deal: Six versions of the classic Pho, starting at $7.99
The Lowdown: This authentic Vietnamese favorite is delicious morning, noon and night. Essentially a Vietnamese version of the American chicken noodle soup, a rich beef broth is simmered for hours with fresh herbs such as cilantro and onions and then stocked with bean sprouts, basil, lime and jalapeños to add layers of crunchy texture, subtle heat and a fresh-from-the-garden taste. This makes any Pho noodle soup feel like a healthy and delectable experience. To "beef" up this brothy dish, Bambu offers Pho with brisket, meatballs, flank steak and the always-popular chicken.
Spring Creek Tea Room
107 S. 3rd St., Ozark, 417-582-1331
The Deal: Sandwich, soup, chips and a drink, $7.45
The Lowdown: Delicious soup and sandwiches are never further away than the nearest tea room, and one of our favorites can be found at Spring Creek. The chicken salad croissant here is among the best we've ever tried. The chicken salad is filled with sweet grapes, crunchy nuts and loads of juicy and tender chicken, and it's served on a buttery, flaky croissant. For only $7.45, you can get it with a bowl of the spot's cold strawberry soup, chips and a drink.
5 Spice Grill
2058 S. Glenstone Ave., Springfield, 417-799-0215, 5spicegrill.com
The Deal: Signature wok-fired noodles with shrimp, $7.95
The Lowdown: The Signature wok-fired noodles are a crowd favorite, chock-full of crunchy carrots, celery, onion, broccoli and red and green bell peppers. The whole mess is coated in a garlic-ginger soy sauce and tossed with slippery linguine noodles. The choice of chicken, beef, pork, shrimp or a combo of all of those makes this dish especially hearty. And with mammoth-sized portions, there's sure to be plenty of leftovers.
Mijuri
2710 S. Campbell Ave., Springfield, 417-889-9593
The Deal: Eye of the Tiger and Spicy Salmon sushi rolls, $6.95 each
The Lowdown: When looking for an affordable sushi lunch spot, Mijrui is always a sure bet. Almost everything on the menu costs less than $10. One of the tastiest sushi rolls—Eye of the Tiger—is a five-piece roll packed with salmon and rich cream cheese. This yummy, rice-encrusted parcel is then wrapped in calamari, lightly battered and fried till just crunchy. Total price is just $6.95. The Spicy Salmon roll is another juicy morsel at $6.95. Stuffed with salmon, crunchy cucumber and creamy avocado with just enough spicy Japanese mayo, this roll will definitely jump start your taste buds.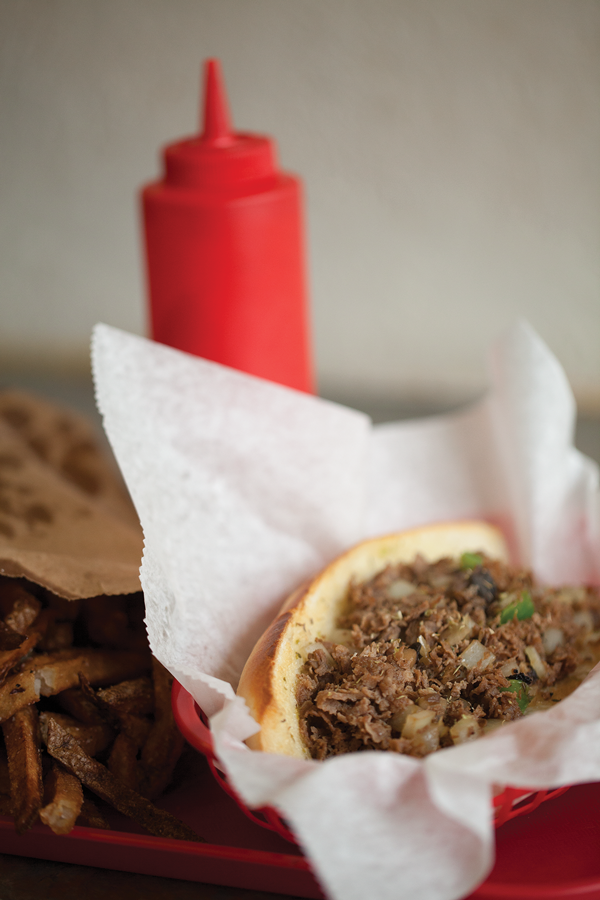 Chicago Cheesesteak Company
319½ E. Walnut St., Springfield, 417-865-1775
The Deal: Cheesesteak sandwich, fries and a drink, $8.60
The Lowdown: This hole-in-the-wall spot cooks up tasty, gooey, juicy and rich Philly Cheesesteaks that even Philadelphians would love. Strips of steak are marinated in-house before being covered with grilled onions, green peppers, mushrooms and a thick layer of mozzarella cheese. To add a little extra oomph, each six-inch hoagie is smeared with an olive oil, mayo and secret seasoning combo. The whole mess is then toasted, leaving strings of mozzarella trailing.
The Roost Bar and Grill
2025 W. Sunshine St. Ste. 104, Springfield, 417-865-4000, theroostbarandgrill.com
The Deal: Chicken Marinara Pasta, $9.99
The Lowdown: Even a half order or this dish is massive. Back in the kitchen, cooks take a whole chicken breast, cut it into strips, bread and fry it, top it with green peppers, mushrooms and homemade marinara and place it on top of a bed of penne before dusting the Goliath with fresh-grated Parmesan cheese. Perfection! The half order is just $5.99.
Nonna's Italian Cafe
306 South Ave., Springfield, 417-831-1222; 3512 S. National Ave., Springfield, 417-890-8300; nonnascafe.com
The Deal: Antipasto, $9.99
The Lowdown: This hearty appetizer is a cornucopia of salty goodness. It comes stocked with Genoa salami, spiced capicola ham, provolone, feta, grape tomatoes, black olives, Kalamata olives and artichoke hearts, all of which are sprinkled with a red wine vinaigrette and fresh Parmesan. This dish is only available on the dinner menu and is large enough for several people.
Koriya
4121 S. Fremont Ave., Springfield, 417-882-0077
The Deal: Bibimbap, $7.50
The Lowdown: For something delicious and nutritious, bibimbap is a must. Served over a mountain of hot, sticky rice are piles of assorted veggies, including mushrooms, cucumbers, green onions and carrots, plus seaweed, kobi, egg and your choice of sweet bulgogi, teriyaki chicken, tofu or spicy shrimp. Douse it with some sesame sauce and stir for what will soon become a new favorite dish. And if you haven't tried black rice before, this is your chance.
Kai
306 S. Campbell Ave., Springfield, 417-832-0077
The Deal: Sushi rolls starting at $7.95
The Lowdown: Kai is known for its scrumptious sushi. A favorite is the Sex and the City roll, a delicious cylinder of indulgence made with scallops, crab and masago and topped with tempura shavings and spicy Sex and the City sauce. This roll is regularly $9, but if you go on a Wednesday or Thursday night, you'll catch it on special for only $4. Same goes for the Miami Vice and Yummy rolls, which are normally $7.95. Sushi for only $4? See you there.
Bair's All-American Sports Grill
Multiple locations in 417-land, bairsburgers.com
The Deal: The Bronco Buster Burger, $8.49
The Lowdown: In the world of hamburgers, this burger is an Olympian-sized creation. Slapped on a cushiony bun, the oversized burger is layered with a thick slice of grilled ham, spicy jalapeños, crispy fried onions and blackened bacon. To top it all off, the entire pile is smothered in Monterey Jack and cheddar cheese. Holy yum.

Thrifty Tuesday: For a steal of a meal, try two tamales, rice and beans at Maria's Mexican Restaurant. On Tuesdays, it's only $7.50.
Maria's Mexican Restaurant
406 South Ave., Springfield, 417-831-9339, mariasdowntown.com
The Deal: Tamale Tuesday, two tamales for $7.50 during lunch or $8 during dinner
The Lowdown: You can get two homemade tamales on Tamale Tuesday for just $7.50 during lunch. And at dinner, that price bumps up a whopping 50 cents. Water-soaked cornhusks are packed with masa and tender meat including chicken, pork or shredded beef. The bundles are folded together and steamed for two hours. To spice things up, the kitchen occasionally adds tamales stuffed with carne asada to the menu. These tamales are served with rice and beans and come topped with a helping of pico de gallo.
The Burger Shack
1946 W. 76 Country Blvd., Branson, 417-544-9856
The Deal: Burger and fries, starting at $8
The Lowdown: These 100-percent-ground-beef, always-fresh, never-frozen patties can be stacked with up to 18 toppings that are always free and unlimited. With options such as fiery jalapeños, grilled mushrooms, juicy onions, firehouse mustard, pineapple slices and A1 Steak Sauce, it's easy to create a flavor bomb of a burger. And the hot and salty fries that come with this tasty treat are hand-cut and made fresh.
The Eagle Drive-In
4224 S. Main St., Joplin, 417-623-2228
The Deal: Daily lunch specials for $8.95
The Lowdown: The daily lunch specials at this burger joint change day to day and are all priced around $8.95. Everything from prime rib and bison meatloaf to mouthwatering hamburgers make appearances on this menu. And when it comes to burgers, these aren't your dad's burgers. Eagle Drive-In has quite the array of burger options with items like Angus beef, lamb, bison and elk lining the menu. If you're not drooling yet, maybe the brioche buns or the famed jalapeño corn bread buns will get you salivating.
Touch Restaurant
1620 E. Republic Rd., Springfield, 417-823-8383, touchrestaurant.com
The Deal: Dr. Pepper Short Ribs, $9.50
The Lowdown: With a menu as delicious as Touch's, it's hard to choose just one item. That's why the tapas menu is so wonderful—an array of small yummy options that are ideal for sharing. From tacos and quinoa to mussels and sliders, there's something here for all palates. One tapas item that really stands out as drool-worthy is the Dr. Pepper Short Ribs. These ribs sit on a bed of spicy-sweet jalapeño mascarpone polenta and are adorned with an organic over-easy egg that dribbles fatty egg yolk down the ribs.
Come on, Get Happy
When it's time for a post-work drink and snack, head to these happy hours and try out these tasty specials.
Nonna's Italian Café
3512 S. National Ave., Springfield, 417-890-8300; 306 South Avenue, Springfield, 417-831-1222; nonnascafe.com
Hours: 3—6 p.m. Mon.–Sat. at both locations, 7 p.m.–close for late night happy hour at the S. National Ave. location only
The Goods: Nonna's doesn't cheat with small plates when it comes to happy hour, it offers everything on its appetizer menu at half-off. The bruschetta, crab cakes and hummus all pair nicely with a beverage of your choice.
Must-Try: Anitpasto Plate, $9.99, or $4.99 during happy hour. This can easily be split by two or three people.
Parlor 88
1111 E. Republic Rd., Springfield, 417-882-8882; 3653, parlor88.com
Hours: 3–7 p.m. Mon.–Fri. and 3¬–6 p.m. Sat.–Sun.
The Goods: Parlor 88 runs one of the longer happy hours. Its dips and slider specials run from 3 p.m. to 7 p.m. Monday through Friday and from 3 p.m. to 6 p.m. on Saturday and Sunday. Grab a chipotle turkey slider for just $1.49 or try the tasty baja dip for $5.88.
Must-Try: Jalapeño Popper Dip for $5.88. The candied jalapenos are delish.
Flame Steakhouse and Wine Bar
314 W. Walnut St., Springfield, 417-862-4444, flamesteakhouse.com
Hours: 4–6 p.m. Monday-Saturday
The Goods: Flame Steakhouse and Wine Bar runs $3, $4 and $5 happy hour food specials and the menu ranges from salads to cheeseburger potato skins to mussels.
Must-Try: Escargot with bacon, garlic, herbs and artisan bread, $5
Touch Restaurant
1620 E. Republic Rd., Springfield, 417-823-8383, touch-restaurant.com
Hours: 4–7 p.m., Mon.–Thurs.
The Goods: Touch does something similar to its downtown counterpart Flame Steakhouse and Wine Bar. The restaurant offers $1, $2, $3 items during its happy hour Monday through Thursday between 4 and 7 p.m. And don't forget, every Monday wine is half-priced.
Must-Try: Float Trip burger with spicy float trip pickles, smoked bacon and cheese for just $3.
Flo Restaurant and Wine Bar
2925 E. Battlefield, Ste-105, Springfield, 417-886-0356, eatoceanzen.com/flo
Hours: 3–6 p.m., Mon.–Sat.
The Goods: Stop in to Flo between 3 and 6 p.m. Monday through Saturday to scarf some delicious food deals. You will not find any food item for more than $6, and Flo has a wide variety to choose from. Grab a spicy tuna roll, steak tacos or a baby green salad for a lighter bite.
Must-Try: Black truffle popcorn for $4.95.
Ocean Zen Pacific Rim
4117 S National Ave, Springfield, 417-889-9596, eatoceanzen.com/ocean_zen
Hours: 4–6 p.m. and 8–10 p.m. Sun–Thurs.; 4–6 p.m. and 9–11 p.m. Fri.–Sat.
The Goods: Ocean Zen is running happy hour deals seven days a week. Stop in Sunday through Thursday between 4 and 6 p.m. and 8 and 10 p.m. and on Friday and Saturday between 4 and 6 p.m. and 9 and 11 p.m. The menu has lots of options for every taste bud, and nothing is more than $7.
Must-Try: Salt N Pepper Jalapeño Fried Chicken
Haruno Sushi Bar and Grill
3044 South Fremont Ave., Springfield, 417-887-0077, harunosushi.com; Kai After Dark, 306 South Campbell Avenue, Springfield, 417-832-0077, kaiafterdark.com
Hours: 5–6:30 p.m., Mon.–Thurs.
The Goods: Haruno and Kai run an early-bird special between 5 and 6:30 p.m. Monday through Thursday. The always deliciously spicy Sex in the city suhsi roll is only $4.95. Other appetizers are offered at a big discount, including the beef sashimi for $3.95 and the sesame mozzarella asparagus tempura for $2.95.
Must-Try: Tuna Dynamite is a fresh jalapeño stuffed with spicy tuna and then deep-fried and drizzled with cooling avocado sauce and a slightly sweet eel sauce for only $3.
Houlihan's South
2110 E. Republic Rd, Springfield, 417-883-3434; Houlihan's North, 2431 N. Glenstone Ave, Springfield, 417-862-7777, houlihans.com
Hours: 4–6 p.m. and 9 p.m.–close daily
The Goods: Houlihan's has happy hour daily between 4 and 6 p.m. and late night from 9 p.m. to close. You can grab an item from the shareable menu for just $6, and it can easily feed two people (or one really hungry human.)
Must-Try: Seared rare tuna wontons with a soy glaze, wasabi mayo and Asian slaw.
Dublin's Pass
2767 W. Republic Rd, Springfield, 417-877-7625; 317 Park Central East, Springfield, 417-862-7625, dublinspass.com
Hours: 3–6 p.m., Mon.–Fri.
The Goods: Dublin's Pass has one of the earliest happy hours beginning at 3 p.m. and ending at 6 p.m, Monday through Friday. All appetizers are half-off and fully delicious.
Must-Try: Guinness cheese dip and fries. A bucket of hand-cut fries and served with ooey-gooey Guinness cheese dip.
Big Whiskey's
311 Park Central East, Springfield, 417-862-2449; 1440 W. Republic Rd., Springfield, 417-882-2249; 1550 E. Battlefield Rd., Springfield, 417-883-5999; bigwhiskeys.com
Hours: 4–6 p.m., Mon.–Fri.
The Goods: Big Whiskey's does $1 sliders and half-price on selected appetizers Monday through Friday between 4 and 6 p.m.
Must Try: We are partial to the Buffalo Chicken Dip. Shredded chicken, cream cheese and buffalo wing sauce all blended together and served with warm tortilla chips and celery.
We gave 417 Magazine staffer Dylan Whitaker a crisp $20 bill and put him up to a challenge: Eat lunch at a local restaurant every day for one week, and use nothing more than this $20. Here's what happened.
At first I was a little freaked out with my assignment to stretch $20 across five lunch excursions. Honestly, that's not a lot of money (unless you know a restaurant that runs a daily Vienna sausage and saltines lunch special). But after I started creeping on restaurant websites, I quickly learned there are plenty of cheap eats, and I realized my real problem: How in the world was I going to get enough food to fill my belly on an average of just $4 a day? 
It was time to weigh my options. Of course I could just go to the Sam's Club deli every day and grab a quarter-pound hot dog and 32-ounce drink for less than $2.50, but what's the fun in that? After some research, I learned that on that particular Thursday, Andy's Frozen Custard was giving away free cones. Score! I was then inspired to find other spots that offer free food, like the bread, Parmesan cheese, olive and garlic that comes with your meal at Nonna's Italian Café, and also spots that offer combos with a little something extra. My culinary journey took me to Italy, Mexico, Cajun country and China before I ended with an old-fashioned all-American slider, and it only set us back $20. Take notes. —Dylan Whitaker
Level 2 Steakhouse
200 E. Main St., Branson, 417-243-3433, level2steakhouse.com
The Deal: Whiskey Beef Tips, $13
The Lowdown: For this appetizer, a pile of tenderloin beef tips are sautéed with Johnny Walker Scotch Whiskey, butter and garlic sauce. Chowing down on this tender treat is a great way to enjoy the tasty steakhouse steak without racking up the bill. Pair these steak tips with a bowl of the velvety smooth tomato basil bisque that comes covered with puff pastry crust, and you've got yourself a perfectly affordable meal.
Ocean Zen
600 E. Battlefield, Springfield, 417-889-9596, eatoceanzen.com
The Deal: Lunchtime bento box, $10.95
The Lowdown: The bento box is always a sure bet when it comes to finding a filling, inexpensive lunch option. Plus, knowing that you can get the mouthwatering macadamia nut chicken that costs $15.95 as a dinner entrée for $10.95 during lunch… Well, it's a no-brainer. Also packed inside this box is miso soup, garlic mashed potatoes, half of a California roll, a blue crab and cream cheese wonton, two pieces of pork gyoza (fried potstickers) and an Asian slaw salad.
Jimm's Steakhouse & Pub
1935 S. Glenstone Ave., Springfield, 417-886-5466, jimmssteakhouseandpub.com
The Deal:  Chicken Gratella, $14.99
The Lowdown: This joint is most known for its steaks, but even the white meat options are worth looking at. For this dish, a grilled chicken breast is topped with sundried tomatoes, artichoke hearts and blue cheese before it all gets slid under the broiler. Once done, the dish is streaked with sweet balsamic glaze and laid on a bed of red skin garlic mashed potatoes.
Leong's Asian Diner
1540 W. Republic Rd., Springfield, 417-887-7500, leongsasiandiner.com
The Deal:  Dim Sum Sampler Platter, $12.99
The Lowdown: One eggroll, two crab Rangoon, two Asian barbecue ribs, Hoisin BBQ Pork and three pot stickers make up this platter served with Thai chili sauce and Sriracha aioli. From the crab Rangoon filled with cream cheese and scallions to the eggrolls that are plump with shrimp, roast pork, peanut butter and cabbage, everything is made in-house.
Cantina Laredo
1001 Branson Landing Blvd., Branson, 417-334-6062, cantinalaredo.com
The Deal: Tacos de Pescado, $13.79
The Lowdown: These savory morsels are a delicious upgrade of the standard fish taco. Packed with sautéed mahi-mahi, marinated vegetables, queso fresco, chipotle aioli and tender red cabbage, each of these three corn tortillas is bursting with flavor. 
Primas Mexican Grill
2101 W. Chesterfield Blvd., Springfield, 417-823-7180; 1769 W. James River Rd., Ozark, 417-582-2776; primasmexicangrill.com
The Deal:  Bistek Norteño for $12.99
The Lowdown: One of the great things about Mexican restaurants, besides a never-ending supply of chips and salsa, is build-your-own tacos. And the Bistek Norteño doesn't disappoint with its tender, 8-ounce flank steak that's marinated in-house, grilled and served with piles of rice and black beans. Served alongside grilled jalapeños and slices of fresh avocado, you can load up tortillas till they burst.
The Argentina Steakhouse
1410 E. Republic Rd., Springfield, 417-886-8010, theargentinasteakhouse.com
The Deal: Grilled salmon lunch entrée, $11
The Lowdown: A 5-ounce filet of Chilean salmon is grilled before it's tossed in the oven till just crispy. With a crunchy texture on the outside and juicy, flaky morsels inside, the fish is then topped with a decadent seafood cream sauce stocked with savory lobster, chopped shrimp, scallops and crab meat. Served alongside a heaping portion of steaming beet Parmesan rice, this is one flavor combination that's hard to beat.
Dobyn's Dining Room at the Keeter Center
1 Opportunity Ave., Point Lookout, 417-690-2146, keetercenter.edu
The Deal:  Mixed Grill Brochette, $18.95
The Lowdown: This dish is a carnivore's dream meal. Skewers are packed with garlic-and-rosemary marinated sirloin, thick chunks of bacon raised at College of the Ozarks and handmade sausage and garden-grown onions and peppers. The skewers are grilled and then served with chimichurri sauce and rest on a soft bed of polenta that's been milled on campus. Sometimes food just tastes better when it's grown in the backyard.
Fire & Ice
2546 N. Glenstone Ave., Springfield, 417-522-7711, oasisfireandice.com
The Deal:  Hoisin-glazed BBQ Duck, $21
The Lowdown: For this entrée, cold smoked duck breast is pan-seared, topped with hoisin barbecue glaze and served with forbidden rice and wok-fried vegetables. The duck is cold smoked in-house, giving it a light smoky flavor before being pan seared. It's over our limit by $1, but well worth it.
Devil's Pool Restaurant at Big Cedar Lodge
612 Devil's Pool Rd., Ridgedale, 417-335-5141, big-cedar.com
The Deal: Country fried rib-eye, $18
The Lowdown: The country fried rib-eye is like the country-fried steak you've only seen in dreams. A thick rib-eye is pounded flat and coated in flour and egg wash and deep-fried to the most beautiful golden brown. The mashed Yukon potatoes arrive peeking out from pools of homemade black pepper cream gravy and turn this dish into a down-home favorite. Devil's Pool was under renovation at press time, but look for this rib-eye when the restaurant re-opens. 
Avanzare Italian Dining
1908 S. Glenstone Ave., Springfield, 417-567-3463, avanzareitaliandining.com
The Deal:  Fruitte Di Mare for $20
The Lowdown: When you're really in a mood for seafood, look no farther than the Fruitte Di Mare at Avanzare Italian Dining. A large bowl of spaghetti is topped with shrimp, calamari, scallops and black mussels with just a splash of the homemade marinara that has us always licking our bowls. Made of whole tomatoes, roasted garlic, chopped onions, celery, carrots and white wine, this sauce has to cook for three hours before it's ready to be served.
Haruno Sushi bar & Grill
3044 S. Fremont Ave., Springfield, 417-887-0077, harunosushi.com
The Deal:  Misoyaki Black Cod, $20
The Lowdown: It takes 24 hours for this black cod to soak up all the flavors of its saki and sugar marinade. The result is a sweet-n-salty delicate filet of fish ready to be seared and served over a bed of fluffy rice and earthy sautéed mushrooms, baby bok choy and other seasonal veggies. You'll love it.
Bruno's Italian Restaurant and Wine Bar
416 South Ave., Springfield, 417-866-0007, dineatbrunos.com
The Deal:  Salsíccía Sícílíana Con Funghí Al Vino Rosso, $16.50
The Lowdown: It takes the chefs at Bruno's a couple of days to make the homemade Sicilian sausages in this dish. Two fat links are stuffed in-house and then pan seared with sautéed onions and mushrooms in a red wine demi-glace. The juicy links are plopped next to a pile of garlic-packed roasted Yukon gold potatoes, making an Italian creation that will leave you feeling stuffed and happy.
Metropolitan Grill
2931 E. Battlefield, Springfield, 417-889-4951, metropolitan-grill.com
The Deal: Chicken a la Chad, $15 for a half order
The Lowdown: This dish features an 8-ounce chicken breast that's marinated in a rosemary-Riesling pear nectar, leaving the chicken with a sweet-yet-savory glaze. To make this menu item even more drool-worthy, chefs top the chicken with strips of prosciutto and a caramelized onion nest. The a la Chad is accompanied by smoked Gouda mashed potatoes and seasonal vegetables that are either sautéed, roasted or grilled.
Aviary on the Fly
Springfield, 417-771-7655, aviaryonthefly.com
There are more than just sweet and savory crepes being served at this food truck. The spot serves juicy Angus burgers on pretzel buns, hand-cut French fries, pork sandwiches, salads and Panini on locally baked sourdough bread. Check its Facebook and Twitter accounts to see where it's parked.
Speedy's Cowabunga
Springfield, speedysfoodtruck.com
Grab a hula skirt and your appetite. Speedy's serves tricked-out Hawaiian food including Hawaiian Chicken Kabobs, Aloha Honey Shrimp and Kalua Pulled Pork. Visit its website to find where it's parked.
The Dancin Dogs
Springfield, 417-501-9286 (Editor's note: The Dancin Dogs has closed since the publication of this article.)
This open-air pushcart is all about the Chicago dog, but it also serves spicy Polish dogs, chili dogs and bratwursts. Check its Facebook page to find the cart in Springfield.
FireLight Pizza Company
Springfield, 417-848-4541
Workers sling wood-fired pizzas that are made to order in less than two minutes. To find these super-speedy pizzas around town, check out the FireLight Facebook page.
City Dogs
Downtown Springfield, 417-844-5618
Piping hot franks come with a variety of toppings from sauerkraut and jalapeños to chili. Since the cart sets up when bars are hopping, these dogs are ideal for late-night dining.
Pineapple Whip
1309 S. Glenstone Ave., Springfield; 1517 W. Battlefield, Springfield; 4228 S. National Ave., Springfield; pineapplewhip.com
A Springfield dessert staple, pineapple whip is a light, low-calorie, ice-cream-like treat. At press time, the S. National location was moving, so check its website to find its new spot.
Big Red Juice Truck
Springfield, 417-522-3254, bigredjuicetruck.com
This food truck pumps out fresh juice, smoothies and an array of vegan and vegetarian delights. Find it at the Farmers Market of the Ozarks, and check its Facebook page to see where it sets up shop.
Little Tommy's Dogs
Bridgeview Plaza in Shell Knob, 417-763-2920
Serving up Chicago dogs, Polish dogs, bratwursts, hamburgers and more, this push cart is most often found at area auctions, car shows and festivals.
Her's Cookin
Springfield (Editor's note: Her's Cookin has rebranded to become Ghetto Burger.)
In order to pinpoint this truck's location, you have to be friends with Her's on Facebook. Lunch and dinner specials change frequently and feature treats like the Ghetto Burger, Cajun fare, brisket and more.
The Traveling Taco
Found at the corner of Kimbrough Ave. and Elm Street, Springfield, 417-655-5444, travelingtaco.com
Authentic Mexican cuisine is this truck's specialty, with tacos, burritos, nachos, churros and chips and salsa making up the bulk of the menu.
Big Red Bar-b-que
813 St. Louis St., West Plains, 417-256-1018
Grab a plate and load up on ribs, smoked chicken, pulled chicken or brisket. You'll also want to try the sides, including baked beans, potato salad and slaw.