Style
Arts & Letters: Downtown Springfield
Meganne Rosen O'Neal and Laura Provance are the creative geniuses behind Arts & Letters: Downtown Springfield's one-of-a-kind art gallery-boutique hybrid that offers classes in foreign language, art and music.
By Savannah Waszczuk
Mar 2015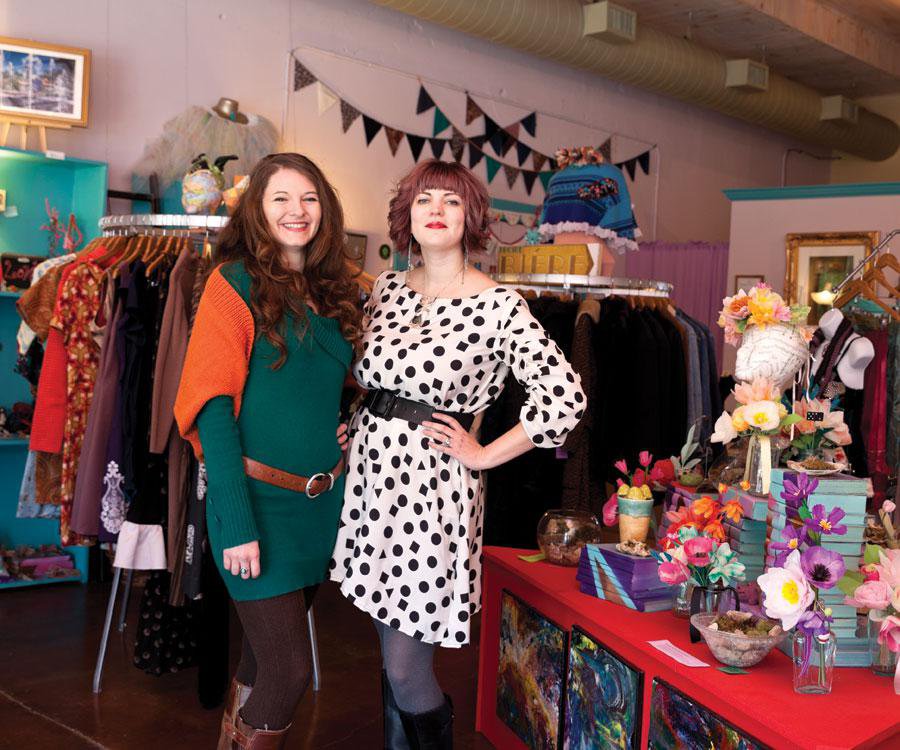 Arts & Letters
214 S. Campbell Ave., Springfield; 417-830-8186, artsandlettersspringfield.com; open Mon.–Fri., 11 a.m.–6 p.m. and Saturday, 11 a.m.–5 p.m.
Arts & Letters co-owners Meganne Rosen O'Neal and Laura Provance have been friends since their days at Glendale High School. "We were on the debate team together," Rosen O'Neal says. Rosen O'Neal graduated in 2002 and headed to Drury University and received her Bachelor of Arts with honors in art history. Next, she continued her studies at Drury and received a Master of Arts in studio art and theory. Provance left Springfield when she graduated in 2003 and headed to Truman State University where she received a Bachelor of Arts in classics. 
"Even though we were apart all that time, we stayed in touch," Rosen O'Neal says. But Provance became a bit harder to stay connected with over the next few years. After graduating from Truman, Provance went on to teach Latin at the University of Arizona, where she also earned her master's degree in Classics with an emphasis in ancient history. Next, Provance moved to Italy.
When Provance decided to move on to her next adventure, Rosen O'Neal, who had become increasingly active in the Springfield arts community after graduating, mentioned she would love to start a business of her own. The two worked to create a concept that played to all of the things they were passionate about, which is how Arts & Letters was born.
Unlike anything else in 417-land, Arts & Letters is a business that's part art gallery and part boutique, and it offers an array of specialized language classes and art courses. When you walk in, you're immediately drawn to the 53-foot gallery wall, which features one artist per month and is changed out in conjunction with Springfield's First Friday Art Walk. There's also a salon wall toward the back of the store where you can find a variety of other artists' works on display. Much of the boutique area is housed in the front, and it's dotted with clothing racks filled with locally made items and a few vintage finds. "Everything we sell is locally made," Provance says. "All of the clothing, jewelry, scarves, hats, bags, accessories, art, body products—everything."   
In addition to displaying the collection of works of art, clothing and accessories, Arts & Letters acts as a classroom, as French, Italian and Latin classes are all taught by Provance. "The group lessons run on a semester schedule," Provance says. "Each one has 16 1.5-hour sessions." Provance also offers private lessons, and the duo is working to offer more language classes. Arts & Letters also offers art-related courses, including an illustration course taught by Gary Bedell, as well as music lessons.
Q&A With Arts & Letters co-owners Meganne Rosen O'Neal and Laura Provance
417 Magazine: What was your first-ever experience with art?
Megan Rosen O'Neal: My mom was an art teacher when I was growing up, and now she's a professor. My house was like a museum with library books and art everywhere. I was born into it. 
Laura Provance: While working as a tour guide, you find yourself looking to communicate with others who speak a number of languages. You can't always talk to everyone, but you can take something you love and find a way to share it. I became interested in Roman art, and I was able to share it with many others who love art. 
417: Finish this sentence: The most important thing that your shoppers feel is…
M.R.O.: Welcome. I don't want anyone feeling like it's intimidating. We want our gallery to feel accessible, personal and inviting. 
L.P.: I would agree with that, and we also want them to feel excited. We have a lot of people who are doing things locally, and doing them really well, and we want everyone to get excited about it. 
417: Describe a typical day at Arts & Letters.
M.R.O.: Everything we do here is done by hand. We make all the tags for our items, stamp all of our own bags, change all the displays and everything else. A lot of time is spent organizing everything and getting things ready to be put out.
417: What do you look for when finding things to sell?
L.P.: We look things that are different and that will stand out. We also look for quality, well-crafted items. 
417: What are three words that describe your merchandise?
M.R.O.: Local, unique and fabulous.
417: So, you teach all of these language classes. What languages can you actually speak?
L.P.: I speak Italian, French, Latin and English.
417: And Meganne, we know your strengths are in the arts. What all are you involved in locally? 
M.R.O.: I'm on the Board of Directors for the Springfield Regional Arts Council, and I was one of the original founders of ideaXfactory. I also teach in the Art and Design department at Missouri State University. Also, I paint.