Life
5 Best Fully Loaded Fries
Behold: the five most desirable topped fries in all of 417-land.
Written by Savannah Waszczuk | Photo by Vivian Wheeler
Mar 2017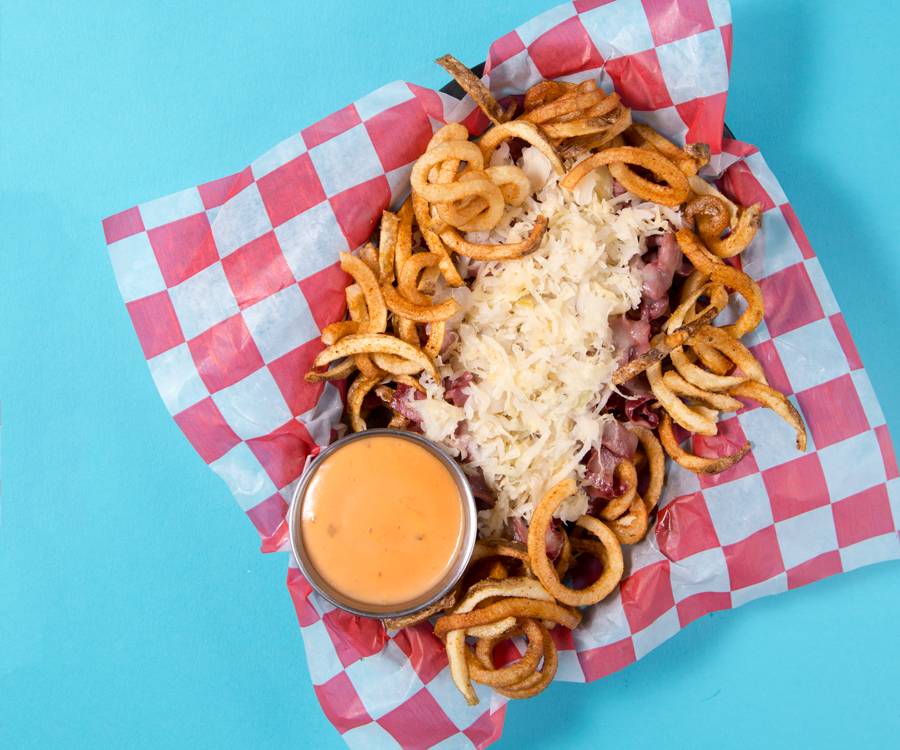 1. The Twisted Reuben Fries
Starting at $8.50 at 417 Taphouse, 431 S. Jefferson Ave., Suite 160, Springfield, 417-942-0958
The Toppings: Deli-cut corned beef, sauerkraut, Swiss cheese and Thousand Island dressing
Why We Love Them: Potatoes get a major face-lift here, where a spiralizer is used to cut curly fries to order. The Reuben variety pairs the savory flavors of that favorite sandwich with a fresh hot pile of portable potato goodness. Bring friends and order the table-size portion: it feeds four people! 
2. The Crack Fries
$10 at Twisted Mike's food truck, in the food truck park at 836 N. Glenstone Ave., Springfield, 417-496-3478
The Toppings: seared steak, sauteed Portobello mushrooms, sauteed onions, bacon, pepper jack cheese, crack sauce and house seasoning
Why We Love Them: A full pound of double-fried fries are the foundation on which tender steak, crispy bacon crumbles and melty pepper jack cheese combine to have you coming back for these spudsy sticks. We also love the house seasoning blend of applewood smoked salt, sweet onion, sugar and white pepper.
3. Fritas a la Huancaina
$7.98 at Café Cusco, 234 E. Commercial St., Springfield, 417-868-8088
The Toppings: marinated red onion, cilantro and a zesty cheese sauce 
Why We Love Them: This indulgent triple threat pairs everyone's favorite steak fry with crunchy sweet potato fries and fresh-cut yucca fries. What's even better than these dippers? The house-made cheese sauce drizzled on top—it's made with queso fresco, condensed milk, fresh garlic and aji Amarillo pepper. 
4. You Are Smokin' Fries
$8.75 at Black Sheep Burgers & Shakes; 209 E. Walnut St., Springfield, 417-319-5905; 2160 W. Chesterfield St., Springfield, 417-368-0227
The Toppings: pulled pork, pepperoncini, chipotle barbecue and cheddar cheese sauces
Why We Love Them: The smokiness in Black Sheep's apple 'n' hickory smoked non-GMO fries makes them delicious enough to stand on their own, but the restaurant's juicy and tender pulled pork is piled high and drizzled with a beautiful duo of sauces to take these to the next level.
5. Loaded Fries
$8.99 at Big Whiskey's American Restaurant & Bar, various 417-land locations
The Toppings: cheddar cheese, bacon and chives
Why We Love Them: These fries are definitely the most traditional variety on the list—proof that sometimes being basic is a good thing. Accompanied by a cool, creamy bowl of ranch for dipping, these are like a baked potato gone portable.