Health
Get Fit: The Studio
Senior Editor Savannah Waszczuk headed to The Studio to try inFLOWred yoga, a heated yoga class that delivers nothing but the best for your mind, body and soul.
Written by Savannah Waszczuk | Photos by Brandon Alms
Mar 2017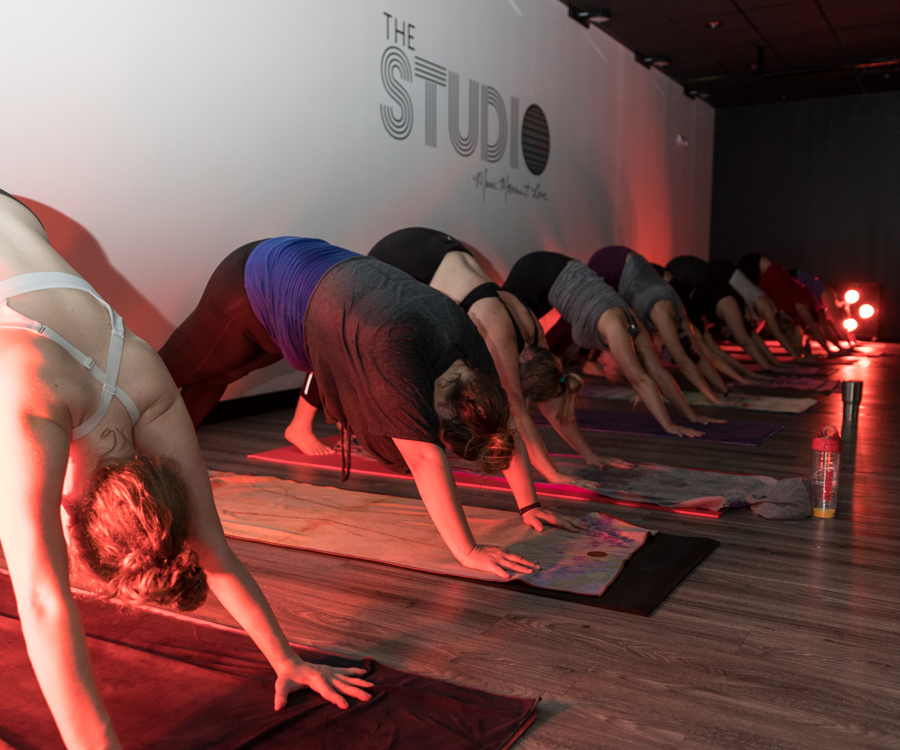 A big part of the reason I was nominated to start writing this Get Fit column years ago is because I'm pretty open to trying new things. Month after month, Editor Katie Pollock Estes has made the most of my willingness, sending me all around 417-land to do things like row with CrossFitters and clog with professional dancers. I've learned to rock climb. I've taken square dancing lessons… twice. I've boxed, I've Tai Chi-ed and I've spun. And last but certainly not least, I've managed to find just enough balance to guide my far-from-flexible body through more yoga classes than I can count. 
Last Monday morning it was time for another one of my Get Fit adventures, this time the InFLOWred Yoga class at The Studio (1440 W. Republic Road, Suite 132, Springfield, 417-689-4461, empower417.fit). It was a rainy day, which made getting out of bed and pulling on workout tights even harder than usual. But hey, another day, another dollar, right? I forced myself up, gave myself a Monday morning pep talk and put my best foot forward as I headed out try the latest yoga act on my ever-growing list.
Senior Editor Savannah Waszczuk's favorite part of inFLOWred Yoga wasn't the stretching—it was the positive thinking.
THE STUDIO
I've visited The Studio before—owner and lead instructor Jamie Kinkeade formerly operated two locations in Nixa, and we tried classes at each place. This was my first time to the Springfield location, though, and I have to say it's my favorite location yet—in addition to the new spot's clean and open feel, there's a child care room and two showers with everything you need to get ready for your day. 
The Studio offers its popular JAM dance class, BUTI class and other favorites at its new location, plus the inFLOWred class—a Vinyasa yoga class that takes place in a room heated with infrared therapy lights. InFLOWred is taught by Cady O'Quinn, an E-RYT (experienced registered yoga teacher) who also teaches classes at Sumits Yoga Springfield and Kom Hot Yoga in Branson. When I met O'Quinn, I quickly realized why she's in such high demand—she greeted me with a huge smile, a contagious sense of positivity and a bit of encouragement, immediately putting an end to my lingering case of the Mondays.
THE CLASS
I headed into the yoga room and quickly snagged a spot one spot away from a set of lights—if I was going to drag myself out of bed on a rainy Monday morning, I was going to make it worth it. I wanted to sweat. My wish was granted just a few minutes later—beads of perspiration started rolling from my face before O'Quinn even finished stating our intention for the day. "I always move forward with an intention," O'Quinn says. This intention can be something like an idea or thought to focus on, or it can be more specific, like working into a specific body part. In the class I attended, the intention was all about letting go—learning to release our hips and open up our bodies, but also allowing ourselves to forget or "let go" of the negative thoughts we tell ourselves.
Things heat up in inFLOWred Yoga at The Studio, which uses infrared lamps to bring the temperature up.
As we worked our way through various warm up poses, I quickly learned that listening to O'Quinn and taking a break from outside thoughts was just as important as the physical work we were doing. Each new movement came with perfect instruction as O'Quinn told us how to perform the moves with our bodies and offered suggestions on how we could direct our minds. No negative thoughts were allowed. Positivity and compliments were given out, and it worked. 
Now don't get me wrong—I still at least flirted with those negative thoughts. Every time I stepped into the downward dog position, all I could do was focus on the fact that my belly was bulging over my tights thanks to the pasta I ate the night before. But as I've learned at various classes over the years, those thoughts are going to happen, and they're going to happen to all of us, regardless of how many pounds we think we have to lose. The difference with O'Quinn's classes, though, is that she's there with compliments and words of encouragement each time those negative thoughts lurk in. It was almost as if she could see into my brain—any time I wanted to adjust my waistband or pull down my tank, she was there telling me that I was perfect, just the way I was. We all were. I walked in feeling like a frumpy, inexperienced, pasta-filled schmuck, but I was already feeling like a million bucks by the time we finished the warm up.
The class continued as many traditional yoga classes do—we worked through various postures linked together with Vinyasa flow. O'Quinn slowly worked us through various movements—sun salutations, plank, chaturanga, chair pose, warrior poses, pigeon pose—each one getting a bit more challenging. "Each pose we do is practice for a later pose," O'Quinn says. "Once your body warms up, you aren't struggling as much to move into that next pose." 
Speaking of warm, the room was heated to approximately 85 degrees, and it gets close to 90 degrees when it's full. I loved the warmth—it was just hot enough to get me good and sweaty without making me feel like I was going to pass out. By the time we finished up our hour, my shirt was drenched and I needed a big swig of water, but I felt clean and refreshed. I felt whole.
The class focuses on positive thinking as participants go through their flow.
THE EFFECTS
I've always heard that yoga can do great things for both your body and mind, but I never really understood it until I attended this class. Sure, it was obvious that the heated workout was great for me physically, and I had plenty of sore core muscles to prove it. But the positive mood that I left with, and the confidence that came with it, well, that's something I've struggled to find before, and it's something that this class delivers unlike any other. I know that I'll try countless other workout classes for this column in the future, but this class is definitely one that I'll come back to on my own time. For sure. Even on a rainy Monday morning.