Style
Flora & Fern
One of Springfield's newest garden shops is helping indoor gardens take root.
By Ettie Berneking | Photos by Chuck Travers
Mar 2017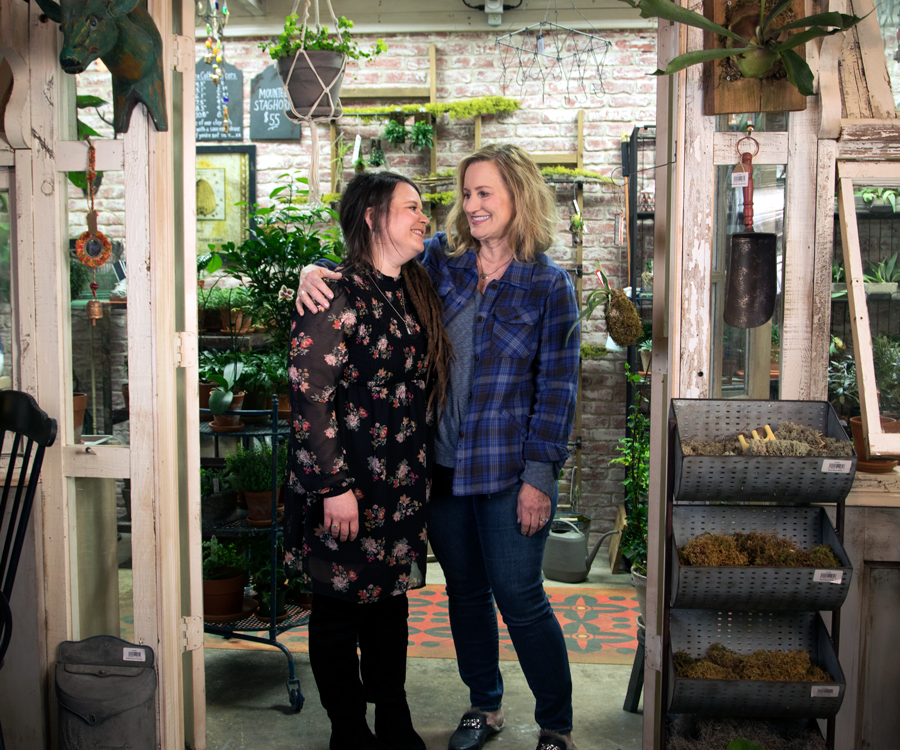 Decked out in an array of colorful shabby chic decor, Flora & Fern is a little like joining Alice in Wonderland. Pajama-clad mounted deer keep watch over the tables, counters and shelves lined with all shapes and sizes of ferns, topiaries and orchids. Natural light pours in through the shop's front row of windows, and an indoor greenhouse looms large in the center of the store. Puzzled together with a collection of paneled glass windows, the greenhouse is filled with pots, wind chimes and the shop's impressive collection of staghorn ferns and baby orchids—owner Debbie Burgess's personal favorites.
If Burgess looks familiar, that's because you likely saw her at Aviary Cafe & Creperie. Burgess and her husband, Mark, opened Aviary in 2010 and sold the restaurant in 2015. The move left Burgess with a creative void to fill, but in September 2016, she found her new artistic outlet: a garden shop. 
Finding herself a long way from the crepes and the Francophile menu of Aviary, Burgess started stocking Flora & Fern with her favorite houseplants, ferns, tabletop topiaries and mounted staghorns. Anything Burgess finds unusual or filled with creative potential ends up in her store. "Who likes ordinary stuff?" Burgess asks, laughing. Urban gardening has been expanding beyond the backyard vegetable garden and into apartments, condos and urban dwellings, and Burgess is eager to help her customers develop their green thumbs beyond the windowsill herb collection.
Along with a selection of seasonal postcards, birdhouses, shabby chic plant stands, watering cans, the Avindy jewelry line, confetti fountains and indoor sparklers (perfect for that upcoming birthday celebration), not-so-usual house plants for urban and indoor gardening stock the store. Tabletop topiaries, delicate baby orchids, succulents, olive trees, fiddle leaf ferns, air plants, cacti, lavender bushes, lemon cypress and Mexican heather spread their branches throughout the shop. One of Burgess's favorite low-maintenance plants is the popular staghorn fern with its antler-like green prawns. "You see these everywhere," Burgess says. "They're on the West and Northwest coast and in tropical areas, but you don't see them here." The slow-growing plants don't require any dirt and can be mounted on pieces of wood, on trees, on walls or basically anywhere the light is good. Just soak them in water once a week and put them back on their mount.
Other surprisingly low-maintenance beauties are the baby orchids Burgess gets in from Hawaii and San Diego. Like the staghorn ferns, the orchids don't need any soil, which makes them ideal for any burgeoning indoor garden. "People are going back to a more organic lifestyle," Burgess says. She even has the perfect "houseplant" for kids or those whose plant cemetery only seems to grow: Marimo moss balls. Tiny in size, these living moss balls only grow ⅕ inch each year and can be added to fish tanks, decorative bottles and votives. Known to live 200 years or longer, the moss balls are passed through generations.
Thanks to its unusual selection of indoor plants and Burgess's endless encouragement for even the most novice of gardeners, Flora & Fern is as welcoming as it is inspiring, and there's just enough whimsy to make each visit seem like a fairytale moment.  
Q&A 

with Debra Burgess, 

owner of Flora & Fern
417 Magazine: How would you describe your decorating style?
Debra Burgess: Definitely on the shabby chic side of the decorating spectrum. I like affordable things, and I like including unexpected elements like the old-fashioned swing inside Flora & Fern. 
417: Are there any decor items you can't pass up when you see them?
D.B.: Oh, lots! I love mossy terra cotta pots, old birdcages, topiaries, old watering cans, Santos figurines, antlers, hides, velvet chairs and oxidized copper anything.
417: What is your favorite way to arrange indoor plants?
D.B.: In groupings large and small in pots that don't match. The large, flat leaves of a fiddle leaf fig look even more impressive near something viney, like an ivy. I like to think about dark green foliage next to lighter greens, and heavy, thick leaves surrounded by lacey, delicate ones.