Style
Aesthetics Home
With a huge variety of reclaimed and refurbished furniture for sale, Aesthetics Home on Springfield's Commercial Street is a great place to shop for one-of-a-kind home décor.
By Savannah Waszczuk | Photos by Kevin O'Riley
May 2014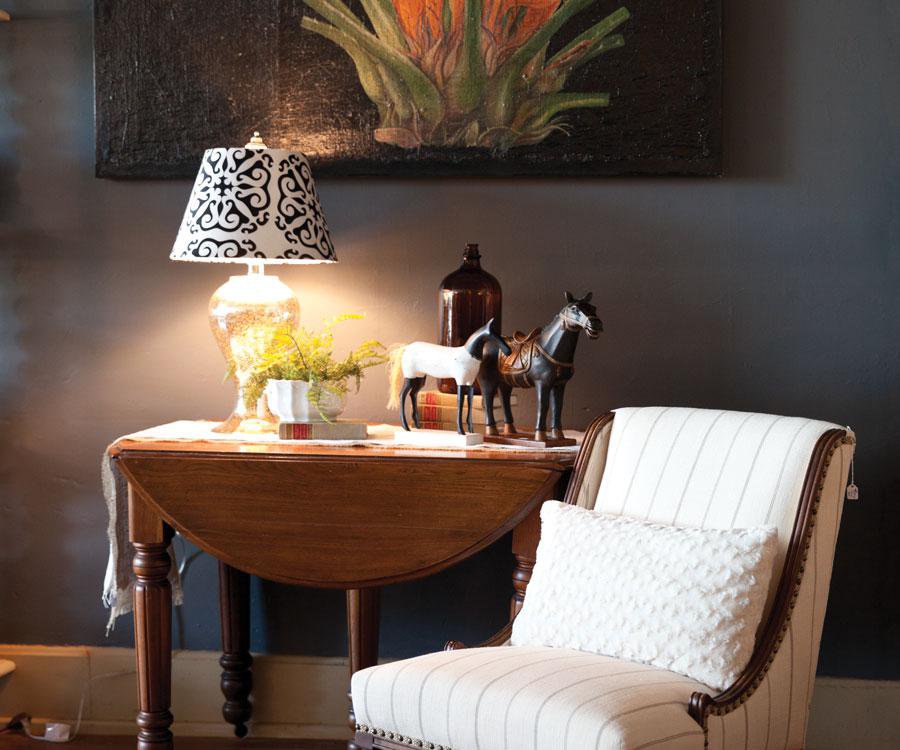 Debbie Walker and her husband, Kenneth, opened Aesthetics Home in 2012 and have since stocked the store with an eclectic mix of home furnishings.
The Shop
Aesthetics Home
428 W. Commercial St., Springfield, 417-299-3536; Thurs.–Fri., 10 a.m.–5 p.m. and Sat., 10 a.m.–4 p.m.
Debbie Walker was always rearranging the furniture in her room when she was a little girl. Eventually, she expanded her hobby and started rearranging her mother's furniture. "Setting up furniture has really always been an interest of mine," Walker says. Today, she does the same thing at Aesthetics Home, a furniture store that she owns with her husband, Kenneth.
Open since November 2012, Aesthetics Home is a hidden gem on Commercial Street that sells a variety of new and refurbished furniture. "We make and refurbish some furniture ourselves, and we buy some at estate sales, auctions and flea markets," Walker says. "We also have a local craftsman who builds a line of furniture made from reclaimed wood." This style can also be spotted in south Springfield—the craftsman (who wished to remain anonymous) made the dining tables at the new Aviary Creperie and Patisserie at Farmers Park. "The wood he uses comes from old barns and buildings," Walker says. "The line is one of our biggest sellers." 
As for the style of furniture available, you'll find everything from farmhouse modern to more traditional pieces. Walker says it's important that the pieces are arranged in the store just as they would be in your home. "We'll have people come in and say, 'Oh, it just feels so good in here,'" Walker says. 
The inventory ranges from small to large, with everything from candles, dishes and lamps to sofas, beds and dining tables for sale. "Really, we have anything that you would need to make a house pretty," Walker says. "I focus very much on pretty. I don't want to just sell furniture. I want to sell a lifestyle."
1. Botanical painting, $199 2. Table lamp, $79 3. Antique jug, $18;Antique books, $12 each 4. Horse figurines, $25—38  5. White pillow, $22 6. Vintage upcycled chair, $325
Q&A
With Aesthetics Home owner Debbie Walker
417 Magazine: How would you describe the style of the store's home décor merchandise?
Debbie Walker: It's extremely eclectic, and many items bend toward a romantic, soft touch.
417: What would you say is the most essential part of any home's design? 
D.W.: I think the most important thing everyone should do is surround themselves with things that they love. If they see something, and they love it but don't know how to use it, they should buy it anyway. They will find a way to use it. 
417: Finish this sentence: The most important thing that your shoppers should feel is… 
D.W.: That they could pick anything up and put it right in their home. I want the shoppers to feel like they're in a home setting.
417: If you could have any item in the shop right now in your own house, what would it be?
D.W.: The European bed. It's an antique bed from Belgium, and I would love to have it.
417: What are three words that describe your store's merchandise? 
D.W.: Eclectic, fashionable and unique