Dishes
Nam from Bangkok City
Plus six other dishes that have passed our taste buds and made us rave. They are ranked by level of yumminess.
May 2014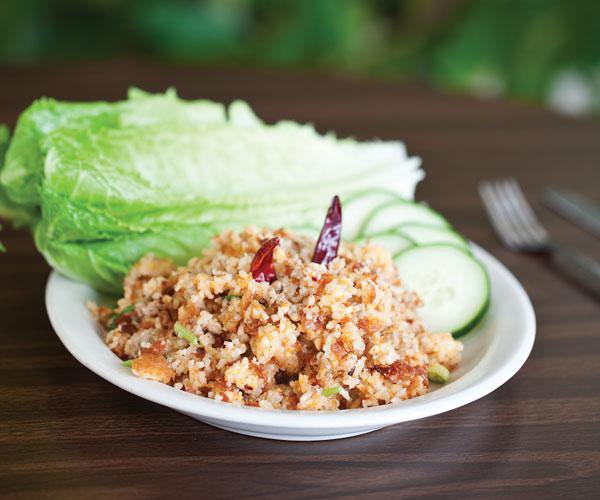 1. For a fun spin on lettuce wraps, we love the nam from Bangkok City (1129 E. Walnut St., Springfield, 417-799-1221, bankokcityspringfield.wordpress.com). It's fried rice seasoned with coconut and cooked with tasty, crispy pork, Thai herbs and lemongrass.
2. We loved when we could nab the Crab Cake Sandwich when it was a lunch special at Nonna's Italian Café (3514 S. National Ave., Springfield, 417-890-8300; 306 South Ave., Springfield, 417-831-1222; nonnascafe.com). Plump crab cake is lightly breaded and flash-fried, then served on a ciabatta bun with lettuce and a lemon aioli. 
3. The super-tasty grilled chicken sandwich at The Inside Scoop (3521 S. Lone Pine, Springfield, 417-720-1637) features grilled chicken topped with provolone cheese, tomatoes, lettuce and herb mayo and comes on a pretzel roll.
4. The fried Brussels sprouts at Metropolitan Farmer (2144 E. Republic Rd., Springfield, 417-720-1665) are flash fried and served with slivers of crispy garlic and creamy aioli for dipping.
5. Don't miss the Pescado del Dia (grilled fish of the day) from Paternoster's Bistro (3641 E. Sunshine St., Springfield, 417-890-8255). It's a filet of corvina, grilled asparagus wrapped in a strip of thick peppered breakfast bacon, and a small ear of corn sauteed in butter and lime juice. 
6. We recently re-tried an old favorite: the bruschetta at Arris' Pizza (1332 E. Republic Rd., Springfield, 417-881-7260). It's a creative take on a classic appetizer (instead of individual pieces of bread, you get a whole partially sliced loaf).
7. We love the zillions of sauce options from BYOPizza (431 S. Jefferson Ave., Ste. 100, Springfield, 417-862-2967, byopizza.com). There's one for every taste bud.