Style
The Simple Sophistication of Tammy Kirks' Red Bee Designs
Designed and handcrafted by metalsmith Tammy Kirks, Red Bee Designs is an innovative jewelry line that complements any outfit, any day.
By Rebecca Nanako
May 2018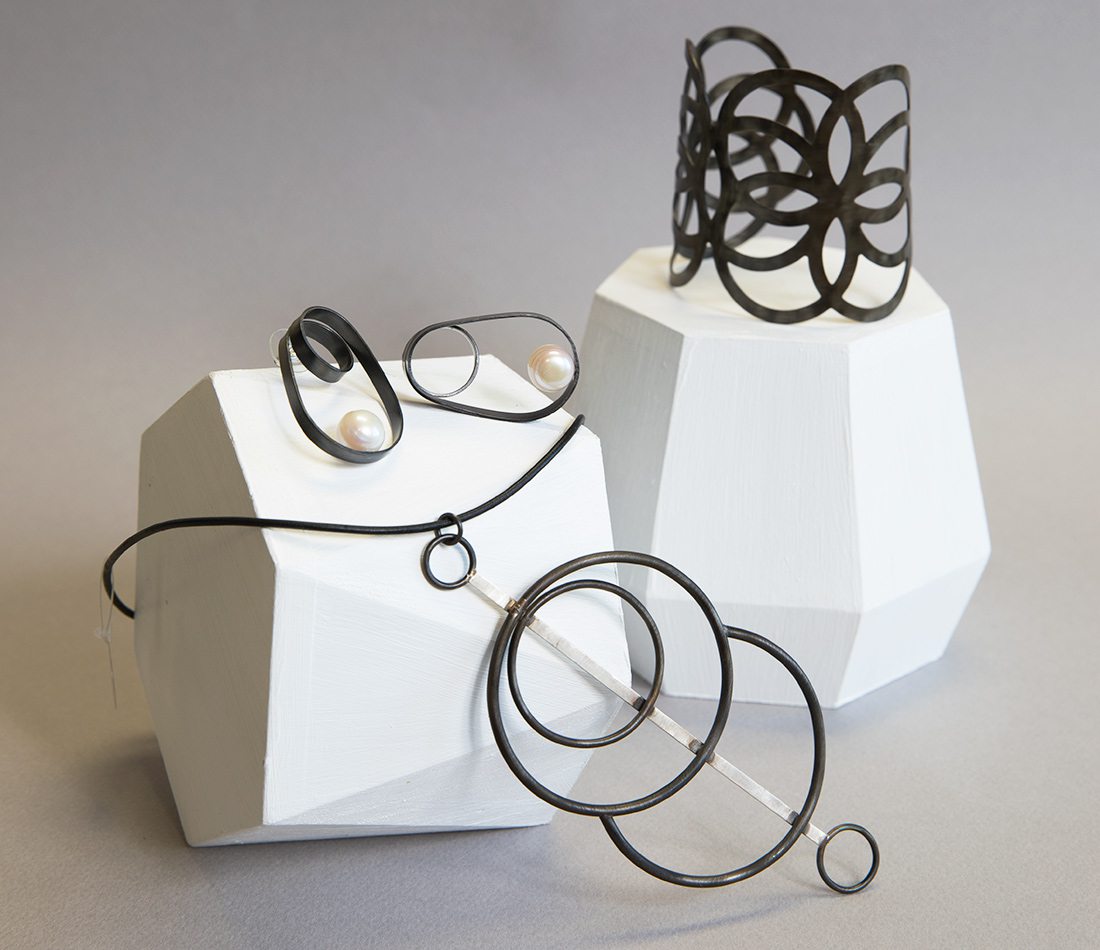 We all know the struggle of finding the perfect piece of jewelry that completes our ensemble. Thanks to the chic and transitional creations by 417-lander Tammy Kirks, we can struggle no more. Her jewelry line, Red Bee Designs, is crafted so each piece can work for any outfit, whether it's a casual jeans day or a fancy night out. Her jewelry is made to transition with time and adapt to the wearer's changing mood and style. 
"I like to look at things that are very simple but also have an elegance to them," says Kirks, who is the marketing director at Harem & Company. "And I like to make things that will work in with other pieces in my wardrobe." Red Bee Designs originally began as beaded jewelry but soon evolved into innovative metalwork. Kirks uses her graphic design experience and metalsmith training to produce a line of chic jewelry that combines art, metal and fire. She likes to add a brushed finish to her pieces, and you can also frequently find circles as a repeating shape throughout her line. The artist sums up the style of her handcrafted jewelry as "contemporary, modern and clean." 
Each piece is created from materials like gold, sterling silver and steel, which means that, besides being a wearable work of art, it's also extremely practical. The durable material Kirks uses means that one of her necklaces or steel bracelets stays with you for a long time. 
Kirks channels her own creative style for inspiration while also looking to the innovative designs of artists during the '40s and '50s."The work they were making [was] way ahead of its time," Kirks says. True to her inspiration, the one-of-a-kind pieces from Red Bee Designs incorporate elements of simplicity and forward-thinking: clean lines, modern materials and a contemporary look that gives a nod to the past while looking to the future. It's handcrafted jewelry that is timeless and functional, two elements that never go out of style.