Spaces
A Little Bit Country
Throughout the last 15 years, Stan and Jodi Watson have added square footage and a bit of modern style to their West Plains home.
By Savannah Waszczuk | Photographed by jeremy mason mcgraw
Nov 2015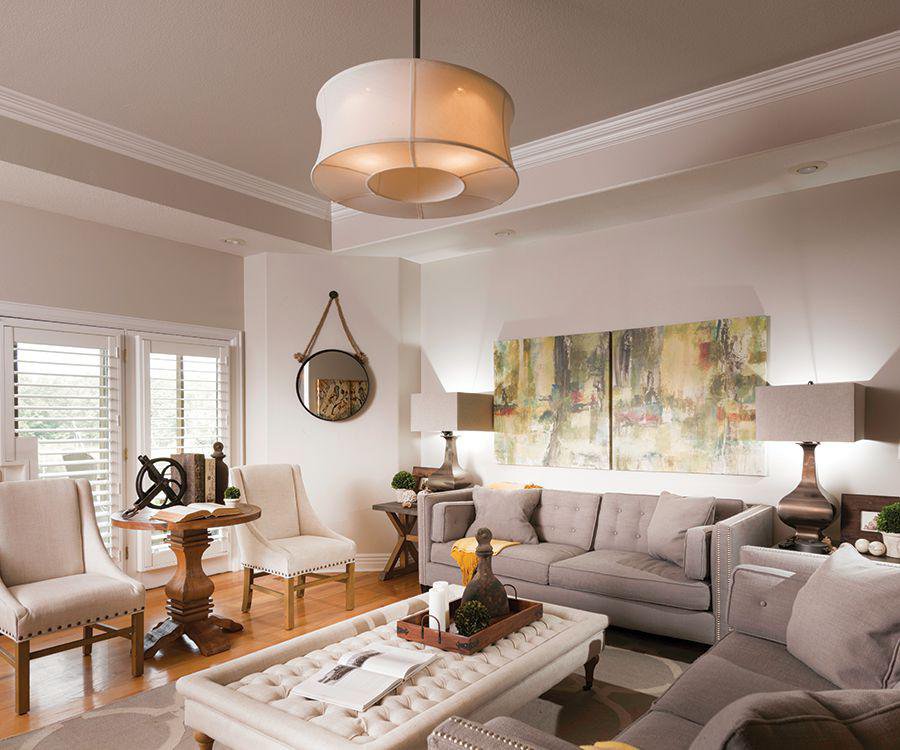 Stan and Jodi Watson completed their custom home build in 2000. Located on 200 beautiful rolling acres in West Plains, the Watsons had more than enough land to spread out on, but they soon learned they didn't have quite enough house. "When we were originally building our home, we only had two daughters," Jodi says. "We didn't know we'd eventually have four." 
After the Watsons grew to a family of six, Stan and Jodi knew they needed to build on to accommodate. "With four girls, I knew bathroom space was going to be an issue someday," Jodi says. In 2007, they enlarged a bathroom space that is shared by a few of the girls, and they added another bedroom and a screened-in porch, all on the main level. They also added a bedroom-bathroom suite in the basement of the house, as well as a downstairs kitchen, a pool room and a pool. "All four of our girls were growing up in this house, and we wanted it to be the fun house," Jodi says. "We wanted it to be the spot where all of the girls' friends come instead of having to send our kids here, there and everywhere." And it worked. "There is always a group of kids at the house, especially in the summer," Jodi says. "It's good because we planned for it all. It's big enough for that." 
The family and their many friends often enjoy hanging out at the pool during the summertime, and they enjoy taking in views of the nearby lake all year long. "We built the house overlooking a 5-acre lake," Jodi says. "Our goal was to have as many rooms as possible looking out on that lake view."
Thanks to the help of Beverly Moore of Interiors by Design (West Plains and Springfield area, 417-293-0616), the interior of the home is now equally pleasing to the eye. "Before the remodel, we had been there for 14 years and hadn't changed a whole lot," Jodi says. "The décor got pretty boring. We were ready for the whole space to be 'put together,' because we never really felt like it was." Moore worked with the Watsons to update the décor, creating a home that Jodi describes as a comfortable modern. "I wanted it to be more modern, but still casual and comfortable," Jodi says. "I would say that's what it is. I would describe it as a very family-friendly home." 
 Dining Room
The Watsons' love of mixing modern décor with a touch of rustic furnishings is evident in the dining room. "I knew I wanted a chunky dining table and mix-and-match upholstered chairs," Jodi says. "I also love the modern art cow, because that's what we are—farmers." 
Office
The office features very dark gray walls, helping add a bit of drama to the mostly neutral color palette. "The room has a nice mix of modern and antique furniture, plus vintage accessories," Jodi says. 
Hallway
In 2007, Jodi drew up her idea for cubbies and a chalkboard space in the hallway and shared it with her cabinetmaker. "He created them exactly like I asked," she says. The hopscotch oak flooring was a last-minute idea they had while laying the oak flooring. "I asked the installer if it would be possible to inlay the oak in a hopscotch pattern and stain it darker, but he suggested inlaying it with walnut since it's a darker wood," Jodi says. "It provided hours of fun for our girls growing up."
Avery's Bedroom
As one of four girls, 11-year-old Avery was glad to help decorate her own bedroom. "This bedroom really reflects Avery's fun personality," Jodi says. "She helped me shop, choose items and decorate it." They chose fun fabrics and art to help bring the room to life. 
Screened-in Porch
The Watsons transformed their back porch into a larger screened-in porch during the remodel. The space overlooks the 5-acre lake and offers a great spot to enjoy dining outside. It features a tile floor, which spreads to the lower level's bathroom, pool room and kitchen. "We wanted a floor that would work with the pool and be pretty much maintenance-free," Jodi says.