Spaces
Lie in Luxury with Top-End Linens
The days are getting shorter, and it's time to catch up on beauty sleep. We're here to help with a roundup of linens that will soon have you eagerly crawling back into bed.
By Rebecca Nanako
Nov 2018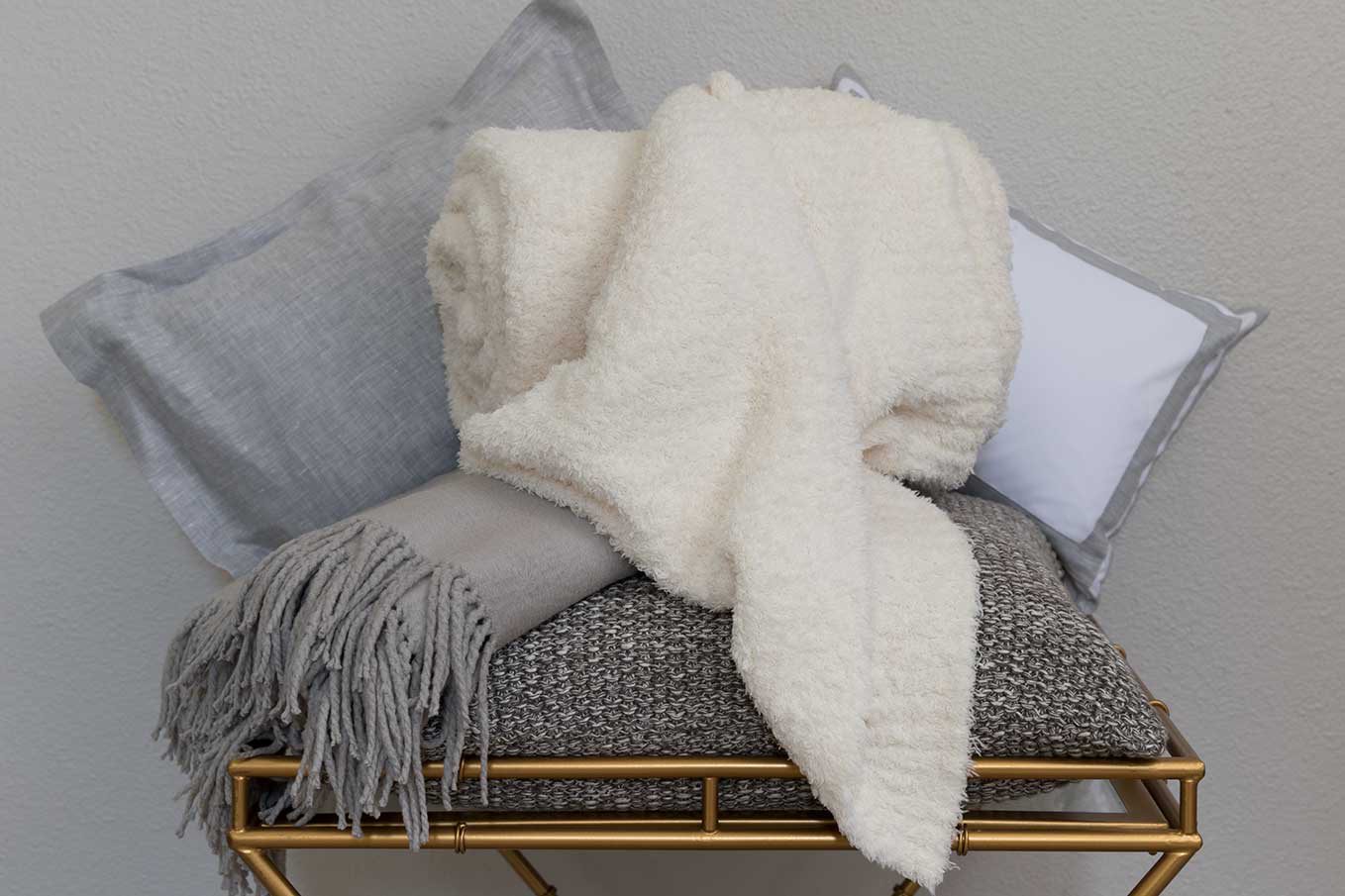 If you think beauty sleep is nothing more than an elusive concept your tired brain will never understand, think again. Shops in 417-land have the tools you need to turn your bedroom into a sleep-inducing oasis—and by tools, we mean linens. 

Just imagine what it would feel like to return home after a long day at the office, kick off your shoes, pour a cup of hot tea and then snuggle down into layer upon layer of crisp bed sheets, fluffy duvets and pillows as soft as clouds. (We're feeling the Zs just thinking about it!) And if you're being honest, it's probably time to replace those faded bedding sets anyway. Why not treat yourself and upgrade to luxe bedding that will contribute to a more restful sleep and turn your bedroom into a stylish and relaxing escape. To make your shopping trip a little easier, we've rounded up the best linen lines in town that fit a range of budgets and have you snoozing this season comfortably away from a plush wonderland.


Get a Head Start
A great place to start is to incorporate new pillows and throws to add fresh layers to your bed. The handcrafted quilts and chunky throw blankets by Amity Home add the right touch of cozy. For a pop of style and comfort, try the chic bedding line by Elisabeth York. Available at both Ellecor Design & Gifts and The Market, these popular linens feature charming details and versatile colors adaptable to any season or aesthetic, whether you're going for that urban minimalist look or something more shabby chic. Even the kiddos can have fun picking out their bedding—especially with The Market's imaginative kids' bedding, called Snurk. The lively designs will transform your little dreamer into an astronaut, a dinosaur or a princess.


A Silky Slumber
For those of you looking for that extra-decadent experience, go the silk route with Branché, a new line of luxurious Mulberry silk linens available at James Décor. Branché's robes, eye masques, cozy slippers and pillowcases make beauty sleep a literal experience by reducing overnight hair frizz and extending the life of that blowout treatment. For even more linen options, check out two of James Décor's top-selling linen lines, Matouk and Sferra. The two lines offer high-quality fabrics that instantly give a clean and timeless look to one of your home's most important rooms. Whether you prefer smooth sheets that feel light on the skin or more durable material that sounds deliciously crisp as you slip under the covers, both Matouk's and Sferra's fine linens are an addition to your home that's well worth the investment.


Ready, Set, Snooze
Not sure where to start when picking out new linens? Here's a bedding tip: Start with your basic preferences. Do you want an easy-to-make bed? Smooth bed sheets? Durable fabrics? From there, work your way up with various layers that are easy to mix and match. You can never go wrong with a classic set of white sheets, but neutral colors are also popular this season because they easily adapt to other patterns and prints all year long. If you have a specific style in mind, both Ellecor Design & Gifts and James Décor can help you customize bedding for your home. No need to stress. Your goal is rest and relaxation. Your bedroom might get the makeover, but you'll get the beauty sleep.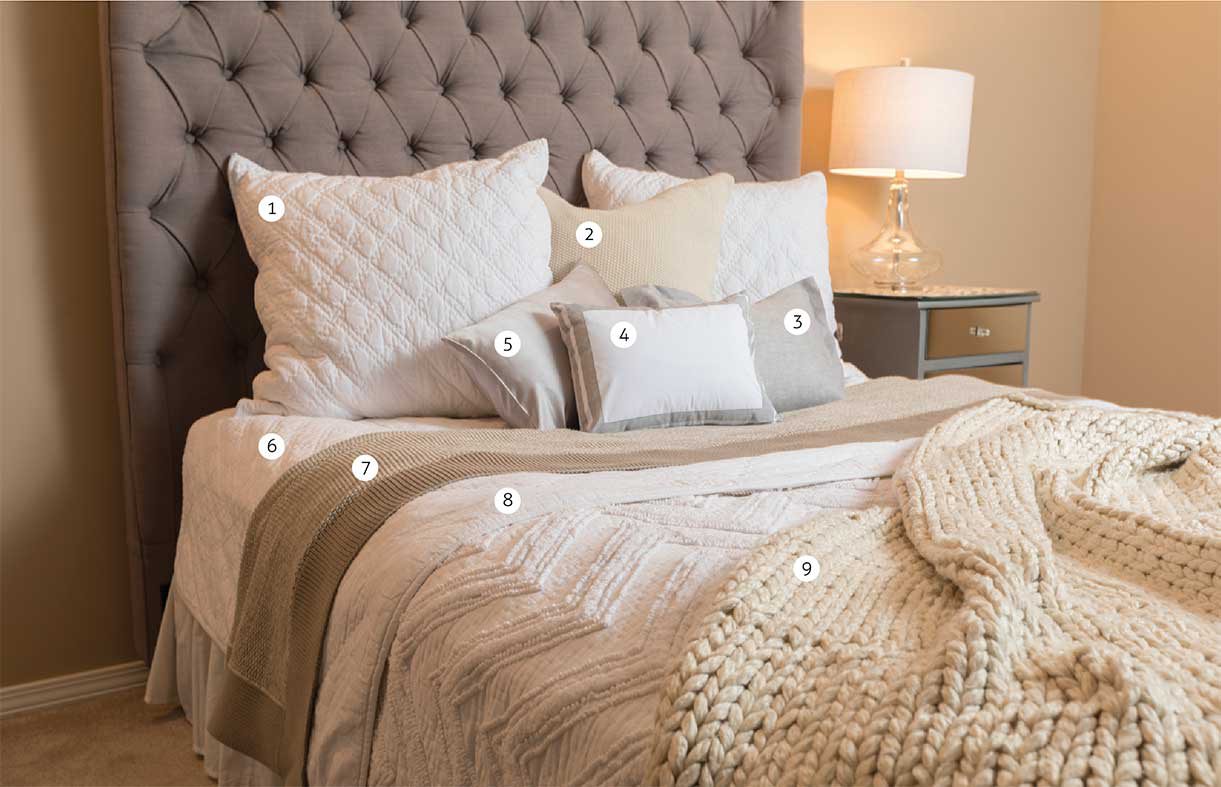 1. Elisabeth York Sutton Euro sham in dove, $60 at Ellecor Design & Gifts 2. Darzzi Ivory Euro throw pillow, $120 at The Market 3. Matouk Jackson boudoir sham in ceylon steel, $59 at James Décor 4. Matouk Terra boudoir sham in terra smoke, $54 at James Décor 5. Branché charmeuse case/boudoir pillow slip, $65 at James Décor 6. Elisabeth York Sutton queen quilt in dove, $250 at Ellecor Design & Gifts 7. Darzzi queen-size bed throw, $255 at The Market 8. CNF Candlewick white textured comforter in full/ queen size, $285 at The Market 9. Amity Home Gage cable knit throw, $225 at Ellecor Design & Gifts