Health
The Studio in Nixa
Ready for some intense calorie burning, we tried out the most challenging workout class at The Studio in Nixa.
By Savannah Waszczuk | Photos by Brandon Alms
Oct 2014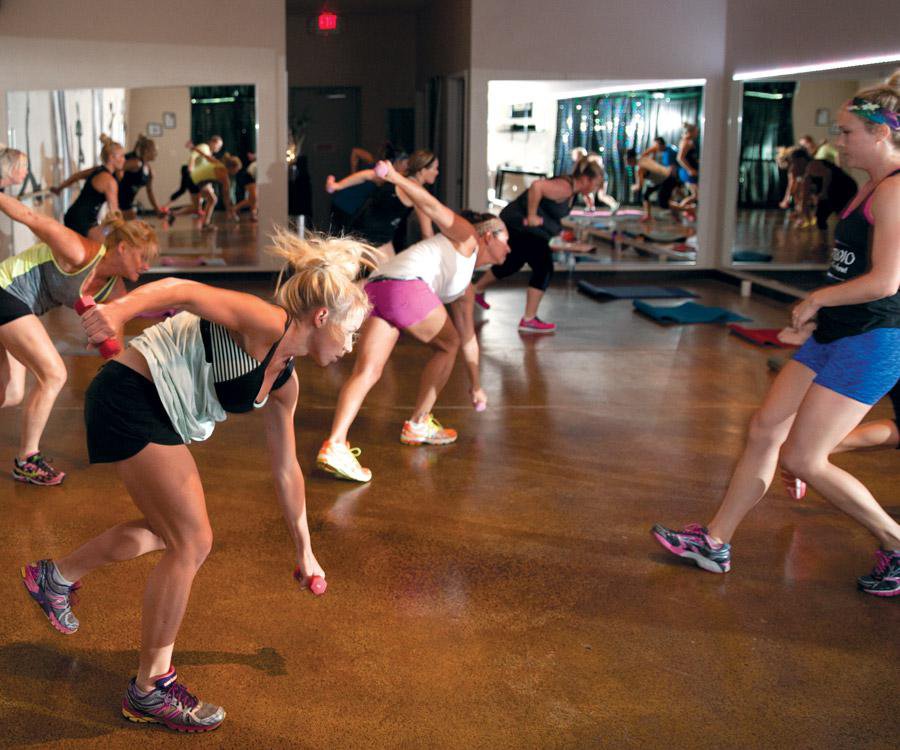 THE STUDIO
588 E. State Hwy. CC, Suite 4, Nixa, 417-689-4461, thestudio-nixa.com
I can do anything for 30 minutes. At least that's what I kept telling myself during BEATS, a high intensity workout class I recently tried at The Studio in Nixa. When I first called The Studio's owner and lead instructor Jamie Kinkeade, she questioned me about my choice. "BEATS is the hardest class we offer, and many people usually choose to work up to it," she said. "It's definitely challenging, but you're welcome to give it a shot if you want." Eager to make my body burn as many calories as humanly possible within only half an hour, I accepted the challenge. Now, as I recap those 30 heart-pounding, sweat-pouring, painstaking minutes, I truly know BEATS isn't for the weak at heart. If you want to learn about one of the most challenging workouts I have ever attempted, read on.  
The Gym
In addition to this 30-minute BEATS class, The Studio offers JKZ Dance Fitness, BUTI Yoga, Vinyasa Yoga, Heated Flow, PiYo and Barre classes. "Blanca Freelander, who used to own Balance Fitness Studios and taught barre there, started teaching barre here in September," Kinkeade says. Freelander joined a team of other well-qualified instructors, including Kinkeade, Nikki Prosser and Cami White, plus Megan Ellis and Cady O'Quinn, both who also teach at Sumits Yoga. And while the BEATS class is a very challenging workout, many of the other classes focus on creating a fun and energetic atmosphere while performing high-intensity movements for maximum burn. "For most of the other classes, fun is the primary factor," Kinkeade says. "Anytime a new person tries it, the first thing they say is, 'That was so fun!'"
The Experience
To start things off, Kinkeade walked us through how the class works and showed us all the moves we would be performing. We would work our way through three rounds made up of eight 1-minute bursts. Each minute burst is divided into two sections: 40 seconds of super-intense moves that combine cardio and strength training, then 20 seconds of a static yoga pose. After the eight minutes, we would then run, jog in place for a minute or rest (if you must!). Then the vicious cycle started all over again. The whole 30-minute class is set to music with hard-hitting beats, which is how BEATS got its name. The beats help you keep your pace. Of course, the yoga poses are built in as a form of rest, but for me, an individual with roughly the same balance as a 3-year-old on a tricycle, those yoga poses were nearly as challenging as the cardio moves.
Speaking of those cardio moves—let me tell ya, they're intense. For example, one move was a jumping mountain climber. Yes, a jumping mountain climber. Apparently, a typical mountain climber that makes my abs and legs feel as if I've jumped into a pool of burning flames isn't hard enough. Luckily, Kinkeade showed us modifications for all of the moves, so even newbies like me can successfully complete the class and get in a killer workout.
Other moves included star-jump burpees, chaturanga push-ups, jump squats and high-knees. Take it from me when I say they're all hard as hell. Whoever took already-challenging exercises like mountain climbers, burpees and squats and put the word "jump" in front of them certainly couldn't have been human. Part superhero, maybe? Basically, when you attempt those moves, you're asking for a hurtin', and that's exactly what I got. Thanks to many modifications, encouragement from Kinkeade and most likely a little fight-or-flight mentality, I made it through those 30 minutes, but it was definitely rough.
The Effects
This class, created by Kinkeade, provides a high-intensity interval training (HIIT) workout. "HIIT workouts help you increase the amount of oxygen you can expend before your body becomes exhausted," Kinkeade says. "They help you be able to work out longer and help a lot with endurance." Kinkeade built in the resting yoga poses to help keep the heart rate higher.  And, as an added bonus, the class even helps you burn calories after you're finished. "Since you're expending the most oxygen possible in such a short amount of time, your body continues to consume more oxygen than normal, keeping your metabolic rate elevated for the next 16 to 24 hours," Kinkeade says. "It's called the after-burn effect."
I could talk all day about how challenging this class is, and that's because it works. This is evident not only because of the way it made me want to run away and cry buckets of sweaty tears halfway through, but because of the many regulars who attend, many who have ripped rockstar bodies. And while it's rough, you can definitely do it. "If you can handle the workout in your head and you're a determined person, you can do it," Kinkeade says. "I wouldn't call it a fun class, but if you're really wanting to get healthy and willing to work hard to do it, this is the perfect class."