Ocean Zen Cooking Class
Chef Johnson Tan takes us on a culinary cruise featuring Ahi tuna, bacon-wrapped jumbo scallops, filet and lobster tail and bananas foster. Join the fun during 417 Magazine's cooking class on October 20, and read on to find the recipes to make at home.
Rose Marthis | Photos by Brandon Alms
Oct 2015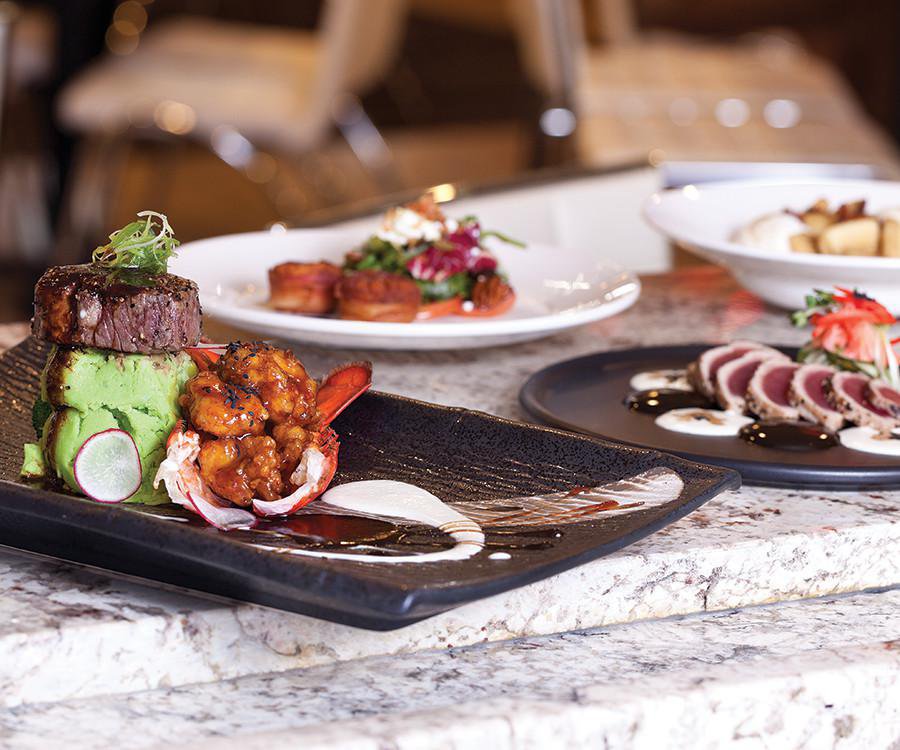 Instructor: 
Chef Johnson Tan at Ocean Zen
Event Details: 
$60 per person, Oct. 20;
6 p.m. at Metro Appliances & More, 3252 N. Glenstone Ave., Springfield. 
Presented By: 
Missouri Beef Council
Sponsors: 
Metro Appliances & More
Macadoodles 
Tickets
Tickets are sold on a first-come, first-served basis and go on sale starting October 1 at 8 a.m. Call Tana Aguas at 417-883-7417 to reserve a spot. 
Peppercorn-Seared Rare Ahi Tuna
with Cucumber Salad
Serves 2
Paired with Côté Mas Brut
Ingredients for tuna
4 ounces Ahi tuna
¼ ounce mixed peppercorns     
2 ounces cucumber salad
Ingredients for cucumber salad
1 ounce cucumbers, sliced
½ ounce red onion, diced 
½ ounce red bell pepper, diced
1 ounce rice wine vinegar
1 ounce sugar
2 ounces soy-mustard sauce
Pan-Seared Bacon-Wrapped Jumbo 
Scallop Salad
To Prepare
Combine all cucumber salad ingredients in a mixing bowl. Crust Ahi tuna filet with mixed peppercorns. Sear lightly for one to two minutes in oiled skillet on high heat. Drizzle soy-mustard sauce on plate, place Ahi tuna filet in center, and garnish with cucumber salad.
Pan-Seared Bacon-Wrapped Jumbo Scallop Salad
Serves 1
​Paired with Chateau Loiseliniere Muscadet
Ingredients
2 ounces mixed greens
1 to 2 tablespoons goat cheese crumbles
1 to 2 tablespoons red onions, chopped
1 to 2 tablespoons chopped hard-boiled eggs
1 to 2 tablespoons cooked and chopped bacon, plus 2 slices of bacon
2 U-10 jumbo scallops
1 to 2 tablespoons candied pecans
1 to 2 tablespoons warm bacon dressing
To prepare 
Toss greens, goat cheese, red onions, chopped eggs and chopped bacon in bowl, and set aside. Cook bacon slices in oven until browned but still limp. Sear jumbo scallops in lightly oiled skillet for one to two minutes or until lightly browned. Wrap scallops with a slice of bacon. Skewer if necessary to keep together. Toss salad mix with dressing, leaving some out for garnish. Drizzle small amount of bacon dressing on plate, place salad mix on top, and garnish with seared scallops, bacon bits and the rest of the warm bacon dressing.
Ingredients for warm bacon dressing 
1 teaspoon chopped bacon 
1 ounce mustard
2 ounces red wine vinegar
½ teaspoon garlic, minced
2 ounces brown sugar
To prepare 
Prepare warm bacon dressing by mixing all ingredients in a skillet on low heat. Add salt and pepper to taste. 
Filet Mignon and
Canadian Cold-Water Lobster Tail 
Serves 4
Paired with Marc Bredif Chinon 
Ingredients 
6 ounces Canadian cold water lobster tail
3 ounces whole broccoli
3 pieces asparagus
4 ounces certified black Angus filet mignon
Sweet soy glaze
Wasabi mashed potatoes
Steak sauce
1 carrot, peeled and  julienned
To Prepare Lobster Tail
Remove meat from shell. Marinate with lobster tail marinade. Coat with flour, and fry for approximately four minutes. 
To Prepare 
Steam or blanch broccoli and asparagus. Grill filet to desired temperature. Drizzle sweet soy glaze on plate, scoop wasabi mashed potatoes into a ball and place off-center of plate. Set filet alongside potatoes and drizzle with steak sauce. Arrange broccoli and asparagus around filet. Place carrot on top of filet and potatoes. Place lobster tail next to potatoes on opposite side of plate from filet. Serve with ramekin of melted butter. 
Ingredients for wasabi mashed potatoes:
2 whole russet potatoes, peeled
1 teaspoon wasabi powder
2 gloves garlic
½ cup heavy whipping cream
1 ounces spinach
1 tablespoon butter
To Prepare 
Mix wasabi powder with water until it is a paste (follow package instructions). Peel and boil potatoes until cooked throughout. Blend garlic, whipping cream, spinach, and wasabi paste in a small pot, bring to boil. Remove from heat and blend with potatoes until smooth throughout.
Ingredients for Lobster Tail Marinade:
2 eggs
1 cup milk
1 tsp salt
1 tsp white pepper
2 tbsp flour
Ingredients for Steak Sauce:
2 oz. soy sauce
2 oz. sugar
1 oz. vinegar
1 tsp garlic
½ tsp chili oil
To Prepare
Combine ingredients in small pot and bring to boil. Set aside.
For Sweet Soy Glaze:
Mix equal parts sugar and soy, reduce on low heat until thickened.
Bananas Foster with Vanilla Ice Cream
Serves 2–4
Paired with Massolino Moscato d'Asti
Ingredients
1 banana, peeled and sliced
1 tablespoon butter
2 ounces caramel sauce
1 tablespoon brown sugar
1 teaspoon cinnamon
½ ounce dark rum
½ ounce 151-proof rum
2 scoops vanilla bean ice cream
To Prepare 
Saute sliced bananas, butter and caramel sauce in skillet on medium heat. Add brown sugar and cinnamon. Allow to simmer until bananas are lightly browned. Hold pan to one side and pour rum into pan above burner to flambé. Allow to simmer lightly for 30 more seconds, then pour over vanilla bean ice cream in a bowl.