Style
On Display
Don't let your favorite jewelry pieces collect dust in that old jewelry box. Put them out on display in a way that is not only eye catching, but organized. You will be more likely to wear it if it's within arm's reach. It's a win win!
Written and styled by Heather Kane
Oct 2015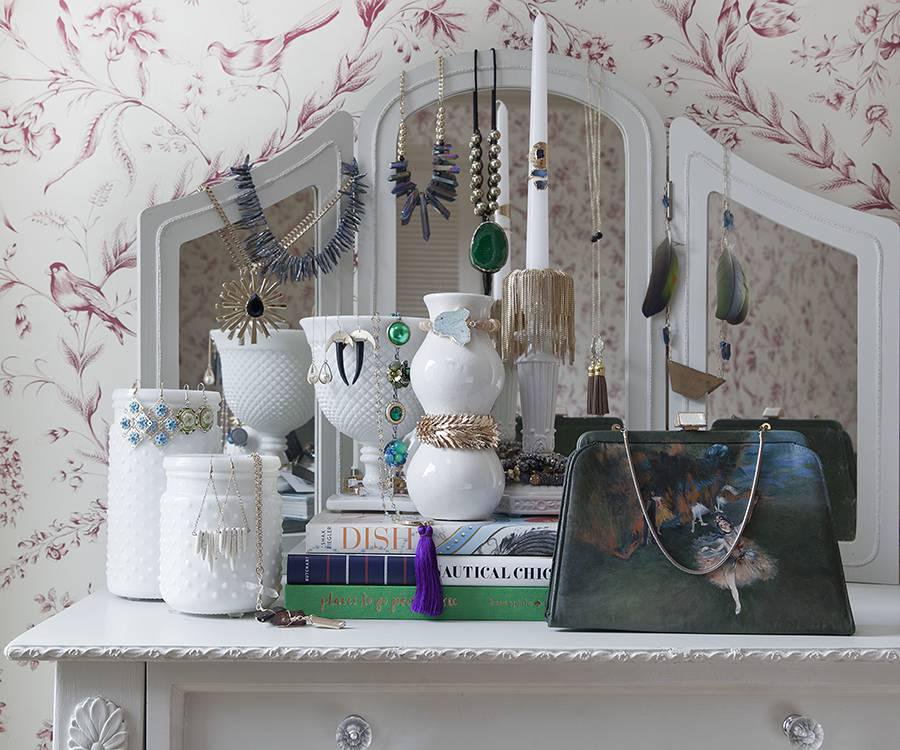 Natural Elements
Local boutiques are brimming with statement necklaces adorned with stones, feathers and pieces resembling natural elements like marble and ivory. Drape your statement necklaces over vanity mirrors, so you can see your options without having to dig through a cluttered jewelry box.
Candle Light
A simple white pillar candle makes the best ring holder. You won't harm your rings because of the soft wax, and it looks chic. 
All about the Tassel
Tassels and fringe are on-trend this fall. Try tassels in rich colors or in leather to make a statement, and look for fringe bracelets in silver or gold for a more glam look. These will look great as part of your display and even better once you slip them on!
One-of-a-kind
Don't forget to display your vintage heirloom pieces. Nothing is better than getting to see your grandmother's necklace elegantly displayed every day. It will evoke fond memories and brighten each of your days. 
Milk Glass reinvented
White milk glass vases and jars make perfect jewelry displays. They won't distract from your statement pieces and are ultra-feminine. Slip bracelets over skinny vases and hang earrings from the rims, so everything is visible and easy to access. 
Get The Goods
Hanging From the Mirror:  From left to right: Mia Gold Starburst necklace, $36 at The Uptown Boutique; Green Phoenix Studios freshwater, stick pearl necklace, $50 at Arts & Letters; crystal multi-color necklace, $23 at The Uptown Boutique; emerald green natural necklace with leather strap and tassel, $24 at Torn Boutique; brown leather tassel necklace, $38 at The Uptown Boutique; Amazonia macaw feather, dioxide crystal and hand-worked bronze necklace, $70 at Arts & Letters
Hanging from Milk Glass  From left to right: Claylicious handmade blue drop earrings, $20; green earrings, $14.50, both at Arts & Letters; Jenny white natural earrings, $23 at The Uptown Boutique; crystal neutral pendant necklace, $18 at The Uptown Boutique; pearl drop earrings, $10 at Torn Boutique; Death Moon tooth and hand-worked bronze earrings, $60 at Ars & Letters; Island tassel necklace, $70 at The Uptown Boutique; Vintage Pastimes up-cycled chunky bracelet, $30 at Arts & Letters
Displayed on Vases: Dream Bangles, $63 each; Isla beaded bracelet, $59; gold spike bracelet, $19 all at The Uptown Boutique
Displayed on the Candle: Wrap druzy ring, $30, Greatness ring, $30, both at The Uptown Boutique; gold fringe bracelet, $17 at Torn Boutique; Erimish Waverly bracelet set, $65 at The Uptown Boutique
The Decor: From left to right: white hobnail jars, $5–6; white milk glass vase, $40; large white ceramic vase, $18; white Italian candlestick, $35; Degas star painted handbag by Mary Hamilton, $110, all at Obelisk Home