Reviews
5 Best Creative Brunch Dishes
Traditional brunch dishes are given an unexpected twist with these creations, all the perfect reason to hop out of bed and head out early the next time the weekend rolls around.
By Savannah Waszczuk | Photo by Brandon Alms
Sep 2015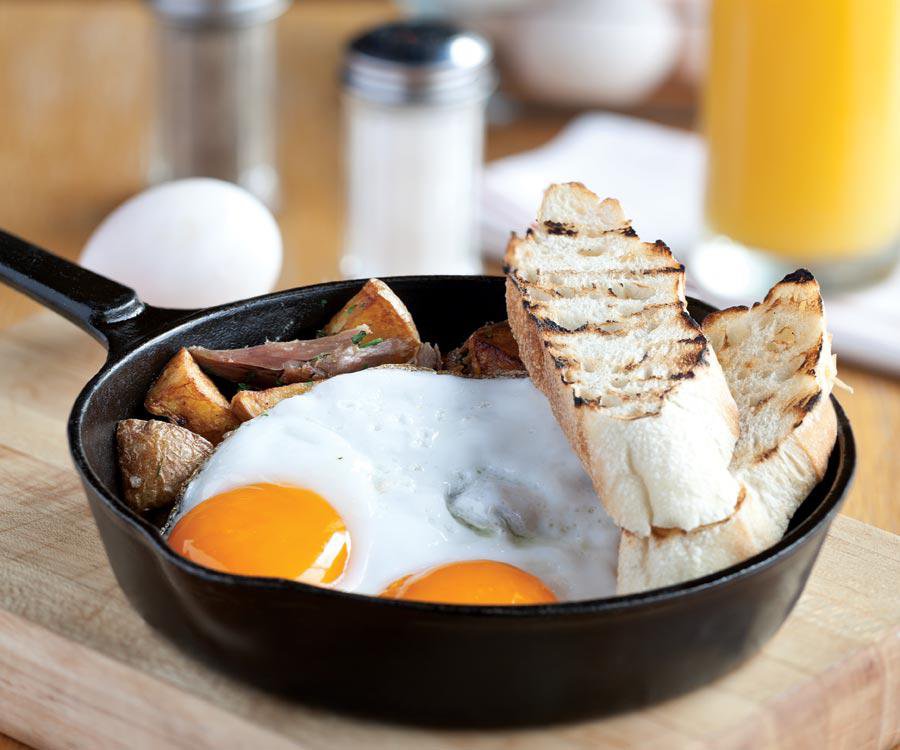 1. Duck Egg Hash
$11 at Metropolitan Farmer, 2144  E. Republic Rd., Springfield; 417-720-1665, metropolitanfarmer.com
Why We Love It: Ahh, the beloved breakfast hash. When you combine starchy potatoes, a hefty load of breakfast meat and eggs on a plate, the result is bound to be magnificent. Metropolitan Farmer takes the traditional idea up a few notches with this fancied-up hash, which features Yukon potatoes and duck confit crowned with two fried local duck eggs and served with grilled French bread. 
Order it With: The bloody mary bar
2. Bacon Chocolate Chip Waffle
$5 at Scotch & Soda, 310 South Ave.,  Springfield; 417-719-4224, thescotchandsoda.com
Why We Love It: Waffles alone are a treat. Scotch & Soda's Bacon Chocolate Chip Waffles made with a family-recipe waffle batter, sweet milk chocolate chips and locally sourced bacon are a gift from the breakfast gods. The creation is topped with melted butter served with a side of maple syrup, adding an extra layer of sweet-salty deliciousness.  
Order it With: The Black Butte Porter
3. Boef a la Ferme
$14.59 at Aviary, 400 E. Walnut St. #100, Springfield, 417-866-6378; 2144 E. Republic Rd., Springfield, 417-881-9736; aviarycafe.com
Why We Love It: One of the newest dishes on Aviary's menu, the boef a la ferme entrée packs layers of flavors with its fancy French name (meaning "beef on the farm"). Potato cakes made with roasted garlic mashed potatoes, red peppers, green onions and panko breadcrumbs are pan-seared, then topped with a 6-ounce sirloin steak, poached eggs, hollandaise sauce and fresh tarragon.
Order it With:  A salted caramel crepe (dessert!) 
4. Pulled Pork Pancakes
$7 at The Bruncheonette, 424 N. Main, Joplin; 417-781-3447, thebruncheonette.net
Why We Love It: Breakfast or lunch? You can have both with this dish that pairs what's perhaps the most beloved breakfast creation—the pancake—with a meaty portion of butter-fried pulled pork. The buttermilk flapjacks are served with syrup that's made with Boulevard's 80-Acre beer.
Order it With: A glass of milk to wash it down
5. Chicken and Waffles
$8 at Springfield Brewing Company, 305 S. Market Ave., Springfield; 417-832-8277, springfieldbrewingco.com
Why We Love It: Springfield Brewing Company kicks up this Southern-inspired favorite by giving two chicken strips a quick bath in buffalo sauce. The strips are placed on a fluffy house-made waffle, topped with two eggs and served with a side of maple syrup. Order the eggs over easy for even more ooey gooey flavor melding.
Order it With: Your favorite Brew Co beer