Health
HIIT Meets Technology at Orangetheory Fitness
High intensity training meets technology at Orangetheory Fitness, where you can burn up to 1,000 calories in an hour.
By Dayle Duggins
Sep 2017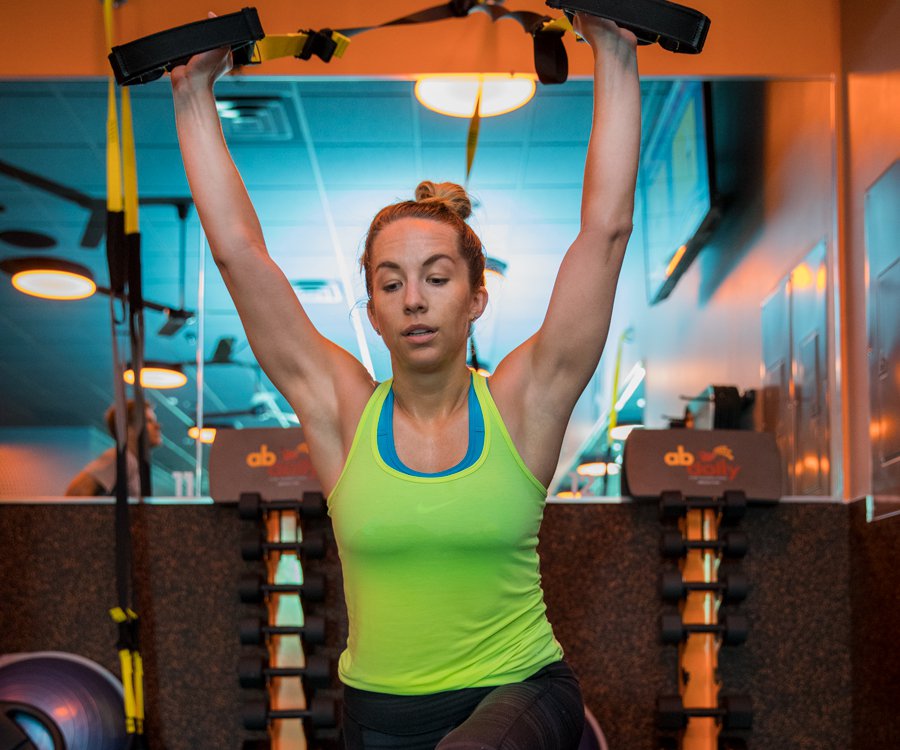 I've become a gym rat. If you're looking for me, you'll probably find me in an advanced cross-training or high intensity interval training class, biking, pumping iron or generally doing something active. I've always worked out and played sports, but in the past few years it's become a non-negotiable in my daily routine. Basically, I'm your annoying friend that works out all the time.
Now that I'm past the commitment phase, switching up my workouts helps get me over progress humps. One of my Dallas gal pals told me about a gym she was going to called Orangetheory Fitness, and her bod was a testament to its magical powers. So when I heard a franchise was coming to Springfield in June, I couldn't get to its website fast enough. I signed up for a free two-week trial, got a killer deal on a month-to-month membership, and now you'll find me there a couple times a week sweating like a beast.


The Studio
Orangetheory has more than 700 studios in 14 countries. It's a five-zone, heart rate–monitored interval training concept that focuses on strength, power and endurance for an hour. There are 1,400 workouts in the database, so you won't repeat workouts often. Classes have a 26-person capacity and a nationally certified trainer tells you what to do along the way.
Since it's heart rate–based, you either buy an Orangetheory heart rate monitor or pay $5 to borrow one each class. TVs above the treadmills show your heart rate in real time and how many calories you've burned. The end goal? Work hard enough to keep your heart rate in the orange or red zones for 12 minutes or more. If you get there, Orangetheory says you'll likely stimulate your metabolism enough to burn calories up to 36 hours after you've left the building.
Springfield's spankin' new studio is located in Brentwood Center South. Upbeat music greets you at the door, and you immediately see the glass-enclosed workout area filled with state-of-the-art equipment and orange, low lighting. Chris Abbott sold his house in Denver and moved to 417-land one year ago to start the local franchise. "It's the best one-hour workout in the country," Abbott says. "It's very intense, but it's for everyone—from people who have never worked out before to elite athletes."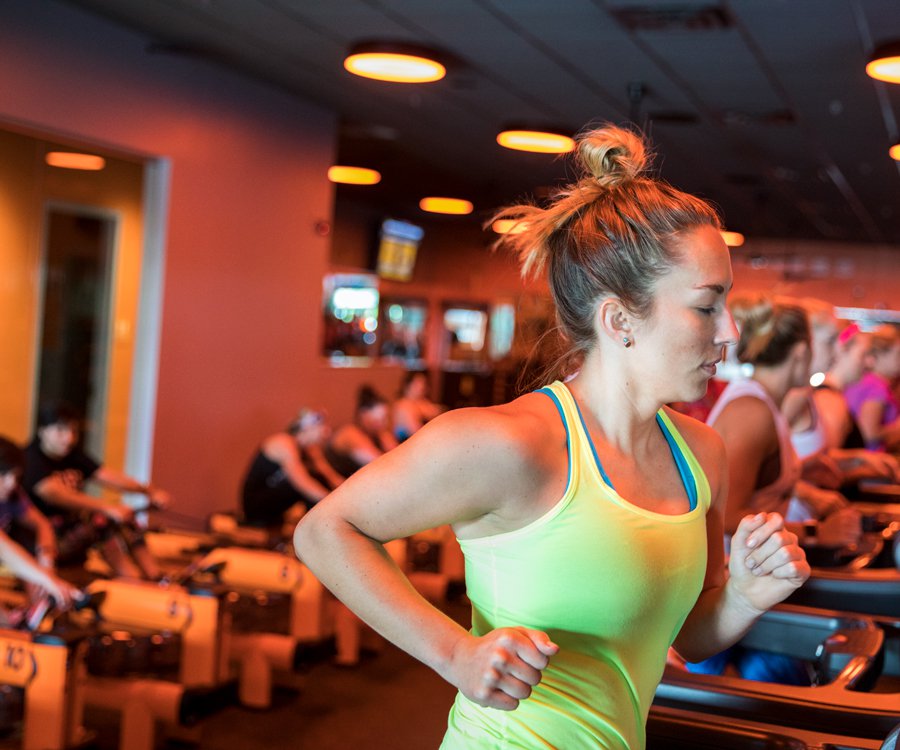 The Class
​Every time I try a new workout, I get nervous, and my bladder tricks me into thinking I have to use the bathroom every five minutes. My first few workouts at Orangetheory were, unfortunately, no exception.
Our instructor Nicole told us we'd be doing a strength workout, which meant a lot of incline running, longer-than-usual rowing sets and strength-building exercises. The class split up between treadmills and rowing machines. I made a beeline for a treadmill so I could get the painful portion out of the way first.
Nicole came over the speakers and told us to transition to a base pace—a speed that's relatively easy for your given level of fitness. After a few minutes of jogging, we moved to an incline and increased to a push pace—a challenging, somewhat uncomfortable speed above base pace. We went from push paces to short base paces, then back to long push paces followed by one-minute all-outs, which were sprints in my case. This is where things got tough. The six percent inclines made it especially challenging to maintain a solid pace, let alone a normal looking face for photos. Finally, we got to walk for a minute, then it was time for another round. It was torturous, but I knew I was getting stronger by the minute. After about 30 minutes, the heavens opened up, and it was time to hit the floor portion of the workout. Buh-bye, treadmill.
While the other group started running, Nicole led us through the strength exercises, recommended what weights we should use and sent us on our way. Weighted squats, side crunches and a 600-meter row were first on the agenda. The rest of the floor routine included forward lunges with overhead raises using TRX bands, tricep extensions, supermans and more followed by decreased rowing lengths. This was my favorite part, and before I knew it, 60 minutes had flown by.


The Results
I burned more than 500 calories during class and spent the majority of my time in the red zone. Since I don't usually track my workouts, I felt satisfied with the number. Some superhumans manage to burn up to 1,000 calories. The next day I felt sore in unexpected places from the TRX bands, which is always a plus in my book.
Now that I've taken more than 10 classes, I've seen my endurance increase and the real time progress makes me push myself harder than I thought possible. If you're looking to switch up your routine, lose a ton of weight, get in shape fast or get down to the nitty gritty of your exercise stats, get a little Orangetheory in your life.

2862 S Glenstone Ave, Springfield
417-633-7133
orangetheoryfitness.com
Type of Activity: A one-hour high-intensity, full-body workout
Time: Class times vary every day of the week. Visit orangetheoryfitness.com to see class times and reserve your spot.
Price: Call 417-633-7133 to book your first workout for free. Membership prices vary. Drop-in rate is $28. Must purchase a heart monitor (starting at $69) or rent for $5 per class.
What to bring: Tennis shoes, workout clothes, heart rate monitor, water and a towel. 
Pro tip: To properly warm up my bod, I prefer to do the running portion of class first.
Perk alert: Orangetheory's treadmills, rowing machines and weight stations are numbered, so you don't have to worry about snagging a spot or having equipment. TV screens around the room monitor your heart rate and display what exercises you should be doing.