Style
How to Add Sneakers to Your Wardrobe
Sneakers are all the rage this season. We turned to 417-land style experts to get the skinny on the best way to add a pair to your wardrobe.
By Rose Marthis
Sep 2017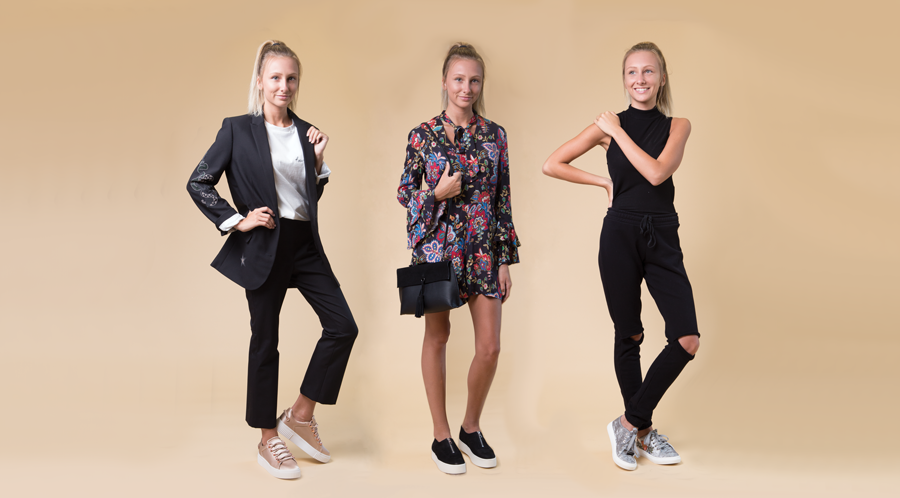 Sneaker Tips
Do: Make the Switch 
Sneakers are taking the place of the classic ballet flat or loafer in most wardrobes. Take a sleek pair of skinny jeans, add a blazer and then finish with a slip-on sneaker in a satin or velvet.—Tammy Kirks, with Harem & Co. 
Don't: Go Too Casual 
Don't wear sneakers to a job that requires business casual. It might be taking the casual part too literally.—Andrea Pena, with MODERN Society 
Do: Use Them to Add Comfort 
I think sneakers add a sense of athleticism to your wardrobe. We love dresses and skirts, but we want comfort, too.—Lindsay Jones, with Red Poppy Boutique 
Do: Keep Your Kicks Clean 
Dirty, grungy sneakers are not sophisticated, unless they're designed that way. Intentional distressing gives a shoe street cred. It's important to know what's appropriate in your professional setting.—T.K. 
Do: Keep It Profesh 
If sneakers are acceptable in the setting, choose a clean, simple sneaker. A great white sneaker paired with neutrals or a pair of great skinnies and a blouse can give your look the sophistication you are looking for.—A.P.  
Don't: Hide Your Legs 
I like sneakers with shorter or midi-style skirts and dresses.—L.J.
Do: Keep the Focus on Your Feet 
Don't pair patterned sneakers with a lot of patterns. You want your shoes to be in the spotlight, so leave the funky patterns to your more subdued ensembles.—T.K.
Don't: Be Afraid to Try the Look 
Sneakers have been around forever, and they aren't going anywhere. Start by wearing them with your basics and by not trying to get too trendy (e.g., a matching set made for the workplace or a mini skirt, band T-shirt, blazer combo)—until you are comfortable with how to style them.—A.P. 
Do: Go for Balance 
I like the juxtaposition of clean, white sneakers with a simple black suit and a tee. Keeping the lines simple, classic and a little reserved increase the sophistication factor. Keep jewelry simple and classic as well. Simple doesn't have to mean boring, either! You can still rock a graphic tee or chunky necklace with your look, just tone down the rest.—T.K. 
Do: Try All One Color 
Another way to wear them in a sophisticated way is monochromatically. Pair black sneakers with a black dress or suit for the sleekest look.—T.K. 
Do: Stay Classic 
If you can only afford one or two pairs, stay classic. Think a sleek slip-on style, but updated in velvet or satin. Choose a neutral color. Navy is huge for fall and looks very modern when paired with black.—T.K.