Home Profiles
Master the Art of Downsizing
Joan and Gary Whitaker were stranded in Stockholm while he recovered from a surprise surgery and couldn't fly. They rented a tiny apartment to wait out the three-week grounding. What they discovered about living in a small space changed their lives.
By Joan Whitaker
Sep 2019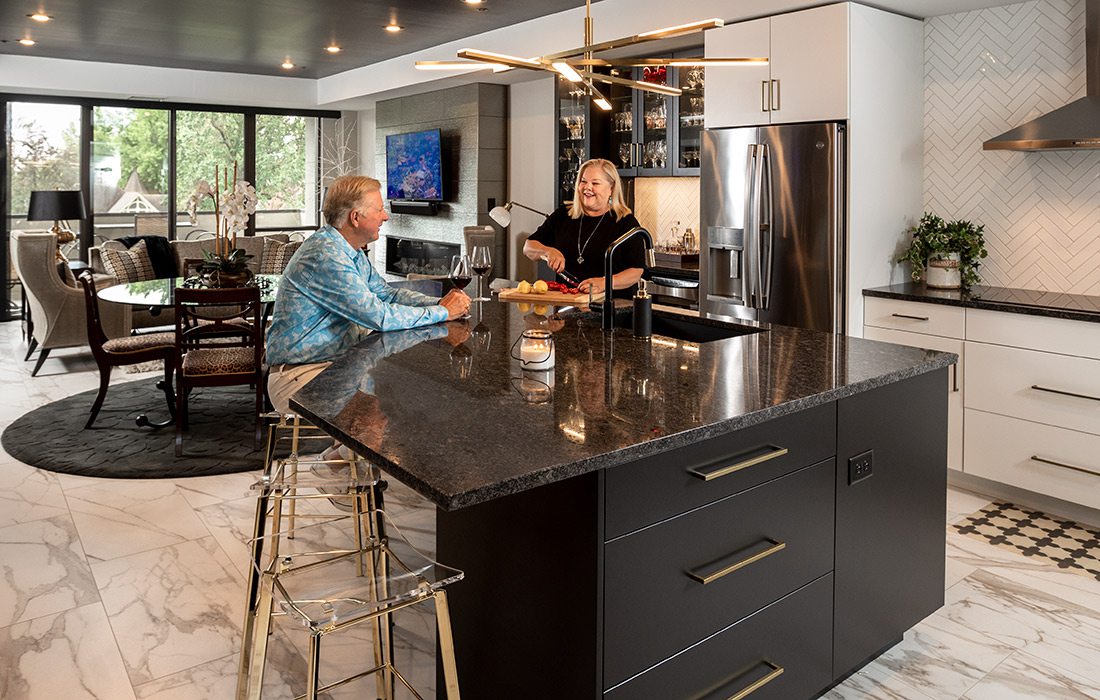 Although our temporary Swedish home was in a great location, it wasn't exactly luxurious accommodations. It was very close to camping out indoors. But, we made a game out of it. A step ladder became our pantry. A dish drainer became my makeup and hair caddy. A turned over laundry basket became a nightstand. You get the idea. No TV, computer or internet, we created a makeshift Excel document on a sheet of paper and plotted out each day's activities. We worked Stockholm like a boss.
It got us thinking. What do we love to do most? Travel. With that in mind, we started planning. What kind of life could we create for ourselves to allow us more freedom to travel?
Selling our 4,500-square-foot home was first on the list. Stockholm made us realize we didn't  need that much space. But, what to do about two floors of furniture and leftover grown children's stuff no one had looked at in years? Purge!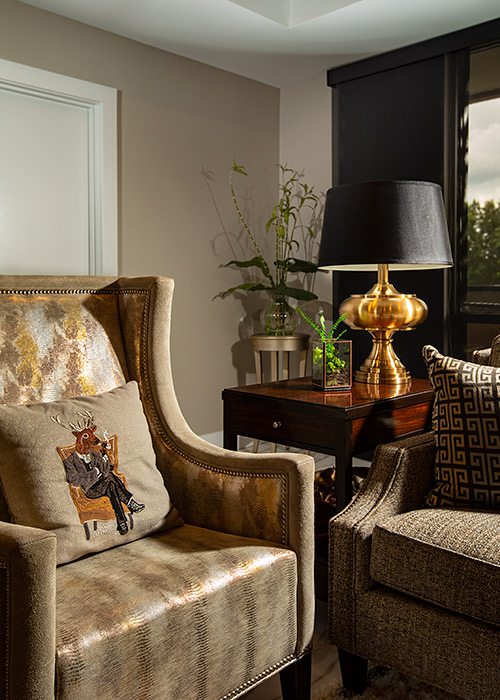 Photos by Brandon Alms Downsizing doesn't mean you have to skimp on style and class.
We told our kids to come get anything they wanted. I developed new friends in the donation room at Harmony House. We let our staff at 417 shop (for free) in our mock garage sale. We learned which charities pick up and which accept dropoffs. As for all our family photos—ugh. See below for my solution to that problem.
Everything was going great until I opened the first of many Christmas decoration boxes. That's when the meltdown came. Letting go of old prom pictures and news clippings of glory days was much easier than letting go of decorations I had collected for years. In the end, I narrowed it down to two boxes.
We bought a 1,450-square-foot condo in One Parkway Place in downtown Springfield and gutted it to recreate a sleek, contemporary urban space. We measured the furniture we wanted to take and drew out spaces on the floor to make sure we knew exactly what to keep and what we could shed.
I'd be lying if I said I don't still miss some of my treasures. But, ask me about my next trip and take my mind off the past. I'd love to tell you about my future.


How to Decide What Stays and What Goes


Keep the Family Photos
You think your children are cute? You should see mine! How could I part with such precious memories? I didn't. I bought a Plustek ephoto Z300 photo scanner and scanned the photos. I made each child their own photobook through Shutterfly. And I made another book that chronicled our lives together. The photos? They are in a landfill somewhere. Do I feel guilty? Only in the still of the night.
Purging is Such Sweet Pleasure
Buy a paper shredder. I had 20 years of tax returns. Admit it. You have those things, too. Important things I took to the bank safety deposit box or scanned and stored on "the cloud." The rest was a shredfest. Confession: I did save birthday and Mother's Day cards that had handwritten notes from Gary and the kids.
Your Junk is Someone 
Else's Treasure
Make someone's day and donate used furniture to local charities. The tax deduction is more valuable than what you might get on Craigslist. Some charities will come to your home to pick up items, but not all will. If you have valuable artwork, donate it to a charity auction.
Indulge in Retail Therapy
It's the old "If you haven't worn it in six months, get rid of it" tactic. By getting rid of those clothes that have been in your closet for years, you create a reason to shop.
Seek Outside Help
If you just don't have the stomach for DIY downsizing, two companies can help:
2B Organize
d (
417-880-2325
) and
Smooth Transitions
(
417-425-4000
).