DIY
Cleaning Tips for Each Room in Your Home
Get your home sparkly clean in time for warmer weather with these simple tips.
By Kaitlyn McConnell
Mar 2011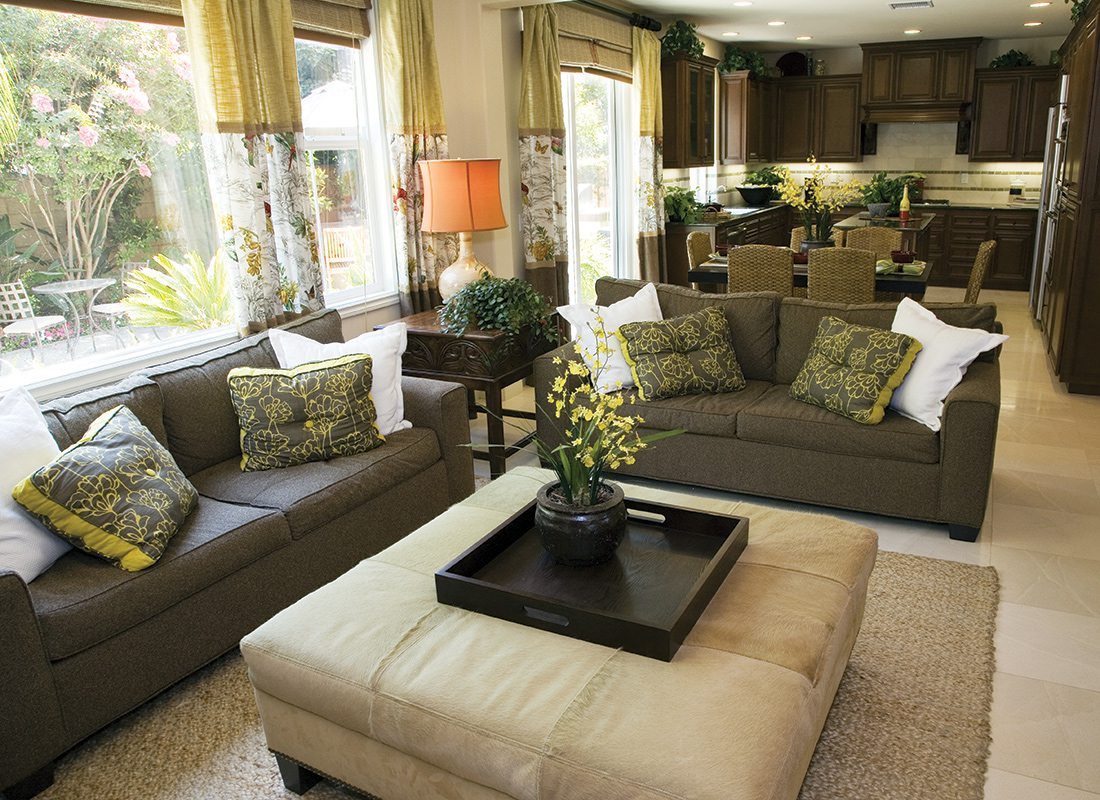 Longer days and warmer temperatures mean that spring is on the way. However, before you run outside to enjoy the sunshine, run for the broom. A change in seasons is a great reason to give your home a little more attention than you normally do, and it isn't as difficult or time-consuming as you may think.

In the Kitchen: 
1. Pull out all appliances and clean the tops and sides of them all, and clean the floor where they were sitting.
2. Clean out the inside of the refrigerator with a damp cloth, and throw away expired food and condiments. "Wipe it down with disinfectant," says Cheryl Mason, office manager at Domestic Aide (Editor's Note: Since the initial publication of this article, Domestic Aide is no longer in business.) in Springfield.
3. Clean the cabinets and countertops, and include germ-eliminating products to get the highest level of clean. Lysol and Clorox make several kitchen-type products that are safe for animals, but also kill germs, says Mason.
4. Next, clean the sink area. Get an old toothbrush to get around the edges of your sink and around your drains, Mason says.

In the Living Room: 
1. First, work on de-cluttering the room. "Start with one area that seems to have the most clutter and focus on only that room, drawer or closet until you are done," says Janice Thompson-Gehrke of Maids of Honor in Springfield.
2. Dust the tops of all cabinets, and then work down to lower-level furniture. "I love those little Swiffer dusters for getting in and around, especially if you have a lot of knick-knacks," says Mason.
3. Wash and iron all curtains.
4. Consider investing in a carpet-cleaning service to get floors as clean as possible. If you have wooden floors, wipe them with something very soft and Bona Wood Floor Cleaner, says Mason.

In the Dining Room: 
1. Pay attention to the details as you dust from the top down, not overlooking the baseboards, windowsills, blinds and light fixtures.
2. Get wooden tables and furniture especially clean with a mixture of Murphy's Oil Soap and water, says Mason. "It doesn't leave a film, so there's no buildup. You can really use it on just about anything."
3. If you have a glass chandelier, dust it with a damp cloth first. "If you want it to really shine, I'd use a glass cleaner," says Mason.

In the Bedroom:
1. One of the best-kept cleaning secrets that helps to speed up the process isn't found in a bottle of cleaner, but in the process you use to clean a room, says Thompson-Gehrke. She suggests working top-to-bottom and clockwise around a room. "This insures that everything is cleaned and nothing is overlooked," says Thomson-Gehrke.
2. Head for the bed. "Take your sheets off and vacuum your mattress," says Mason, who also warns to be careful when dealing with pillow-top mattresses.
3. Also, consider changing your furnace filters. "That helps to keep dust down in the air," says Mason.

In the Bathroom:
1. Scrub-a-dub-dub doesn't seem as fun when you're not in the tub. However, it is the best way to get your bathroom sparkling clean. "Sometimes scrubbing your floors requires you to not use a mop, but actually be down on the floor," says Mason. Use a scrub brush on tile or linoleum floors.
2. Grab a squeegee and hit the shower. "It helps to keep the soap scum from building up on your walls," says Mason, who suggests using the squeegee after every use.
3. Use a glass cleaner such as Windex to get mirrors shining, and keep Kaboom with bleach handy when cleaning around the base of the toilet and for mild mold between tiles.


---

Substitute Cleaners
Are you out of Windex? No worries–we talked to Jay Gehre, author of Recycling Projects for the Evil Genius, which includes substantial information on natural cleaning. Gehre  shared some household items that can be used in place of common cleaners.
Baking soda is great for more than just baking. It's a non-abrasive scouring cleaner that works wonders for cleaning countertops, bathtubs and sinks. Just add some to a damp rag and start scrubbing.
White vinegar and salt may not smell great, but the combination does make a great all-purpose cleaner against grime when dabbed on a dry cotton cleaning cloth.
Table salt does miracles when used to scour copper pans, iron skillets and ceramic baking dishes. Add a mere teaspoon to a damp cleaning cloth and use when washing dishes.
Inexpensive white vodka is great for giving glass and metal surfaces a streak-free shine. Just pour a few drops on a clean, white cloth and wipe.
Borax can give you effortlessly cleaner toilets. Just pour 1 cup into the toilet bowl at night, and clean out the bowl in the morning. All grime buildup will have loosened—even rust rings.