Style
Pet Supplies to Get Outdoors with Your Best Friend
Any hike is paw-sible for you and your fur friend with the right tools. We've rounded up the best local gear in Springfield, Missouri to make your next adventure fun and rewarding for the whole family.
Writtten and Styled by Dylan Lyle
Mar 2020
Want to get out on the trails with your pet? Here are some of our favorite pet products to make sure you and the whole family enjoy your next outing. Check our our list of the best southwest Missouri dog-friendly trails and go take a hike.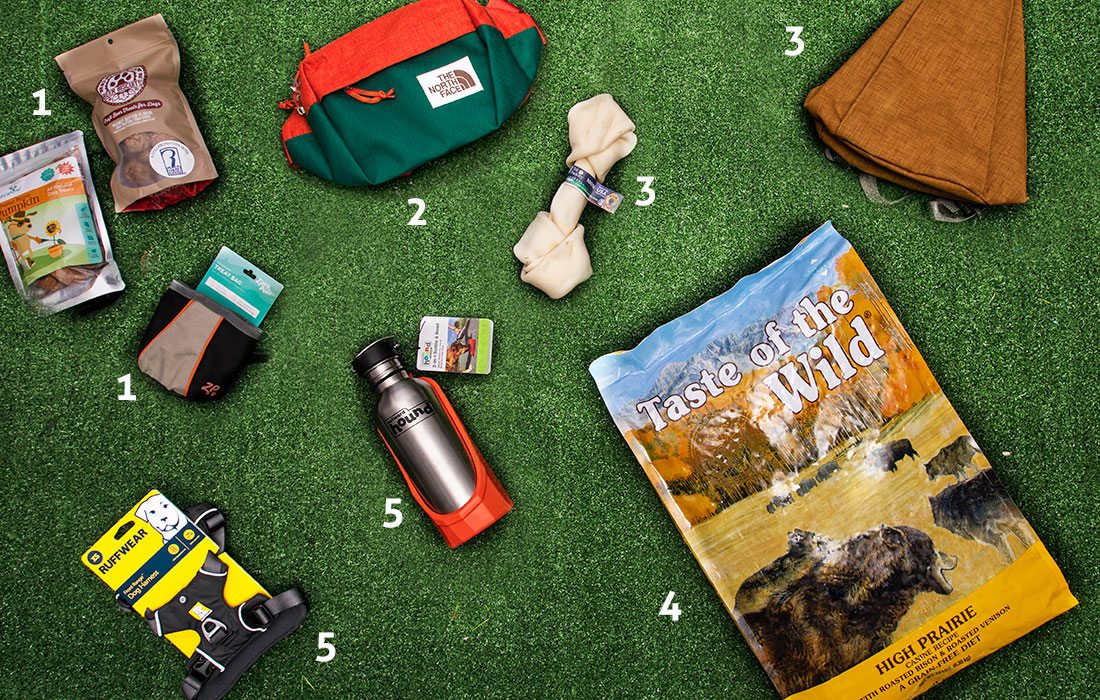 1. We can all agree: Trail mix is an essential to any hike. Just like you, your pup is going to need extra energy for the adventure ahead. Try the Cool Canine treats ($7.99), made in Shell Knob. Or maybe Fido will like the Beer Biscuit treats ($7.99), made in collaboration with White River Brewing Co. Leave the plastic at the recycling center and take this treat bag ($6.99) instead. All available at Fetch Pet Supply.

2. Being prepared for anything is the mark of a true outdoors-person. For you, The North Face Lumbar Pack ($30) from Ozark Adventures is a convenient place to store essentials.
3. What you pack is as important as what you put it all in. For comfort and versatility on day hikes, we recommend the Haiku Crescent pack ($75) from Ozark Adventures. Oh, and don't forget the bone for added entertainment ($11.99) from Petsway.
4. Sure, Kevin the chocolate lab would love some of your cold-cuts. But Taste of the Wild, a made-in-Missouri brand, gives dogs the digestable energy they need to be active. Pricing varies, available at multiple locations.
5. Staying hydrated and comfortable is vital for you and your doggo. Make it easy with the Outward Hound bottle ($19.99) that doubles as a bowl, from Petsway. The front range harness from Ruffwear ($39.99) from Fetch Pet Supply redirects pull, is padded and has reflective trim.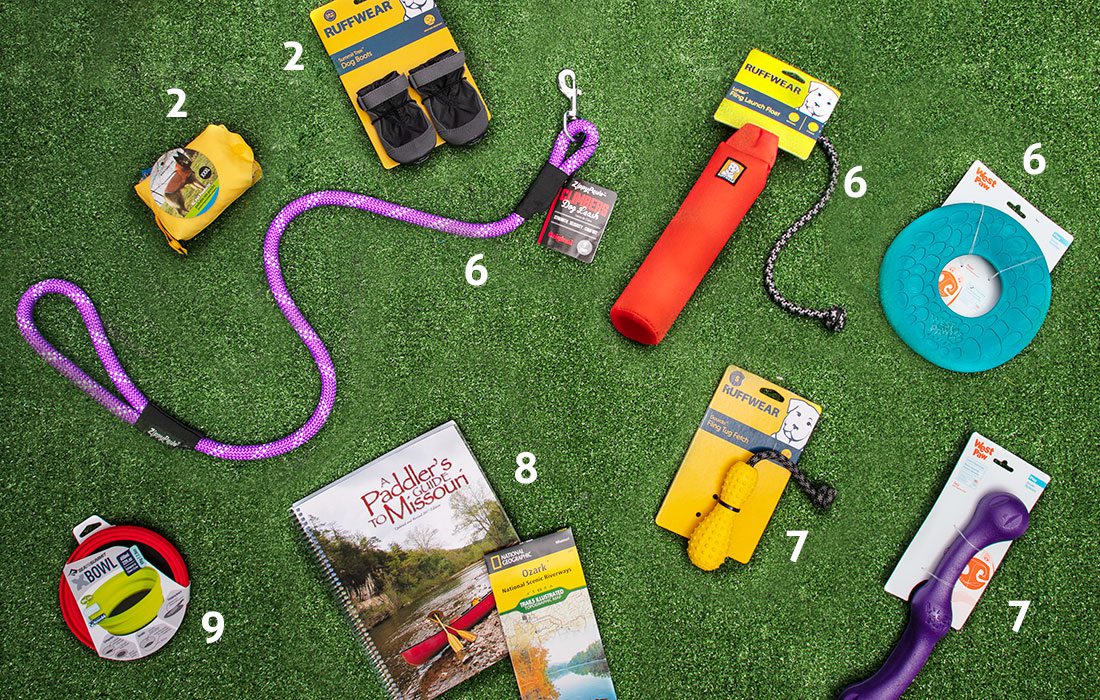 2. Being prepared for anything is the mark of a true outdoors-person. A packable poncho ($15.99) for your best friend might come in handy if the Ozarks weather becomes unpredictable. Hiking boots ($24.99) will save your dog's paws on long treks. Both from Fetch Pet Supply.

6. In between the ups and downs of the trail, it's important to stop and have some fun. Let your pup off their Climbers dog leash ($15.99), and fling the Launch Float ($19.99) into a nearby pond or stream for a quick cool down. Or try the West Paw frisbee ($17.99). It's made from a durable, floating material for endless fun. All available at Fetch Pet Supply.
7. Take lots of breaks on the trail. While you munch on some trail mix, let Clifford burn some more calories by chowing down on the Tug Fetch toy ($14.99) or the West Paw Zwig stick ($16.99). Both at Fetch Pet Supply.
8. Hikes aren't the only adventure for you and your pup to enjoy. Floating is a great way to see what 417-land has to offer. Check out these guides (from $12) at Ozark Adventures.
9. Traveling light can save precious energy. Use this collapsible dog bowl ($18.95) from Ozark Adventures to save weight and space.