Style
Unique Modern Dresses at Evermore Bride
Evermore helps brides find a unique modern dress in a relaxing environment.
By Jo Everhart
Dec 2021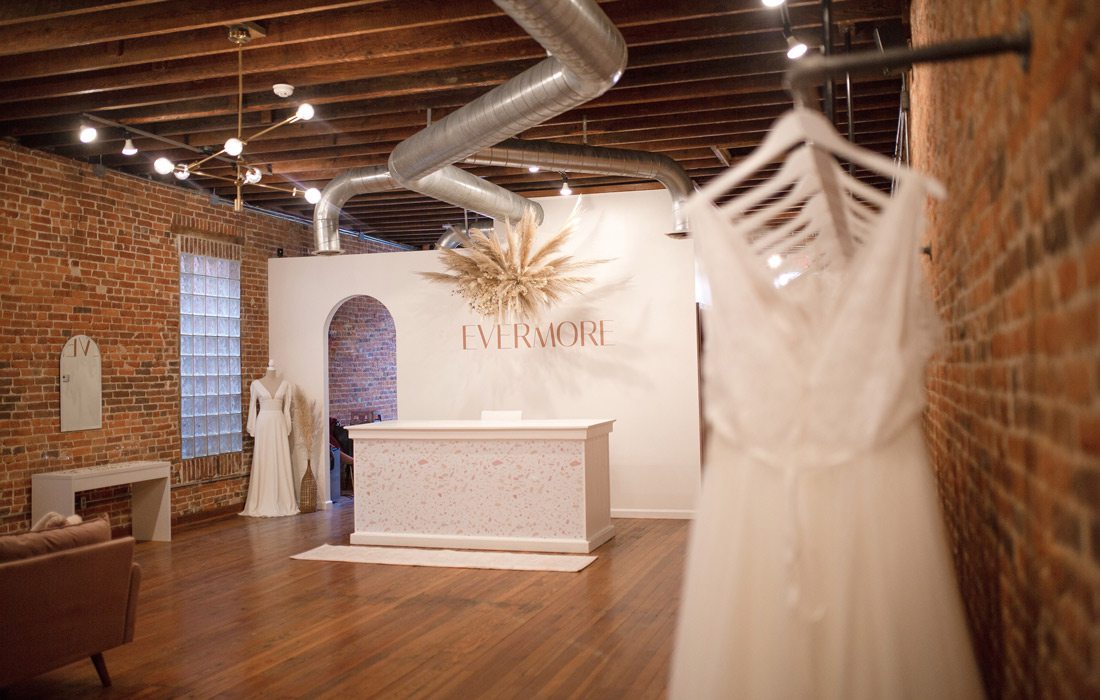 Shows like Say Yes to the Dress set a chaotic scene for wedding dress shopping with rack after rack stuffed full of white tulle, unwelcome opinions from family and 20 other brides all competing to find a dress that brings them to tears. Madison Thompson, owner of Evermore Bride, opened her bridal store in March with the aspiration to alleviate any of these common stresses of wedding dress shopping. "Whenever I book the appointment, they get the space for the whole 90 minutes just for them so they don't have to worry about seeing other brides trying on dresses they want to try on or comparing themselves," says Thompson. 
Getting to this point has been quite the journey for Thompson, she began to make plans for opening her own bridal store while studying fashion at Missouri State University. Since graduating in 2018 Thompson has been dedicated to making her plans come to fruition; finding a location, remodeling and ordering inventory, all with the bride in mind.
Simply walking through Evermore you can see how intentional Thompson was about fulfilling this purpose. Two private dressing rooms beautifully decorated in shades of pink with accents of dried pampas grass and seating for all of the bride's favorite people all make for a personal and laid-back experience. "It's a moment that can feel really vulnerable, because brides can come in stressed and in a time crunch and it should be a time to take a breath so I serve champagne so we can just relax and slow down," says Thompson. "It's fun because a lot of people come in and are really nervous and I love getting the opportunity to ease their nerves." 
Two long racks stretch out across adjacent brick walls with dresses delicately placed far enough apart from the last so that you enjoy the beauty and uniqueness of each dress. Thompson curates the store with a close eye, making sure each dress meets her criteria of being fresh, unique and modern while not straying too far away from timeless styles.  "Something I love that brides say when they're here is 'I've never tried on a dress like this before' and that's my goal in finding dresses that are really beautiful and that I know a bride would feel herself in," says Thompson.