Weddings
Bitty Cakes Take the Stage This Season
Bigger isn't always better. Bakeries are making sweet and stunning treats to feed a crowd without needing a stepladder to cut. See how this versatile wedding dessert trend can work for your celebration.
By Claire Porter
Jan 2019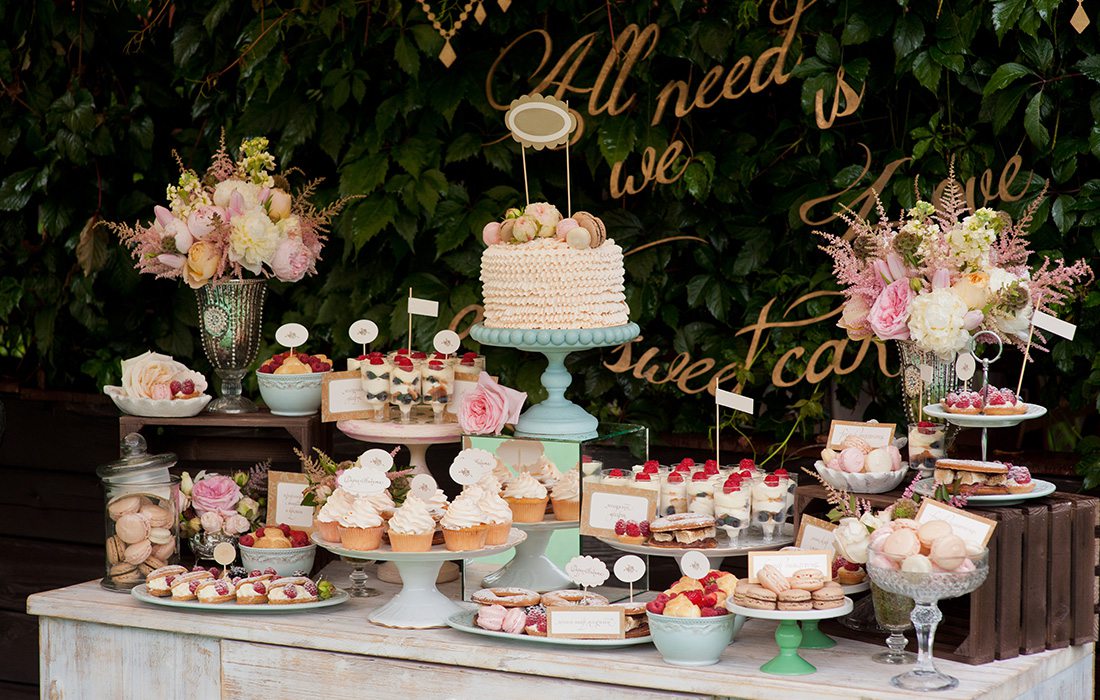 You've written your own vows, you've okayed your wedding party's outfits, you've already personalized your color scheme and you've chosen your playlist. But the customization doesn't end there. For a truly personal touch to your big day, consider exploring desserts beyond the classic multi-tiered wedding cake. For soon-to-be-spouses, smaller cakes or a large grouping of smaller alternative desserts can be a budget-friendly alternative to behemoth cakes. Plus the smaller sizes lend themselves to a medley of flavors, various designs and a dynamic and sometimes interactive visual display for ultimate personalization.
Size Doesn't Matter
Think you need a massive cake to feed a crowd? Multi-tiered cakes are showstopping, but they can be cost prohibitive for many couples, and often you're limited to certain flavors, structures and designs because of the size, weight and intricacy of such a baking undertaking. If you're looking to keep costs manageable—or if you can't decide on a single flavor or design—look into smaller options that cater to large crowds. Bakeries and caterers like Hy-Vee (1720 W. Battlefield Road, Springfield, 417-881-1950) offer catering options for ordering multiple cakes or cupcakes, and if you give your baker your color scheme and design preferences, together you can come up with a cohesive look, no matter how many baked goods you're displaying.

Pretty and Personal
Amanda Stout, head baker at Sugar Leaf Bakery (2800 W. 76 Country Blvd., Suite 211, Branson, 417-336-6618) says multiple treats allow couples to offer variety and more elaborate designs. Because each cake is self-contained, you don't have to worry about competing flavors or overly expensive designs. Smaller sizes also allow you to incorporate delicacies like the mousse cakes at European Café (207 Park Central East, Springfield, 417-986-4646). These confections sport a dazzling mirror glaze and come in 6-inch, 8-inch or mini sizes, although they aren't ideal for feeding a large group on their own. However, when paired with complementary cakes or treats, they can form the centerpiece of your dessert table.

The Pros of Sheet Cake
Another cost-efficient option is having a small decorative display cake to use during your cake cutting ceremony and ordering a sheet cake version to serve to your guests. "Sheet cake is wonderful for a lot of different reasons," Stout says. "It feeds a lot of people for not a lot of cost." She says sheet cakes also decrease the turnaround time between cutting the cake and serving it—your caterer can pre-cut and plate the sheet cake before or while you cut your display cake so guests can dig in right away. 
No matter your budget, your colors or your aesthetic, know that options abound for a dazzling dessert display. Let your baker know what flavors and designs you have in mind, and he or she can help you concoct a cake medley of your dreams.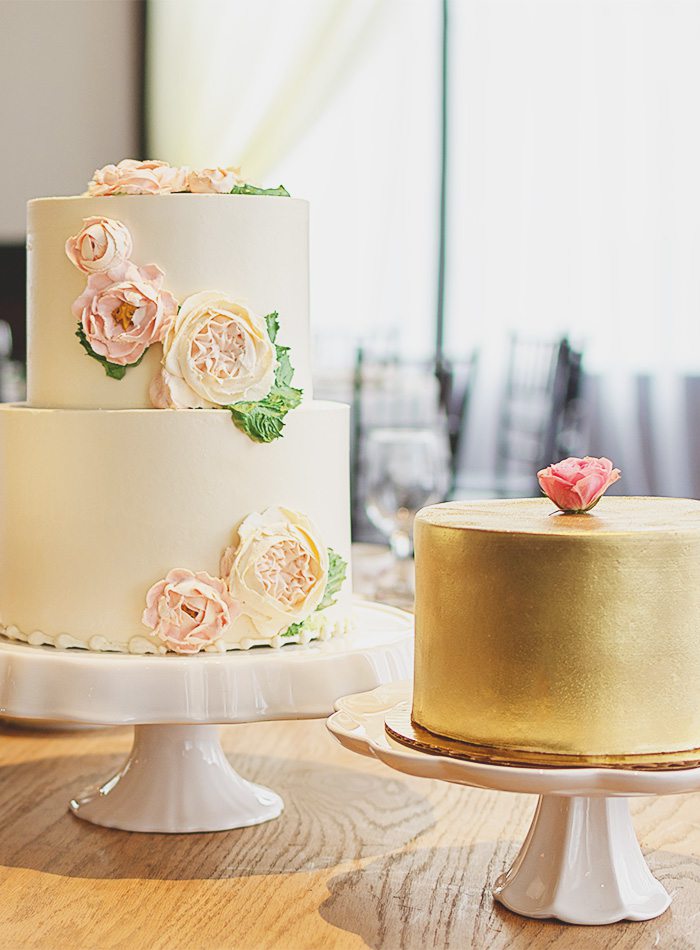 Photo courtesy Shutterstock
Instead of one large cake, get a few small ones.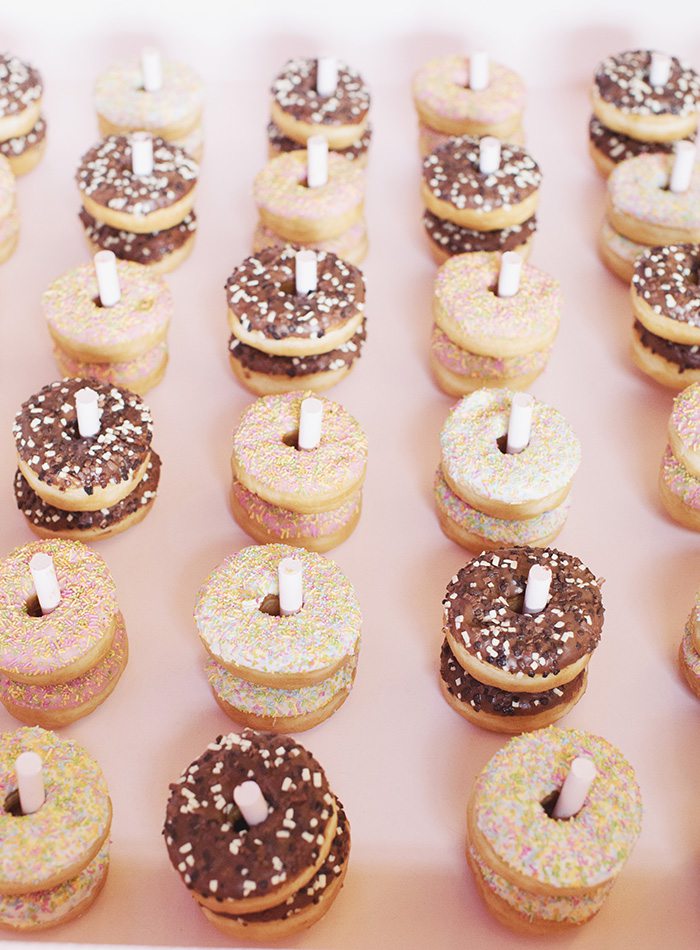 Photo courtesy Shutterstock
Donut walls are cute and delicious.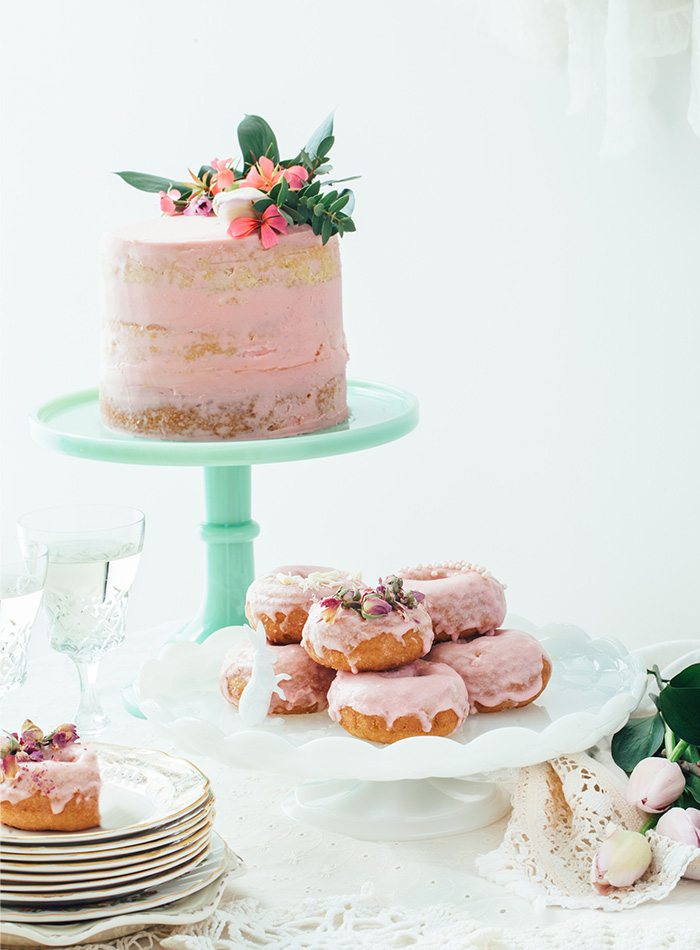 Photo courtesy Kelly Neil, Unsplash
Donuts are the perfect addition to your wedding.
Feed the Masses
Think outside the cake box with quirky desserts presented in eye-catching ways.
---
Doughnut Walls 
Hurts Donut
Multiple Springfield locations 
Hole-y matrimony! Hurts Donut can help you put a ring on it by providing doughnuts, which you can display on a standing pegged wall. Not only is it a great way to display treats, but it makes an irresistible photo backdrop, too. Hurts recommends ordering doughnuts with holes and avoiding fillings or heavy toppings that might slide off. Have the coffee handy. 
Mini Pies
Prairie Pie
417-459-8222, eleanortaylor@prairiepie.com
Maybe your sweetheart is the apple of your eye or the cherry on top of all things sweet in life. Honor your honey (and yes, there's a honey sea salt flavor for that) with mini pies from Springfield baker Eleanor Taylor of Prairie Pies. Each single-serving 5-inch pie can be made in a host of flavors held within a tender buttery crust. 
S'mores Station
B&B Boulangerie & Bakery
607 S. Pickwick Ave., Springfield; 417-315-8602 
What's more rustic and nostalgic than making s'mores? Katie Kring of B&B Boulangerie brings the sweet memories with a gourmet walkaway s'mores bar, including handmade marshmallows in myriad flavors, gourmet chocolate ganache, handmade feuilletine and blow torches for that fireside flavor. 
Mini Fruit Tarts
Simply Delicious Catering
2340 W. Grand St., Springfield; 417-708-6176 
If you've ever dreamed of strolling down Parisian streets, eating delicate patisserie, the mini fruit tarts from Simply Delicious Catering are for you. These dainty mini tarts are lined with white chocolate, filled with pastry cream and topped with glistening fruits to please the most discerning palate. 
Cookies and Milk Bar
The Rolling Pin
3170 E. Sunshine St., Suite I, Springfield; 417-493-6599 
Take your guests back to childhood with a cookies and milk bar. Perfect for parties with families and kids, a spread of cookies in various flavors is a customizable way to celebrate—plus, who doesn't love to dunk? The Rolling Pin can make custom iced sugar cookies or classic drop-cookie flavors.