Life
Crisco, the Table Rock Lake Goat
He's mythical and has a long white beard. No, he's not Santa Claus. He's Crisco the Goat, Table Rock Lake's local celebrity.
By Peyson Mecke
Jun 2023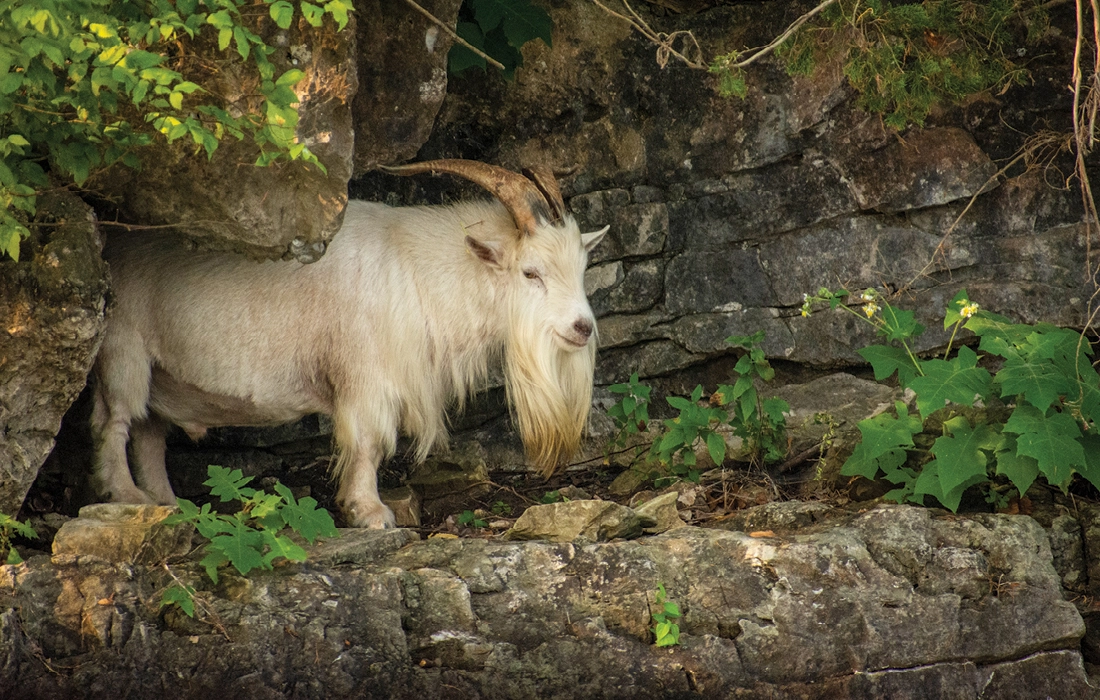 On most days on a lakeside bluff near Cricket Creek Marina, you can find Crisco, a Norwegian goat, taking in the view. "He has turned into a mascot of that area," says Krystal Tippey, administrator and founder of a Facebook page dedicated to Crisco.
Several years ago there were a few herds of goats in this same location, but after they were moved out of the area, Crisco gained his dedicated following as he was the only one who was here to stay. Beyond sunbathing and keeping watch over the southside of the lake, he spends his days and nights wandering around a local neighborhood. A neighbor sets out food for him, but mainly everyone lets him live his peaceful, lakeside lifestyle.
And a name like Crisco? Tippey said legend has it that his name came from the color of his coat. Because it's so white — just like a tub of Crisco. It's tidbits like this, details on recent sightings and endless photos of Crisco, that fill the posts in his Facebook group. "The excitement to go and find him is my favorite part," says Tippey. "It's almost like a Where's Waldo? for Table Rock Lake. There's a sense of community to go find him together."
There is even Crisco merch—from T-shirts to mugs—sold to benefit local animal sanctuaries. Tippey aims to pick a new sanctuary to support with each round of donations and encourages members to message her recommendations local to the lake.
Looking to have your own Crisco sighting? When you're heading south toward Arkansas, there are rock bluffs on the left about a quarter mile before you reach Cricket Creek Marina. Depending on the weather, you might find Crisco proudly standing on the bluff, or resting behind some branches.
And remember, Crisco is a true celebrity: He loves having his picture taken but hates being touched.
"I think the biggest thing is that he's more of a visual enjoyment," says Tippey. "We appreciate that people respect his space and want to keep it that way."
Follow along to share and spot sightings of Crisco. Join "Crisco the Table Rock Lake Goat" group on Facebook.