Life
Find a Place at Table Rock Lake
Plan a staycation, or maybe even purchase proptety at Table Rock Lake and make your weekend getaways truly yours.
By Peyson Mecke
Jun 2023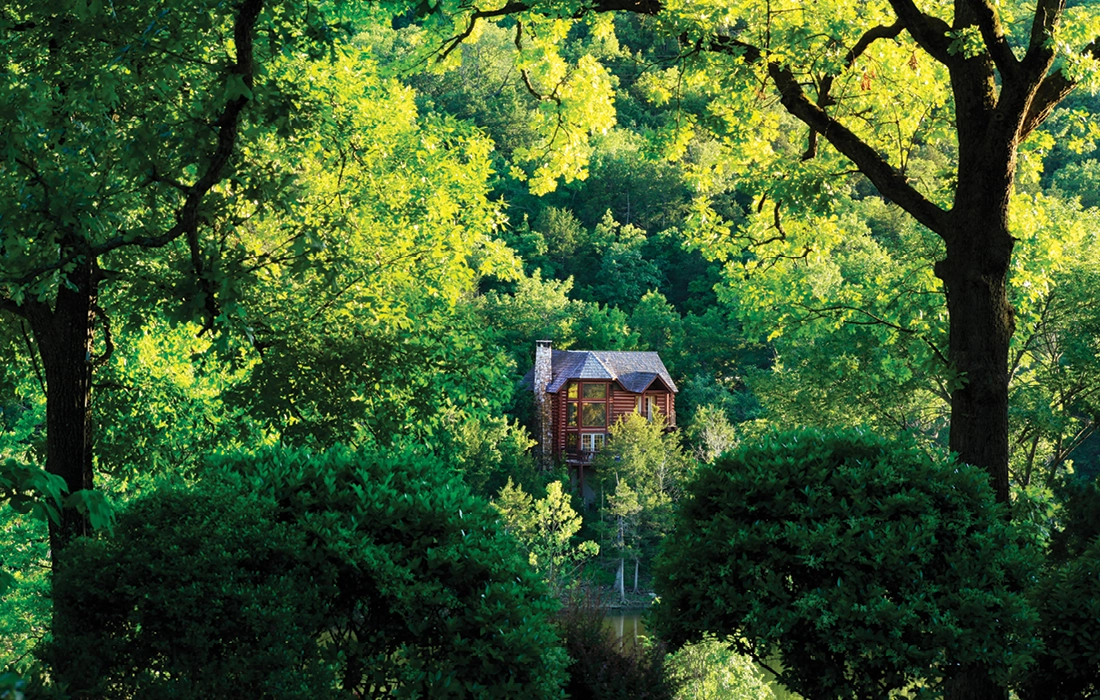 A Table Rock Lake Staycation
A Weekend for Two
R&R in your own backyard.

Reconnect and recharge with a romantic weekend away at Big Cedar Lodge (190 Top of the Rock Road, Ridgedale). Nestled lakeside just south of Branson, Big Cedar is an upscale destination for family trips, girls weekends and guys trips. Their variety of activities and amenities makes it the perfect spot for a couples trip, without having to leave the 417.
Book a lakeside cottage for the cozy, ultimate retreat. And once you park and check in, everything you need to enjoy the weekend away is on-site. Start your day with a coffee and pastry from Truman Cafe & Custard before embarking on a leisurely nature walk as a couple. Then, branch off for your own version of restoration—spa services and a yoga class for her and an outing to one of five local golf courses for an afternoon on the links for him. Finish the day with a cocktail at Top of the Rock's wine cellar, a fine-dining dinner at Osage Restaurant and room service for dessert. Be sure to take advantage of the complimentary shuttles that will take you around the resort, to Top of the Rock and to property-owned activities like the shooting academy and golf courses.
Fun for the Whole Family
Pack up the car, this is a trip everyone will enjoy.

Whether you're looking to spend some much-needed time as a family unit or get all your relatives together, Water Mill Cove (175 Harbor Lane, Branson) has a family-friendly feel right on the lake. They offer accommodations with full kitchens and up to 11 bedrooms to suit families of all sizes.
And, once you check in, there are dozens of complimentary on-site amenities—from basketball and bocce ball to fishing and paddleboarding to an 18-hole mini golf course. Not to mention the two resort-style pools—one with a beach entry and the other with a stunning infinity edge—with hot tubs and a super fun waterslide.
Located on Indian Point, this resort is close to attractions (just two miles from Silver Dollar City) and the conveniences of Branson. With a central lake location, you can even bring your own boat and rent a slip at the resort's private boat dock, or take advantage of on-site boat rentals. Other add-ons include wake surf lessons and golf cart rentals to make the most of your time on the property.
A Night Underneath the Stars
Experience lakefront camping at Mill Creek.

Located on the central part of Table Rock, just south of Kimberling City, sits a sought-after campground: Mill Creek (1236 State Hwy RB, Lampe). It's hard to miss from the water with a peninsula that jets out into the main body of the lake. If you've passed by in the summer, chances are you've seen campers grilling out or enjoying a cold one at the water's edge.
The park offers more than 60 reservable campsites with electric hookups. So whether you're channeling your true outdoorsman and tent camping, or bringing along the comforts of home with your own RV, each site is fully equipped for a weekend in nature.
While there's no bad site at Mill Creek, campsites 43 and 44 are located at the very tip of the peninsula. These spots give you stunning lake views all around. These book up quickly—you can actually plan your trip 6 months in advance—so don't wait to check availability. Consider a night away on a weekday to get a lakefront spot.
There's also a beach, ramp for launching your boat, playground and recreation courts for endless on-site fun.
A House to Yourself
Choose your own adventure with a full-home rental.

Home owners renting out their own space to others on vacation rental platforms have become increasingly popular in the past several years. While most homes don't offer the same amenities you'd find at a resort, you can often curate the experience you're looking to have at a more affordable rate for a group of nearly any size.
There are parts of the lake and certain neighborhoods that don't allow vacation or short-term rentals, but looking for a home with the map feature is the best way to assess the property location. Some areas to search for: Kimberling City, Cape Fair, Indian Point, Cricket Creek.
Once you narrow down your location, you can sort by preferences important to you, like a pool and hot tub or lakefront with privacy. Some platforms like Rent Branson even offer concierge services you can add on to your stay. They'll help you book a masseuse to come pamper you during your stay, arrange a private chef or even deliver a charcuterie board from Boards by Haley so you don't have to worry about prepping dinner as soon as you arrive.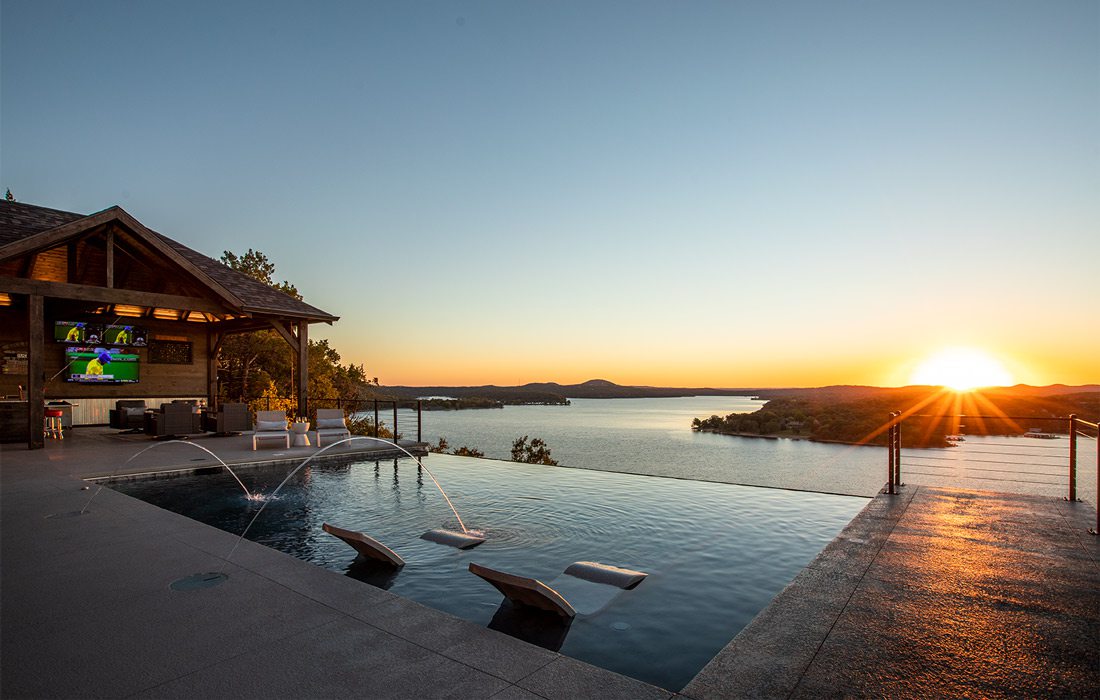 Buying Property at Table Rock Lake

If you're wanting to invest on spending more time on the lake, these tips will help make your dreams a reality.
You've spent your weekends soaking in the sun at the lake, found your favorite breakfast spot in Branson and have that neighborhood you drive through just for fun. Now, you're ready to put down some roots.
With more than 700 miles of shoreline, Table Rock has waterfront, panoramic view and nestled lots to fit any buyer. While lake real estate may be hard to come by, we talked with a few experts to help you on your house hunt.
Dean Coder of Lake Agents, a realtor with more than 16 years of experience selling lake homes, and Ryan and Shae Duffy of Duffy Homes Realty, husband and wife real estate duo and short-term rental experts, share their best tips on how to find your perfect piece of property on Table Rock Lake.
Act Fast
"Many lake home buyers look for months and sometimes years for the right combination. Act fast when the right opportunity comes along. Having a high quality lake view or water frontage along with an available boat slip in good proximity are amenities you'll enjoy and will help to secure your investment."—Dean Coder, Lake Agents
"It's easy to get analysis paralysis and spend years telling yourself the market isn't great right now. There are opportunities out there every day. You just need to know where to look. The best time to invest in real estate was 20 years ago. The second best time is today."—Ryan and Shae Duffy, Duffy Homes Realty
…But at the Same Time, Be Patient
"Inventory for short-term rental properties is very low in our area. Our benchmark goal for most acquisitions is a 20–30 percent cash on cash return. The best way to maximize your return is to find a property that can be converted into an short-term rental, go through the permitting process and take the time to set it up. This can be very time consuming and labor-intensive, but if you do it properly you can enjoy huge gains in equity."—Ryan and Shae Duffy
Enjoy the View
"It's possible for a water view home to provide equal enjoyment to a waterfront home. More buyers are realizing this and homes a little higher on the hill can be more affordable and offer panoramic-type views."—Dean Coder
Know Where to Look
"We are very excited about the changes coming to the Cricket Creek area in north Arkansas. It's only 20 minutes south of Branson and at the moment, there are no restrictions for short-term rental use. Being so close to the marina and Big Cedar Lodge, we have seen units in this area far outperform comparable units located in more crowded areas."—Ryan and Shae Duffy
"So many areas of Table Rock Lake are experiencing positive growth or resurgence. Kimberling City, Joe Bald Road and the DD Highway areas are highly desired."—Dean Coder
Be Educated on Short-Term Rentals
"We recommend joining the Ozark Mountain STR Masterminds group on Facebook. It is a collaboration consisting of hundreds of local [short-term rental] owners. Pinned to the top of the group is a list of service providers to help run your property as well as an STR performance calculator that can help you determine the potential rate of return on a specific property you're looking at."—Ryan and Shae Duffy
Look off the Market
"High-producing local agents are a good source. Another way is to investigate vacant, poorly maintained or low-use properties for potential opportunities. [While] timing may not be right for that particular owner, they may inform you of a neighbor that will sell."—Dean Coder