Things to Do
Where to Go Horseback Riding Around Springfield
You've enjoyed southwest Missouri trails on foot, now it's time to let someone else do all the work while you see the sights from horseback thanks to local equestrian trail rides like Bear Creek Trail Rides, Dogwood Canyon and more.
By Reese Radmacher
Feb 2020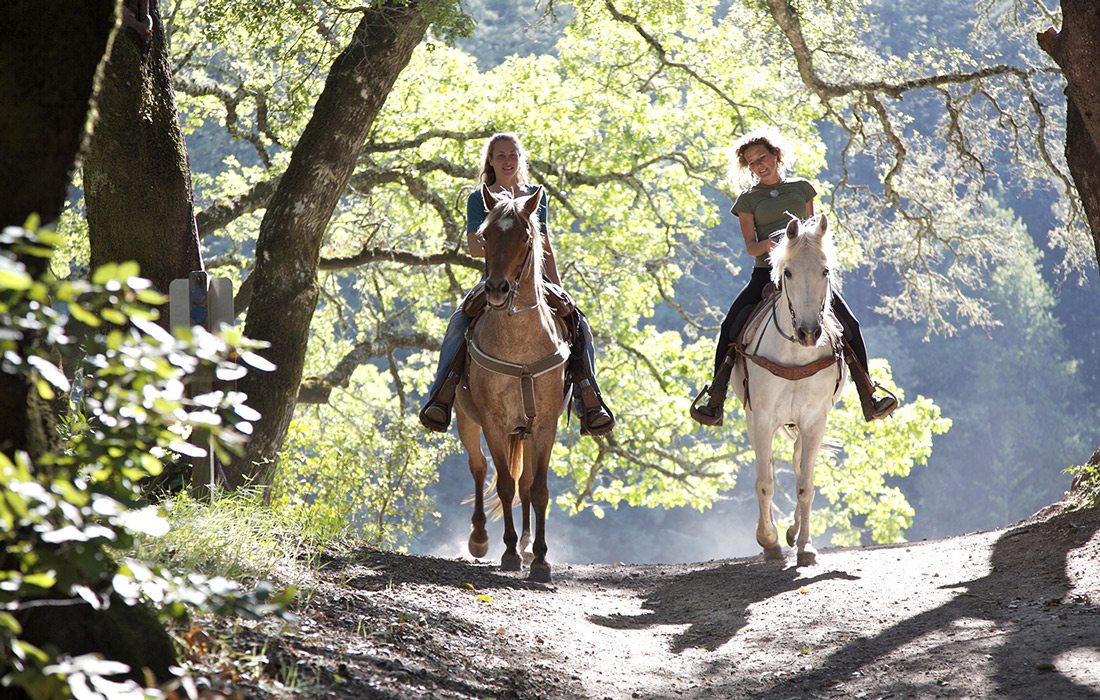 3400 Highway 65, Walnut Shade, 417-337-7708.
For a more rugged adventure, the trail rides at Bear Creek are a safe bet. After nearly 18 years of being in business, the staff here provides a first-rate experience. The terrain encompasses everything from rocky and flat surfaces to trails both uphill and downhill—granting guests the chance to ride amid nature in its raw form. Crossing Bear Creek, says manager Deborah Washburn, is another perk of the scenic landscape. The body of water's fairly sizable nature allows riders to experience more than a mere trickle. Although winter hours vary depending on the weather, rides are offered in the spring, summer and fall months at 10 a.m., 11:30 a.m., 1 p.m. and 2:30 p.m. Riders must be at least 7 years old, and they have a choice between a one-hour ride for $35 and a two hour ride for $70. Reservations must be made in advance by call or text.
4007 N. Farm Road 171, Springfield, 417-833-3291.
If you prefer a learning experience intended to guide you on your personal horse journey as opposed to a one-day venture, this equestrian center offers introductory classes referred to as Horseshoe One and Horseshoe Two, and they start at $60. Once beginners complete this portion, they can partake in the regular lesson program offering private lessons for $35, semi-private for $30, and group lessons for $25. Open riding is also available for $20 per horse and rider. An important thing to note about this experience, according to community recreation coordinator Lynn Vandenberg, is the emphasis placed on journey as opposed to acquiring just one skill. "Everyone is on their own horse journey," Vandenberg says. "Here, we go at the speed of the rider. Horses are about being in the here and now."
4297 CR 142, Rockbridge, 417-679-3619.
These rides set you against the backdrop of the breathtaking Ozark Mountain river valley. That's what office assistant Kristi Richardson says is the most renowned feature of the experience among guests. The hour-long guided trail rides can take up to four people and depart daily at Rockbridge Trout & Game Ranch. Riders are welcome to bring their own horses for this picturesque escapade along a partially manicured trail, which crosses a spring and a forgotten quarry. An additional perk of this particular trail is the rich history associated with the area, which is shared by staff members along the way. Rockbridge is also a member of the Missouri Fox Trotting Horse Breed Association, which offers trail rides that they partake in a few times annually. Junior rides are $30 per child, and all others are $65 per person. Call in advance for availability and reservations.
2038 W State Highway 86, Lampe, 877-459-5687.
Those who take advantage of the horseback riding services offered at Dogwood Canyon have the chance to experience the acclaimed nature park in a whole new light. Shelby Stephenson, public relations manager of the park, says no other tours aside from horseback riding go along Little Indian Creek—a charming trail composed of numerous creek crossings, limestone bluffs, abundant greenery in the summer, a vibrant mix of colors in the fall and bald eagles in the winter. A brand-new stable facility was built in 2015, complete with a riders lounge and patio overlooking Little Indian Creek flowing beneath. One-hour rides are tailored toward beginners, whereas two and half hour rides are more extensive and include a picnic lunch halfway through. Prices vary based on the time of year and demand.