Trails
Explore Petit Jean State Park in Arkansas
If you're searching for new hiking trails to explore, know this: Arkansas's Petit Jean State Park is well worth the drive.
By Savannah Waszczuk
Aug 2019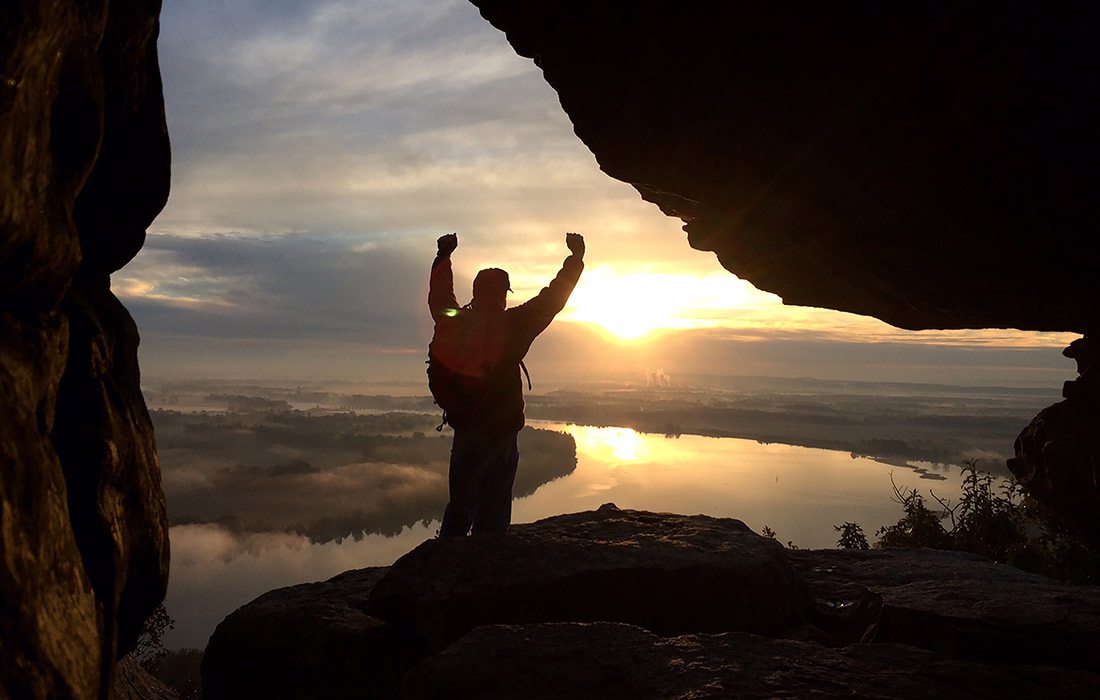 Earlier this year, I found myself with a three-day weekend and no prior commitments. The days were just getting warmer, and a full day of hiking was just what my pasty, winter-bound body had been craving for three chilling months. It was time to get outside, and it was time to get away. 
I talked my boyfriend into hopping in the car and heading south to Petit Jean State Park (1285 Petit Jean Mountain Road, Morrilton, Arkansas
https://goo.gl/maps/jEEkMVad8nXoRZKf7
). Petit Jean is a little more than three and a half hours south of Springfield—just far enough to feel like you're "away from home," yet it's still super easy to fit into a weekend. 
We headed down on a Friday night and grabbed dinner at a local restaurant in Russellville. The specials that night were fried chicken and shrimp and grits, and our waitress bragged about the spot's sweet tea. We weren't far from home, but we were certainly in the south. I loved the change of pace.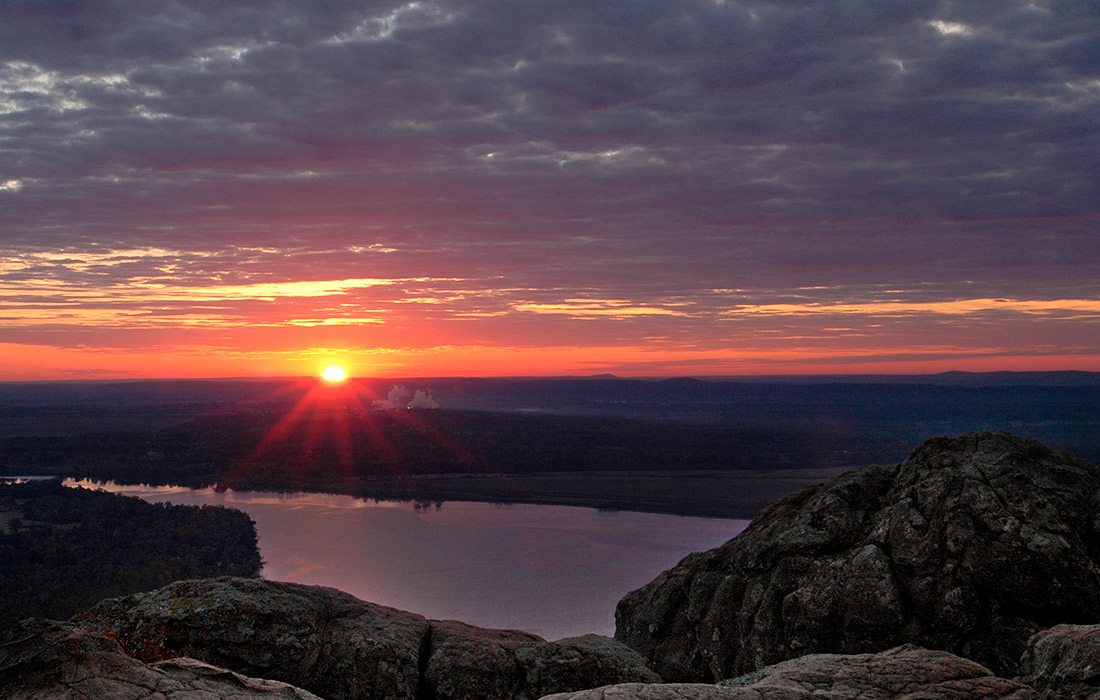 Spectacular sunset views from the bluffs and gorgeous trails through the trees make the trip down south to Petit Jean State Park in Arkansas more than worth it.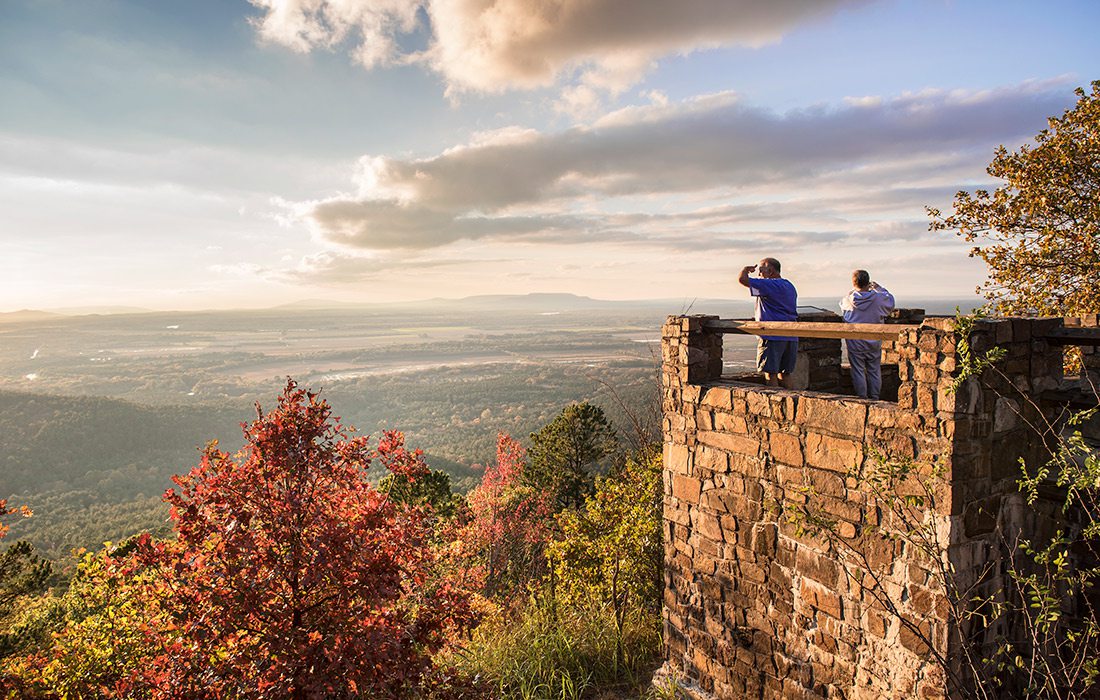 Lookouts offer the perfect places to stop and admire the surroundings.
Photos courtesy Arkansas Department of Parks & Tourism
We woke up early the next morning and headed over to Petit Jean. The ride into the park provides hypnotizing scenery—while it's much less elevated, I likened it to some of the drives I've taken in Rocky Mountain National Park. Towering treetops hug the sides of the road on one stretch, and a wide-open view greets you just around the bend. There's even a scenic pull off, which is well worth a stop.
We parked near the visitor center, grabbed a trail map and made a plan. Petit Jean is Arkansas's first state park and has a lot to offer, including more than 20 miles of hiking trails, a 95-foot-tall waterfall, a cave and Petit Jean Mountain, which boasts multiple viewpoints and overlooks. There are also cabins and camping areas, because there's way too much to fit into one day. 
We decided to warm up with a quick loop of the Bear Cave trail, which starts just across from the visitor center. It's a fun little loop that has many interesting rock features, including (you guessed it!) a cave. Next we headed to Seven Hollows Trail.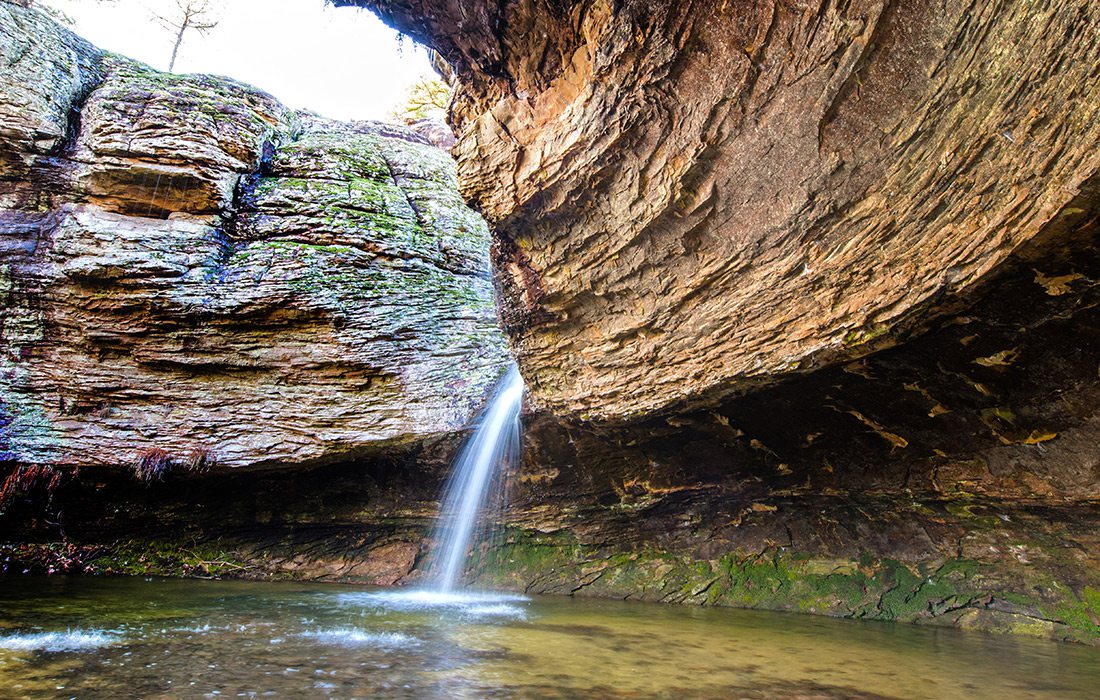 This path is 4.5 miles and features multiple payoffs: a natural bridge, turtle rocks and the grotto (a seasonal waterfall that can be seen by hiking an extra quarter-mile each way and is well worth it). Much of the trail follows a bluff line and offers abundant views, and the natural bridge rock formation was a more-than-worthy photo op. My personal favorite part of the whole hike was trekking across the turtle rocks and noting the rockfaces (which look like turtle shells). 
By the time we made it back to the car, we were too tired to explore another trail that day, but we decided it certainly wasn't our last visit to Petit Jean. The next time we have a day with no prior commitments, I know exactly where we're going.