Profiles
The 417-land Heroes of 2020
There are countless people in SWMO—in the medical field and beyond—who have gone above and beyond to help our communities weather a tough year. Meet 10 standouts who got creative to lift our spirits, move us forward and carry us through 2020.
By Megan Dollar | Art Direction by Sarah Patton
Dec 2020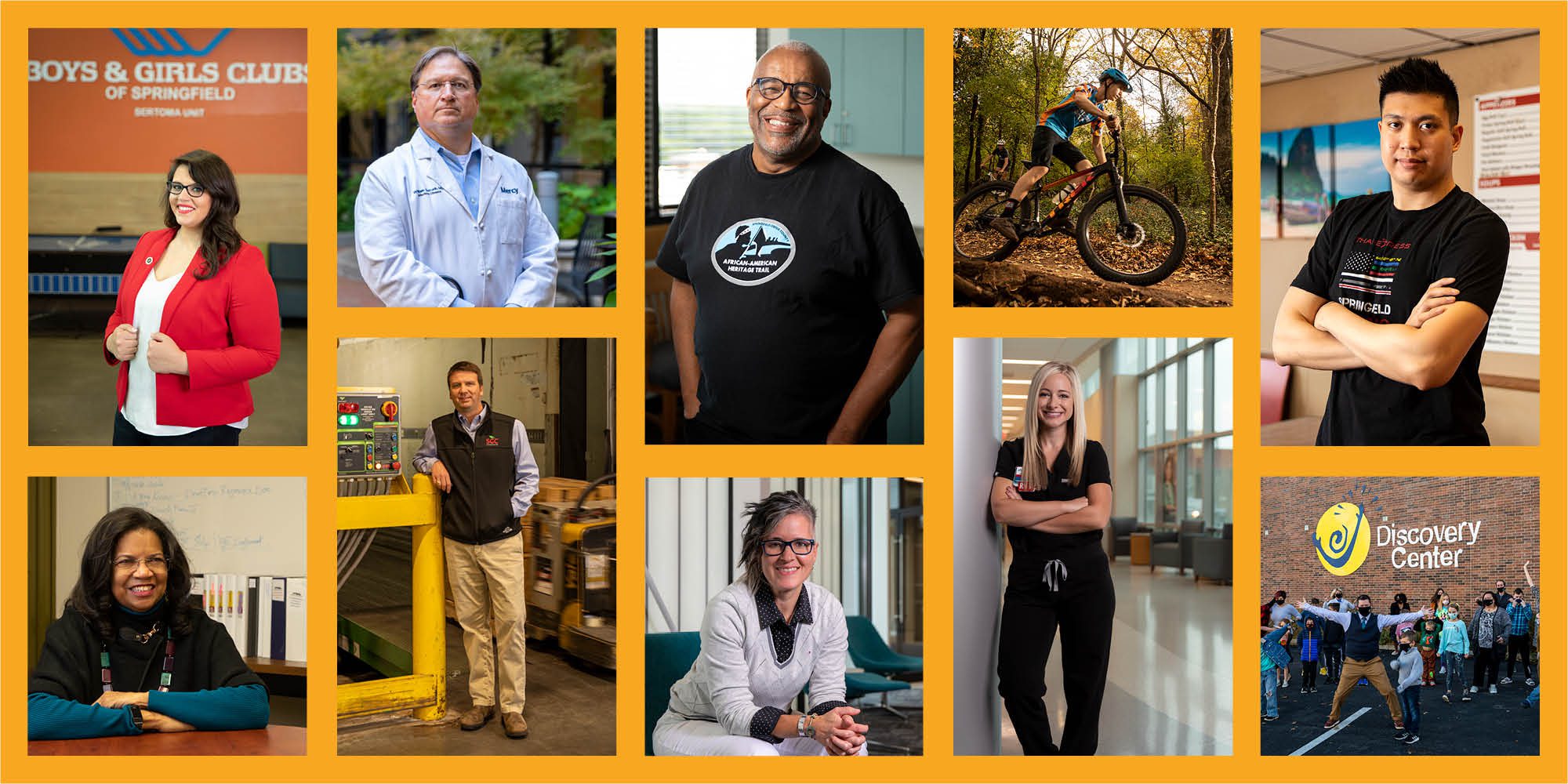 This year needed heroes. In every form, our community brought them. Heroism is a chain reaction. When one person steps up to a plate, the rest can follow close behind. When it became clear that southwest Missouri, too, would need to prepare for a deadly virus to arrive, Springfield Mayor Ken McClure took to the history books. He shuffled through newspaper clips from 1918 to learn how the mayor of Springfield had handled the Spanish Influenza outbreak—he turned to what he knew to help and serve his community. This year in 417-land, myriad individuals have capitalized on their strengths in order to defend the community against coronavirus and carry us through it. Of course we couldn't possibly talk to them all, but this feature highlights 10. Boys & Girls Club of Springfield CEO helped out in a big and necessary way by getting kids and their families necessary supplies to survive. A group of kids from Brentwood neighborhood spent the summer building themselves a new mountain biking trail close to home. The owner of Thai Express sold us toilet paper and other necessities in addition to his usual fare. Here's the point: a lot of people did a lot of cool things in our community during some really tough times. From providing the most vital services to dreaming up ways to make this place a little better, they've all built off of one another's actions and come together to boost our spirits and spring our community forward during a time when we needed it most. We think they're worth knowing, and hope that you'll find encouragement in their stories.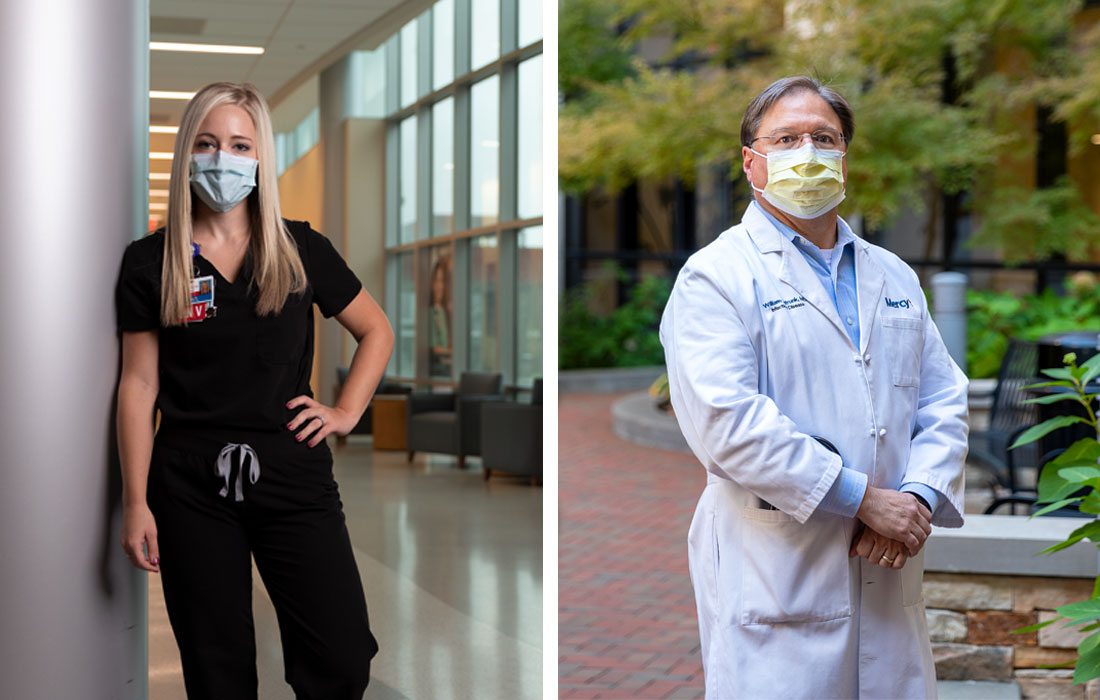 Heroes for Us All: Healthcare Workers
All healthcare workers have gone above and beyond this year. These two took us behind the scenes of it all.
In every community across the globe, healthcare workers have been more than just heroes this year. They are caretakers, friends, and family. They are essential. They are hope.
Southwest Missouri, and Springfield in particular, is home to a robust medical scene. Healthcare networks across the region have become the life sources of our communities more than ever this year, and it's all thanks to the folks who work there: the nurses, physicians, therapists, specialists and technicians who have thrown themselves into a dangerous fight. It would be impossible to name and individually thank them all, but of that they are all deserving.
"I felt like my hospital needed me and my community needed me to step up, and I'm super thankful that I did that."
— Alyssa Reeves
For example, CoxHealth nurse Alyssa Reeves  volunteered to work with COVID-19 patients in critical care this year. Reeves has been working as an intensive care unit nurse at Cox Medical Center South for about four years now. She's used to seeing sick people. But, this year has been noticeably different.
"Working in the COVID ICU, like I have been for the last six months, it's something completely different," Reeves says. "These are definitely the sickest patients that I've ever taken care of. I try to tell people that this is not the flu. It's so much worse. It literally affects every organ system that you have."
Even for a nurse like Reeves, who is used to working with patients who are in critical care, close to death or dying, this year has been unfathomable. She never imagined she'd see a patient deteriorate so quickly that there wasn't time for them to say goodbye to their loved ones. Or that she'd be the person holding the phone so loved ones could say goodbye via FaceTime. Or that she'd have to push the bed of a patient into a private room, next to the bed of their partner, to say goodbye after 50 or more years of marriage. And she signed up for this.
What's a moment you'll remember from 2020?
Alyssa Reeves: "It's not a specific moment, but just seeing our hospital come together for a common goal … It's been really unique to see everyone come together and support us through this pandemic."
Dr. William Sistrunk: "The human factor of the medical team working together to support each other."

When it became clear that even southwest Missouri would need to prepare a COVID-19 unit of it's own, the management team at CoxHealth sent out an email asking staff who might be willing to work in the unit. Reeves, a 27-year-old from Lebanon, was one of about 200 nurses  that volunteered to work the unit. "It was kind of a no-brainer to me," Reeves said. "I felt like my hospital needed me and my community needed me to step up, and I'm super thankful that I did that."
For others, the decision to work this field was made long ago. Dr. William Sistrunk has been an infectious disease physician at Mercy Hospital Springfield for more than 20 years. "We've been through a lot of epidemics," Sistrunk says. "Not one like this, though." Even though he says the medical community has been concerned that a disease like COVID-19 might emerge for quite some time, one of the greatest challenges medical workers face when a new virus like this surfaces is developing testing. So, as Clinical Vice President of Mercy Lab, testing is something Sistrunk has worked hard to evolve in the community.
"Our medical team is basically in the middle of a marathon. We're tired. We're right in the middle of this and it's so important that we all support each other and support our patients."
— Dr. William Sistrunk
But even so, this virus moves faster than the medical workers chasing it, and they're tired. "Our medical team is basically in the middle of a marathon," Sistrunk says. "We're tired. We're right in the middle of this, and it's so important that we all support each other and support our patients."
"I've been super stretched, and I've seen my coworkers do the same thing," Reeves says. "I've seen nurses that, in the beginning of this pandemic, were pretty new and novice and I've seen them grow dramatically through the virus because everyone is just being pushed to their limits."
Healthcare workers are being pushed to their limits in every way. The physical limit is probably the first they hit. Every time Reeves goes to the hospital, it's a process just to get ready. She wears one set of scrubs from home to the hospital, where Cox has provided all staff working with COVID-19 patients an extra pair of scrubs to wear at the hospital. They've also provided laundry and shower facilities on-site. Before Reeves sees any patients, she must gear up for battle—a full-body protective "bunny" suit, a ventilated mask, a plastic face shield, two pairs of gloves and multiple hairnets.
What's getting you out of bed right now?
Alyssa Reeves: "The thought that there are patients lying in the hospital that absolutely need us to come in and take care of them. And my co-workers need me. We're all relying on each other."
Dr. William Sistrunk: "It's helping patients. I've been doing it for a long time, and that's what we do, we care for patients that have infections. I just feel like it's a duty."

The only thing Reeves wears in the COVID-19 unit that makes it back home with her are her shoes, and even those are left in the garage. She suits up four times a week for her 12-hour shifts. And she has a family at home, too. She lives with her husband Andrew and her cat. "In the first few weeks, we definitely didn't know as much about the virus, so I was much more anxious and scared to bring something home to my husband," she says. She went several months without seeing her parents or her brother.
A coping mechanism has been found within—fellow healthcare workers. "We all are relying on each other," Reeves says. "You know, we see sick patients all the time, and we've learned how to cope with it pretty well, but this is completely different. We feel like we're crying way more than we ever have been, so we definitely rely on each other like a family to get through this."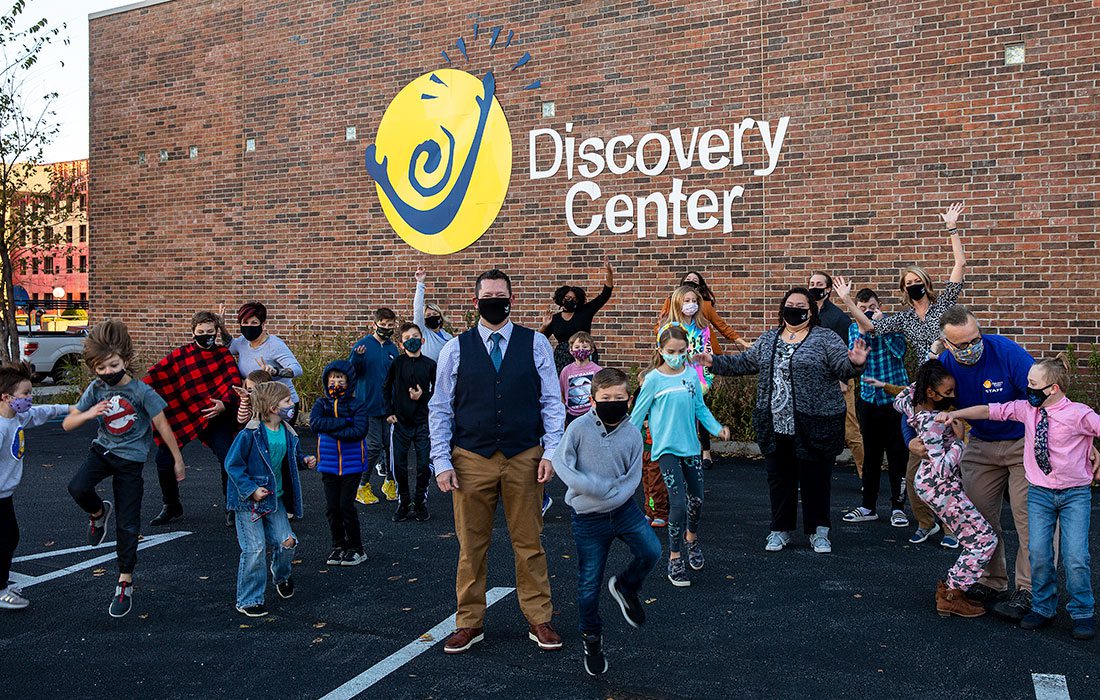 A Hero for Teachers: Rob Blevins
The Discovery Center director acted fast under pressure.

Rob Blevins was ready for a pandemic to hit Springfield. "We need to be a leader in the community when it comes to viruses and the science behind it," says Rob Blevins, executive director of the nonprofit Discovery Center of Springfield. "We're a science center. It's our job to lead even when it's hard."
What's a moment you'll remember from 2020?
"When James, a young man who works at the Walmart in Nixa, bought shoes for a student at the Discovery Center in early April. She needed shoes because hers were too tight and hurting her feet."—Rob Blevins

When a new virus began hospitalizing hundreds of people in Wuhan, China, late last year, Blevins was paying attention. Recognizing the threat of the coronavirus, Blevins started tracking the virus and drafting reaction plans for the Discovery Center. By the time Springfield Public Schools' students wrapped up spring break and returned (virtually) to learning in mid-March, Blevins had converted the Discovery Center's 60,000-square-foot facility into a learning and care center for children of health care and essential workers. From 6 a.m. to 8 p.m. daily the doors of the Discovery Center were open to support students ages 5–14. By the end of the school year more than 1,000 children received more than 100,000 hours of free childcare and 50,000 free meals and snacks, Blevins says.
As of November, no cases of COVID-19 could be traced back to the Discovery Center, thanks to Blevins' constant learning and advanced planning, He started by following along with science centers, museums and other cultural centers in places like Washington State, one of the first states impacted by COVID-19. He reached out to the Springfield–Greene County Health Department so he knew what changes he could anticipate, and he began building out protocols for the center to follow when the health department limited community gatherings. With each new piece of information uncovered, Blevins redirected his staff: When COVID-19 was thought to be spread by touch, students were provided with new, disposable supplies to avoid passing germs. When the need for masking was realized, a masking policy was implemented.
What's getting you out of bed right now?
"My to-do list. There's just so much more to do and it never all gets done. You just gotta keep going and preparing for what could possibly be next."—Rob Blevins

After successful spring and summer terms, and when SPS announced its hybrid re-entry plan for the new school year, Blevins and his team continued to push on and develop programming. In addition to its flagship downtown location where the Learning Support Care Program was offered, the Discovery Center now has two locations for the new, independent, science, technology, engineering and mathematics-focused Discovery School. A STEM school has been a goal of both Blevins and Education Director Jackie Douglas since Blevins assumed leadership in early 2018. When the need for learning options became critical, now seemed like as good a time as ever to launch the project. "What better place to send the kids than a science center when there's a virus?" Blevins says.

It's a perfect model—a science center educating kids during a pandemic. The opportunity to continue educating children during this time is what's driving Blevins right now. "How much more can we get done?" he wants to know.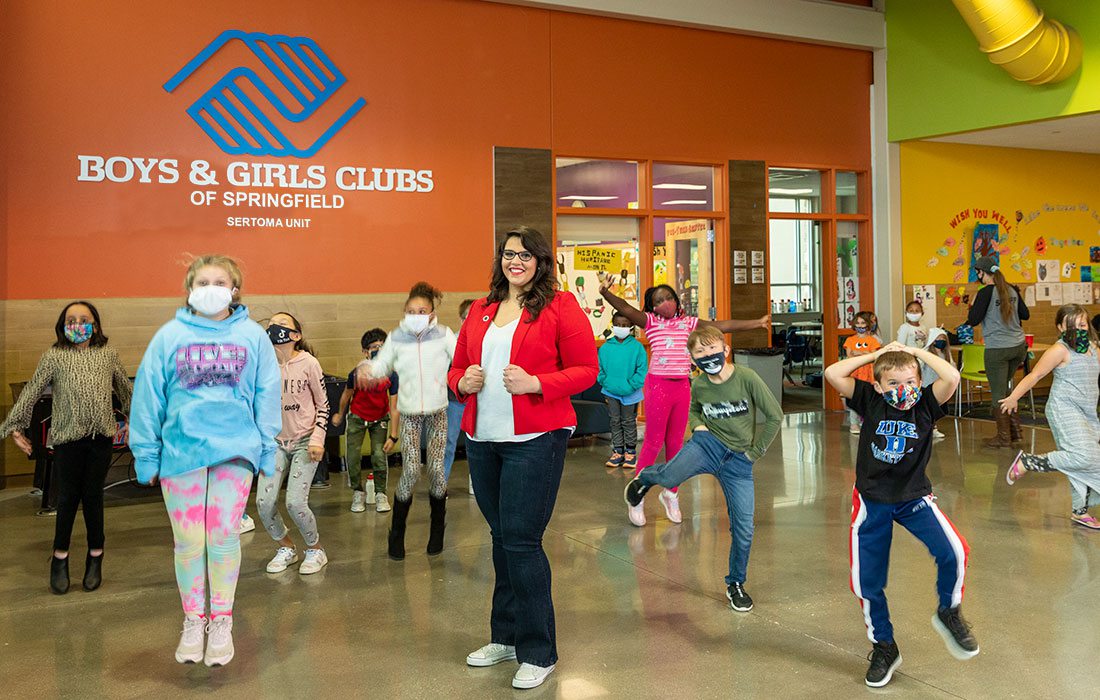 A Hero for Parents: Brandy Harris
The Boys & Girls Clubs of Springfield CEO built off personal experience to provide a much-needed sense of normalcy for the club's members.

Brandy Harris wouldn't want to work through a pandemic in any other community. "Not that I'm happy [COVID-19] is here, let me be very clear," the Chief Executive Officer of Boys & Girls Clubs of Springfield says. "[But] 417-land showed up for Boys & Girls Club and for kids and families in need in a way that I never really could fathom."
What's a moment you'll remember from 2020?
"I asked on social media around March if anybody knew where I could find masks, and the next day people had made 500 masks or ordered them and sent them to the club."—Brandy Harris

It's typical of Brandy Harris to thank others before crediting herself. But it was under her leadership this year that Boys & Girls Clubs of Springfield was able to shift gears under the pressure of a pandemic in just 12 hours' time. That's what got her nominated for and awarded Captain Springfield earlier this year, and the reason the Springfield branch is one of the country's leading organizations. Since Harris took the reins in 2019 the Boys & Girls Clubs has been on an upward trajectory, expanding services and helping Springfield's youth. This didn't change when COVID-19 hit, even if some of the processes had to be altered. 
"When you've got people in a room who know what it's like to go a day without eating a meal, they will get stuff done."
— Brandy Harris
"One of the hardest things in my professional career was to say that our Clubs could no longer operate," Harris says. "That is really the antithesis of what I hope to do as a leader, and what everyone who works at Boys & Girls Club wants to do." The team closed its doors and, in about 12 hours' time, Harris and her team crafted a plan to keep their programming flowing safely. They focused on two priorities: resources and connections. Harris, who grew up in poverty, knew she needed to keep things consistent and reliable for the sake of the kids.
"When you've got people in a room who know what it's like to go a day without eating a meal, they will get stuff done," Harris says. The Clubs immediately began distributing food and hygiene items from pick-up locations with the help of organizations like Care to Learn. The team also delivered laptops and Wi-Fi hotspots to families who didn't have access to what became basic school supplies in March. "We wanted to provide some sense of normalcy," Harris says. "You eat when you're at the Club, you're going to be able to get food from the Club. You get to see staff members that have a vested interest in you. You're going to be able to still see them. It's just going to be through a screen."
What's getting you out of bed right now?
"The most incredible motivator for me is when I've been in the clubs just checking in, trying to be a support for staff, trying to make sure that safety precautions are being met."—Brandy Harris

For the Club to re-open, Harris knew more adjustments had to be made. She says about 100 of her staff's job descriptions changed overnight, and she hired 27 additional staff members and doubled the Club's hours to help prevent learning loss. 
"I want to be really transparent," Harris says. "This is hard. It's hard on everyone: families, kids, teachers. A lot of people are working so hard." But because of the connections Harris' team was able to build with their club members before March, they were able to keep up with and support those children as they navigated tricky times.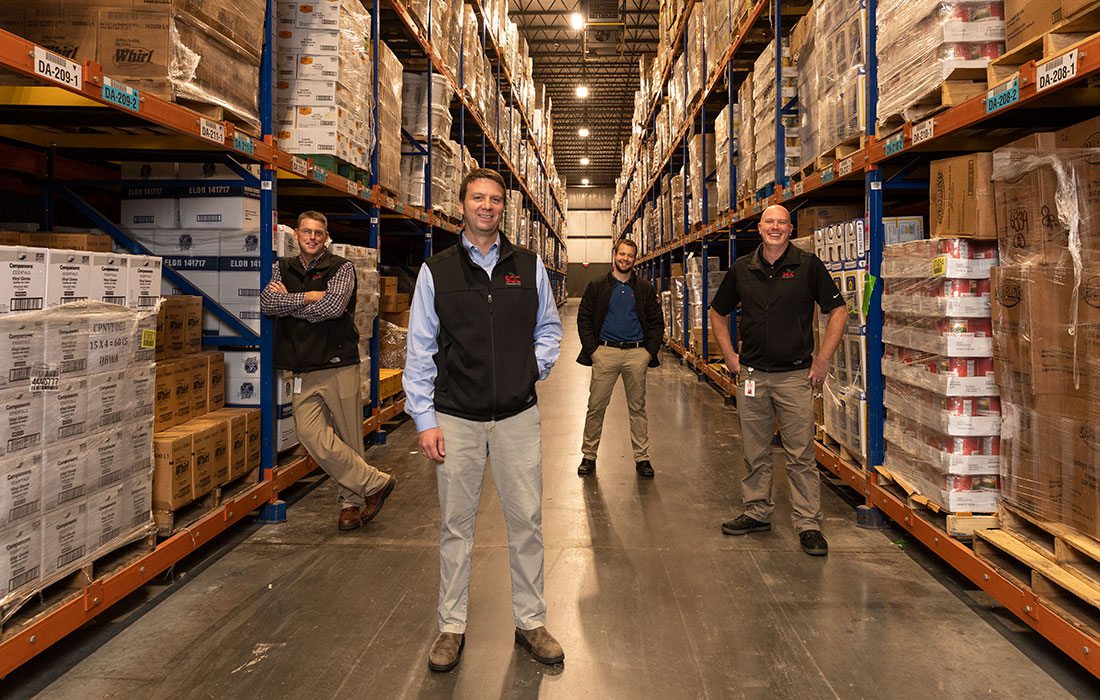 A Hero for Food Insecurity: Jeff Tynes
The leader of SGC Foodservice made sure southwest Missouri was fed.

Springfield Grocer Company, now known as SGC Foodservice, has been feeding and supplying southwest Missouri and beyond for over 150 years. The local, family-owned company delivered groceries to stores across the Ozarks in the aftermath of the Civil War and during both World Wars. Since the '70s, they've been focused on commercial trade and have become one of the region's largest distributors to restaurants and other foodservice operations. They helped make an even greater footprint in the '80s when then-President and Owner Bill Tynes helped start what we now know as Ozarks Food Harvest—southwest Missouri's Feeding America food bank that serves 270 nonprofit hunger-relief organizations across 28 counties.
What's a moment you'll remember from 2020?
"The speed with which the world changed in mid-March.  It was literally overnight and completely unprecedented, it happened astonishingly fast."—Jeff Tynes

When Ozarks Food Harvest's supply chains were challenged by the pandemic, they knew who they could depend on: Jeff Tynes, Bill's son and current owner and president of SGC Foodservice. The partnership between SGC and Ozarks Food Harvest already existed, but the pandemic raised  stakes. Demand was high: Tynes led his company to meet the challenge.
In late April, under the Families First Coronavirus Response Act, the United States Department of Agriculture launched a federal program called  Farmers to Families Food Box.
"(Food insecurity) really is a problem, a big problem, that can be solved."
— Jeff Tynes
"(SGC's team) took all of the confusion out of it for us," says Bart Brown, president and CEO of Ozarks Food Harvest. The program worked to feed food-insecure families during the earlier days of the pandemic by purchasing about $4 billion worth of agricultural food products. The products—fruits, vegetables, dairy and meat—were packaged by distributors, like SGC, into family-sized boxes and distributed to the public via nonprofit organizations like Ozarks Food Harvest. Because SGC mainly distributes to restaurants, this was the perfect avenue for them to help the food bank when they needed it most, Brown says.
What's getting you out of bed right now?
"It's twofold. First, the teamwork and creativity from our team at SGC has been inspiring.  So many people jumped into action immediately in so many areas to keep people safe and working, it was really incredible. That leads right to the next thing, which is the work we're trying to do to support our customers' businesses and our community in a very tough environment. We very much want to see their needs fulfilled, and our team is working hard to deliver on that promise."—Jeff Tynes

"We were really in the middle there, connecting the dots of getting all the way back to the supply chain to get the products consolidated, then bring them through our facility and get them out to organizations like the Food Harvest," Tynes says.
Tynes says that SGC helped hunger-relief organizations supply more than 100,000 food boxes across the region; about 17,000 boxes were distributed to local families through Ozarks Food Harvest.
"(Food insecurity) really is a problem, a big problem, that can be solved," Tynes says.
A Hero for Local Business: Lyle Foster
The hand-picked leader brought smart strategy to Greene County's CARES Act task force.

Dr. Lyle Foster calls himself a community advocate, sometimes a community entrepreneur. His official titles include Missouri State University Assistant Professor of Sociology and Anthropology, CEO of Big Momma's Coffee and Espresso Bar, Vice President of the Commercial Street Community Improvement District Board of Directors, Tough Talks facilitator and more. This year, he's added Greene County CARES Act Grant Administrator to the list.

What's a moment you'll remember from 2020?
"Watching George Floyd call for his mother. That was past gripping and I will remember the world-wide protests and cries for justice for all."—Dr. Lyle Foster

Under the CARES, or Coronavirus Aid, Relief and Economic Security Act, Greene County received more than $34 million in federal aid late this spring. Greene County Presiding Commissioner Bob Dixon says the first thing the county did upon receiving the package was make the decision to distribute funds through a grant process. Second was hiring Foster to lead the charge. "It was really not a hard decision at all," Dixon says. Foster has more than 40 years of experience writing, reviewing and managing grants, most of which comes from work he did with nonprofit organizations in Chicago before moving to Springfield. "[The position] was not something that I was either looking for or anticipating," Foster says. "Basically, part of my thinking was: Well, how many times in your life is this gonna happen? Both the pandemic and the opportunity to participate in this kind of response… This might be an opportunity very consistent with my beliefs and values of trying to make a difference."
"This might be an opportunity very consistent with my beliefs and values of trying to make a difference."
— Dr. Lyle Foster
Immediately, Foster created the Citizens Advisory Council, a volunteer council of about 30 community members who help review CARES Act applications. They also helped recommend allocations across five categories: small businesses, nonprofits, education, health and tax-supported entities. "The idea of having a Community Advisory Council was really to give some transparency, some citizen input and to have a different level of accountability," Foster says. "It was also making sure that the results are far-reaching." Dixon says Foster also made sure all application materials were available online for maximum access.
What's getting you out of bed right now?
"I'm grateful for another day to serve, and I get to work on these CARES applications!"—Dr. Lyle Foster

As of late October, the Greene County Commission had distributed $25.5 million of the $34.4 million total, and more than 1,000 applications for aid had been received. Foster has had or will have a hand in reviewing all of these applications by the end of the year. He says that oftentimes, reviewing applications requires further inquiry and much communication with applicants. Dixon says Foster has fielded "thousands" of questions from stakeholders. "Dr. Foster has really just done incredible work, keeping us on task and setting the right framework in the beginning," Dixon says.
*It should be noted that Whitaker Publishing received CARES Act funding for employee benefit support, PPE, sanitizing stations and technological investments to support remote working.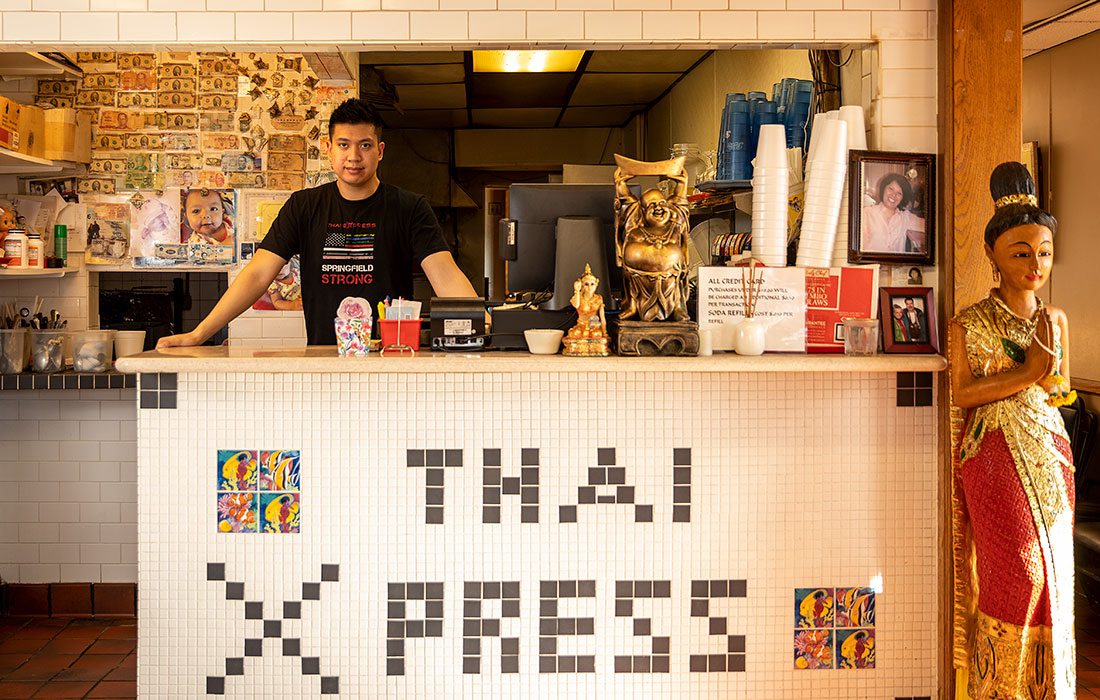 A Hero for the Little Things: Patrick Nett
The Thai Express owner helped supply high-demand goods.

Toilet paper was hard to come by in March: People were stockpiling and fighting over it in the supermarket aisles where it was rationed. But Patrick Nett had a solution. 
"I was buying extra products to help some friends and I thought to myself, 'I could just order a ton and help out as many people as I can,'" says Nett, owner of Springfield restaurant Thai Express. He says he joined a Facebook group page called "Welcome to Springfield," where people in the community were posting about products selling out of stock in many area stores. Around the end of March, his team at Thai Express began offering a free roll of toilet paper with every order they sent out. "Honestly, we'd give you some even without ordering," he says. He just wanted to help.

What's a moment you'll remember from 2020?
"My favorite moment where I was receiving support is reading all the positive reviews and comments on social media. I have to admit, I've had many tears of happiness this year. It has been such an honor to work for my community this year, and reading all the positive feedback has really touched my heart."—Patrick Nett

He decided to expand on the idea. He sent off for 50-pound bags of rice and flour, 2–pound bags of yeast and a supply of hand sanitizer. He received the supplies from Thai Express' distributor, SGC Foodservice, and sold them at cost. At the time, this was illegal, and Nett knew it. But he says he hoped the state would understand, and a few days later, Missouri granted restaurants temporary permission to distribute sanitary products and unprepared food items.
"...the only thing going through my mind [was] 'How can I survive all of this? And, how can I help everyone survive with me?'"
— Patrick Nett
It's the lead Nett has taken to garner community support for local restaurants that has really caught the attention of 417-landers this year though. After a social media post sparked his idea to help others, he used the same medium to inspire the community. In the Welcome to Springfield Facebook group, Nett began posting about some of his favorite local eats. He'd post a photo with a brief review—always positive—and follow up with a call to action: "What are you having tonight? Show me pictures and tag the restaurant!" he said in an Aug. 20 post where he showcased a brisket dish from Bourbon & Beale. He ordered catering from local spots to feed his staff while they worked to feed the community. "During a pandemic, it's not the time to think about competition, and the only thing going through my mind [was] 'How can I survive all of this? And, how can I help everyone survive with me?'" Nett says. He prioritized featuring restaurants that appeared to be struggling or that were also supporting the community in their own way.
"They needed help, and I wasn't going to just sit around and let them fall," Nett says.

What's getting you out of bed right now?
"Knowing that each day is an opportunity for me to make a difference."—Patrick Nett
A Hero for Bored Kids Everywhere: Lone Pine Bike Club
When school was out, neighborhood pals started to build.

It's a weird year to be a kid. Surely the first couple weeks after schools closed felt like summer had come early, and in some ways it did. But mostly this spring was lonely for kids, who are usually at school with their friends every day. So a group of teens living in the Brentwood and Southern Hills neighborhoods on Springfield's southeast side created their own entertainment.
What's a moment you'll remember from 2020?
"This summer was bad in so many ways but I know this was also the best summer I have ever had. I will always remember when Mary from Ozark Greenways messaged me for the first time. I was so worried but so excited at the same time."—Tucker Zweerink

Tucker Zweerink, a 15-year-old student at Kickapoo High School, says he and his dad began building new bike trails along the city-owned Galloway Creek Greenway about two years ago, but, the work really ramped up this spring and summer when the safest place kids could be was outside. "We wanted a place to ride,"  Zweerink says. "You have to go 30 minutes to get to Two Rivers [Mountain Bike Park] and there are so many people in this neighborhood who like mountain biking." 

Constructing new trails on public property is quite a bold move for a teen, but the team at Ozark Greenways, which coordinates the land's development, was happy to see the handiwork. "It was the right type of development to do at the right time," says Mary Kromrey, executive director of Ozark Greenways. "It's joyful to see a group of youth join together to do something fun and in tune with what our community is wanting."
"It was the right type of development to do at the right time."
— Mary Kromrey, Executive Director of Ozark Greenways
The natural-surface trails, which feature jumps and berms to challenge riders,  are on public land managed by the Springfield-Greene County Park Board and connected to Galloway Creek Greenway trail, just east of Lone Pine Avenue. Zweerink says the trails have been a really great way for people to make new friends.
"I love riding it, but I also love going there to hang out with friends," Jane Murr, a 15-year-old student at Central High School says. Murr lives in Brentwood, like Zweerink, and when she got a new bike for her birthday in June, she joined the crew. She spent the rest of her summer working on and riding the trail.
What's getting you out of bed right now?
"Right now, I know at the end of the day when I'm finished with school, I can go ride my bike and see my friends."—Tucker Zweerink

The project first came to the attention of Ozark Greenways when community members reached out to report the appearance of new trails. This summer Ozark Greenways stepped in to coordinate, Lone Pine Bike Park efforts; The park is listed on their website alongside other parks and trails. The folks at Ozark Greenways have met with Zweerink and other riders to help work on the trails, while discussing and planning the future of the trails. Currently, there's about two miles of rideable trail, Kromrey says, and she hopes they can construct 2 to 3 more miles of trail in 2021. The two groups have also partnered with the Springfield Youth Cycling Club to encourage riding and outdoor stewardship. Watershed Committee of the Ozarks' Conservation Corps and Missouri Off-Road Cyclists are also part of the partnership to support Lone Pine Bike Park.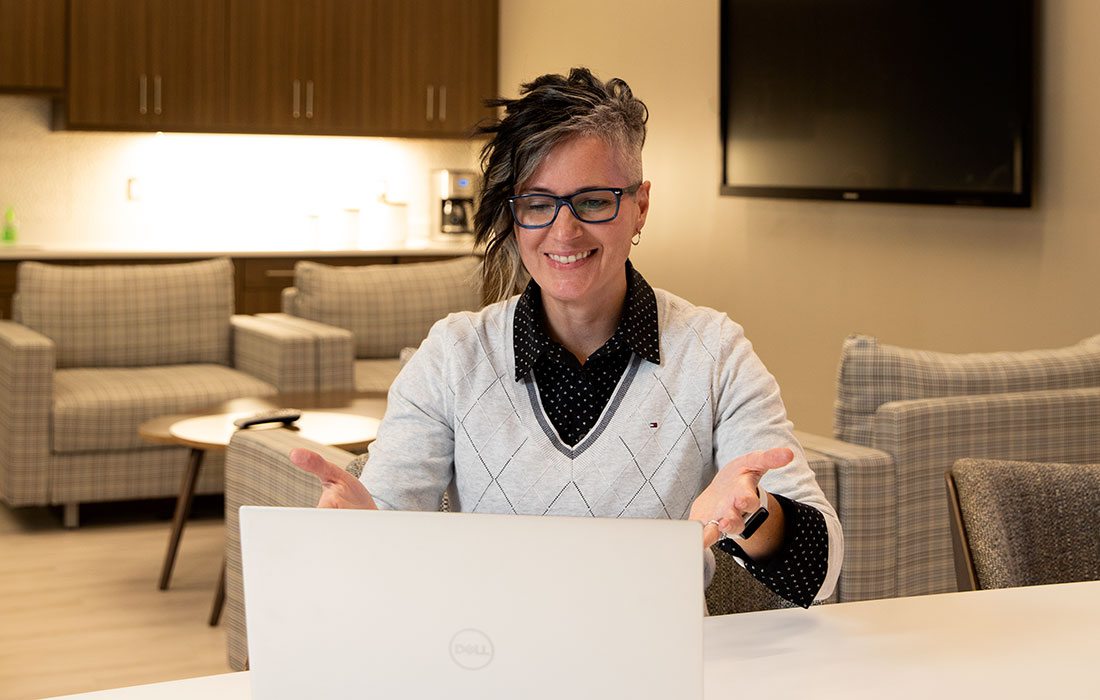 A Hero for Mental Health: Shelly Farnan
Burrell's director of diversity and inclusion helped the community help themselves through daily wellness checks.
This year has been emotional for everyone, no matter who you may be. With reduced social connection, disrupted routines and the overall looming sense of doom, it's been a hard year. Shelly Farnan, Burrell Behavioral Health system director of diversity and inclusion, has been working on helping us all cope with this year's unique challenges.

What's a moment you'll remember from 2020?
"June 1, 2020 — live broadcast. Trying to lead a conversation on social injustice and burst into emotion in front of lots of people."—Shelly Farnan

"So many of us have not been taught how to take care of our emotions," Farnan says. "We're taught all the time how to put Band-Aids on and, you know, seek help when we have a broken bone. But it's not really normalized, and we're not taught about how to take care of our emotional health and wellness."
What started as an internal effort to support staff has become, essentially, a community-wide support group for all of 417-land. Sometime around March 16, Farnan was asked to brainstorm a few ways Burrell might be able to support their staff for the duration of the stay-at-home order. Farnan and a few other colleagues came up with the Be Well Community. The idea was to have daily programming for staff that could help guide them through a difficult time. Upon conceptualizing the idea, Farnan and her colleagues realized the program could easily be shared with the general community.
"So many of us have not been taught how to take care of our emotions."
— Shelly Farnan
Programming for Burrell's internal Be Well Community, private to their staff, and their external Be Well Community, open to the public via Facebook live, is roughly the same. "We try to keep it as simple as possible knowing that our brains are so overwhelmed and overworked," Farnan says. 
What's getting you out of bed right now?
"First, my little ones that I want to lead into being the amazing humans they're meant to be. That's number one. Number two is healing. If there is any way that I have some skill or ability to serve right now, I'm finding all the ways that I can do that. That produces hope for me every single morning."—Shelly Farnan

Typically, Burrell's Be Well Community meets every weekday from noon to 12:30 p.m. via Zoom. The external community then meets via Facebook Live every weekday from 12:45 to 1:15. Each meeting begins with a song of the day before community members are asked to "rate the weight," which is really a way for people to share how they're feeling on any given day, based on a story about a professor and a glass of water. "The professor asks, 'How much does this glass weigh?' to the class," Farnan says. "The moral of the story is it doesn't matter how much the glass weighs, it matters how long we're carrying it. So then we have related that to COVID-19." This exercise is usually followed by a mindfulness activity like breathing exercises or a brief guided meditation. Then, they finish up with a quote of the day.
"All of this is rooted in hope," Farnan says. "If our brains continue to experience hope, it continues to create dopamine, that critical chemical we need to get us out of trouble and keep us moving forward."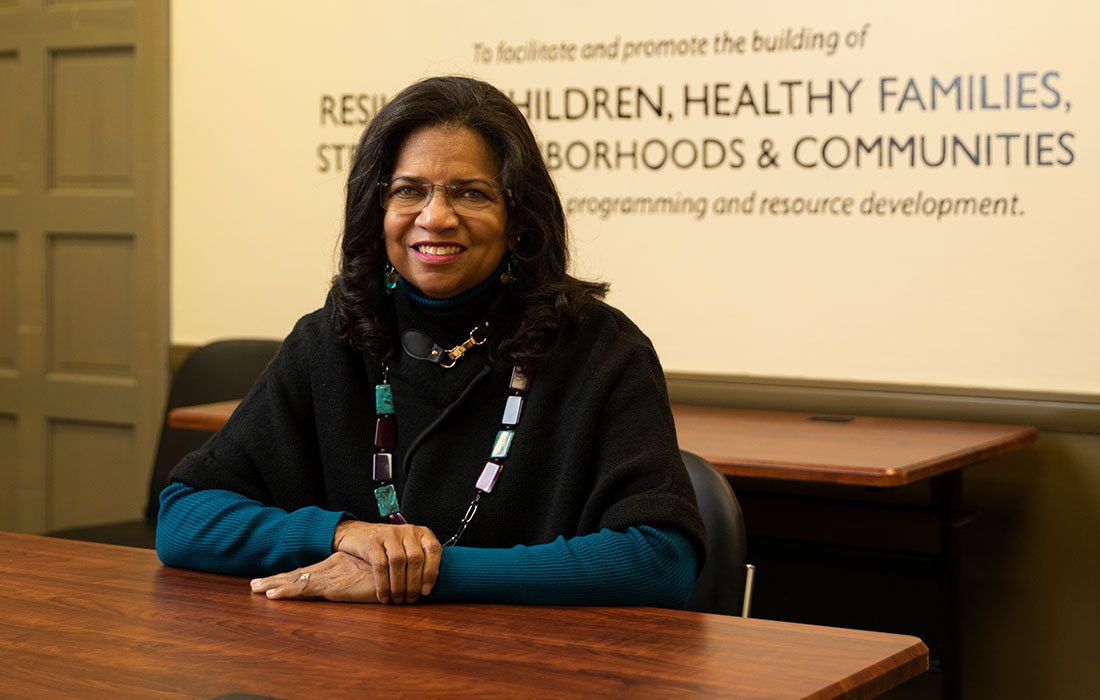 A Hero for Community Progress: Francine Pratt
The local leader who pushed 417-land to be more inclusive.

In addition to COVID-19, the conversation on social inequities, primarily racial inequities and tensions, has also dominated public spaces this year. Francine Pratt, director of Prosper Springfield and executive director of the Missouri College Access Network, stepped up to lead this conversation in southwest Missouri with the launch of Springfield's Tough Talks series.
What's a moment you'll remember from 2020?
"All the deaths of innocent black people that were brought to light."—Francine Pratt

She's actually been working on the series for more than a year, but this year's debut, which was moved from March to October due to COVID-19, could not have been more timely.
"Even before 2020, addressing racial tensions was actually going to be the first topic," Pratt says. "Then when everything happened, as it did with the deaths of several African Americans the tensions got even worse, and it made even more sense to have it in 2020."
"Sometimes it's just not as comfortable for people to hear about someone's lived experience."
— Francine Pratt

With the help of Missouri State University professors Dr. Lyle Foster and Dr. Leslie Anderson, the Tough Talk Collective debuted the series on October 1 through a community conversation addressing racism and its effects locally. The event was hosted via Zoom and broadcast live on Facebook and local television networks.
The idea for Tough Talks was born out of several things: a pilot program funded by a grant from the Lumina Foundation in 2012, Foster's successful Tough Talks program at Missouri State, and a Springfield Area Chamber of Commerce trip to Lexington, Kentucky, where the city hosts "courageous conversations." The focus of the programming is for people from different marginalized communities to share their experiences.
What's getting you out of bed right now?
"Knowing Springfield has the heart and the desire to make a difference."—Francine Pratt

"We recognized that facilitating Tough Talks for people of color to share their experiences was a good way for the community to learn the impacts of those experiences, especially when you're in a city where the larger subgroup is white," Pratt says. "Sometimes it's just not as comfortable for people to hear about someone's lived experience."
Pratt plans to cover a variety of inequities in future Tough Talks, whether they take place via Zoom or in person. She says the community has already requested discussions on affordable housing and the divide between the North and South sides of Springfield.
Pratt doesn't have an agenda for these conversations, and neither do her facilitators. "I love having conversation," Foster, who co-facilitates the Tough Talks, says. "I love engaging community. I think it's significant and it's important. And, of course, in this special year of 2020 I think we all see (it) is more important than ever."