Top Doctors
Dr. Shachar Tauber Brings a New Eye Procedure to Mercy
When Casey Brown arrived in Dr. Shachar Tauber's office, Tauber saw an opportunity to bring a new eye procedure to Mercy in order to greatly improve Brown's vision.
By Ettie Berneking
Jul 2020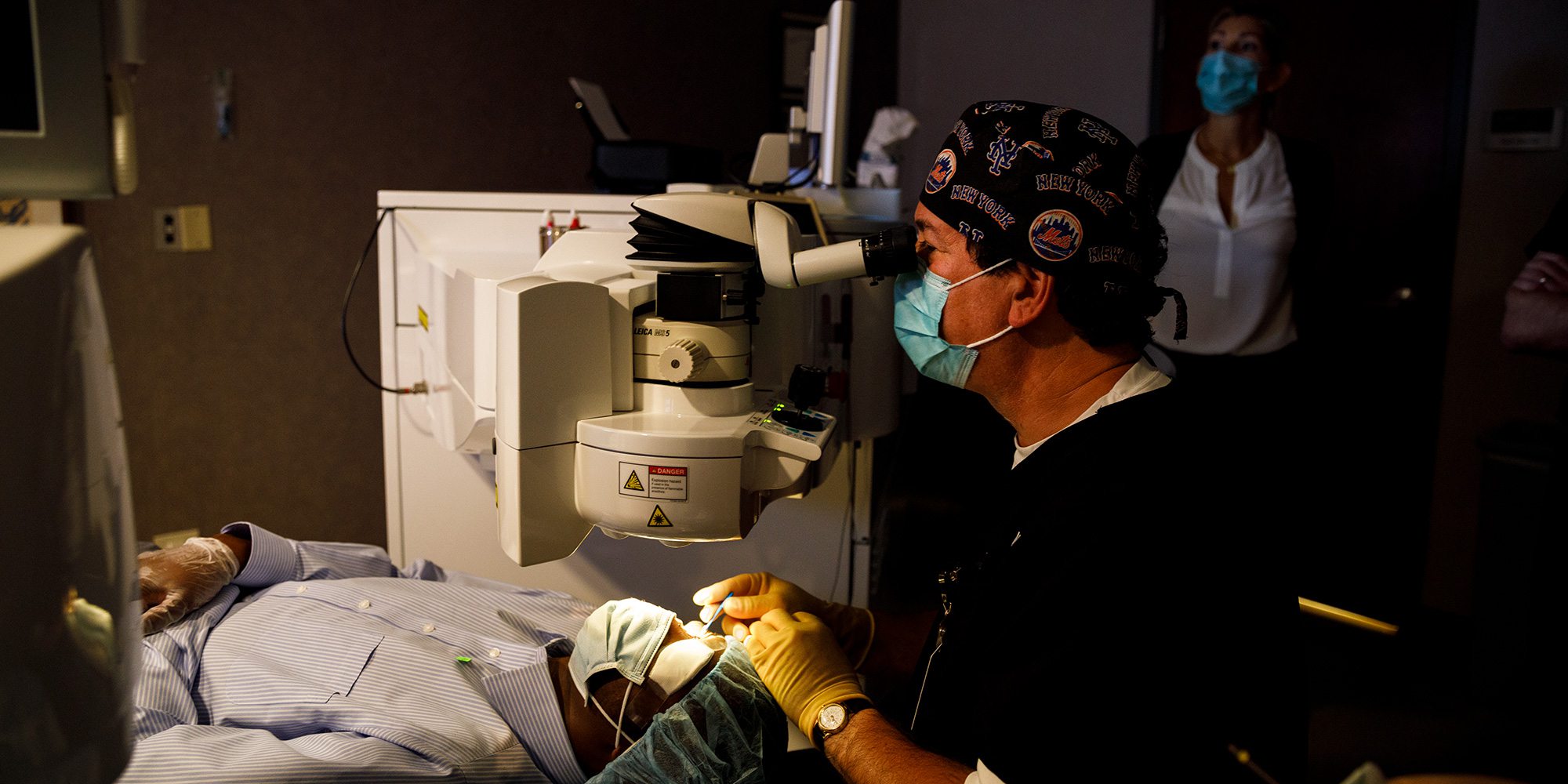 Casey Brown knew as young as 15 that something was wrong with his vision. It was getting worse, and glasses and contacts didn't help. He even had a cataract removed from his left eye, but his vision only worsened. At one point, a teacher handed him a piece of paper with his grade on it, but he couldn't make out the grade. To keep his family from worrying, he adapted and kept his concerns to himself. When he graduated high school, his dream of enlisting in the military ended when he failed the eye exam, which noted there was a degenerative eye disease. In total shock, Brown never shared this information with his family. Dismayed but determined to move forward, Brown enrolled in Drury and moved to Springfield near his aunt Shalene Dunmore. It was Dunmore who knew right away that something was seriously wrong.
"She took me to her eye doctor, and she said, 'he has something developing in his eye,'" Brown says. Brown was referred out for further elevation and was diagnosed with keratoconus by Dr. Aaron Dent, an ophthalmologist with Mercy. Keratoconus causes the cornea to weaken and the eye to become misshapen. This can eventually cause scarring within the cornea and decreased vision. Brown's case was so severe, Dent referred Brown to another Mercy ophthalmologist—Dr. Shachar Tauber who was a Top Doctors winner for Ophthalmological Surgery for Springfield. After evaluating Brown's eyes, Tauber determined that Brown's left cornea had weakened so much, he needed a cornea transplant. His right eye was stronger, so Tauber recommended a new treatment called Cross Linking. There was one problem: The procedure wasn't available at Mercy.

Tauber first started following Cross Linking as a treatment for keratoconus in 1999 as doctors across Europe and Asia started seeing success with the procedure. Because the treatment wasn't approved in the United States until 2016, Tauber sent his patients to Greece, Singapore, British Columbia and Ireland. The procedure itself is simple. As Tauber explains, the patient's eye is exposed to riboflavin (Vitamin B) that is absorbed into the eye over a 30-minute period before the eye is hit with ultraviolet light for another 30 minutes to strengthen the fibers in the cornea.
When Brown arrived at his office, Tauber was in the middle of fundraising to bring the procedure to Mercy, and Brown was the first patient to undergo Cross Linking at Mercy's campus in Springfield on June 2. Brown was cautiously optimistic and didn't expect his vision would improve. "One doctor had told me there was a great possibility I would go blind," he says. But Tauber told Brown blindness wasn't in the cards, and a few weeks after the Cross Linking treatment, Brown's vision improved.
"Before this procedure, I didn't have any plans, and planning is something I like to do. I was at a standstill, and my life wasn't moving forward."
— Casey Brown
The first thing he remembers being able to see were the little hairs he left in Dunmore's guest sink when he brushed his hair. He'd never been able to see them before but knew they were there after hearing Dunmore complain about the mess. "I ran to tell my aunt, and we did a happy dance," Brown says. Suddenly, Brown could see the TV from the couch and didn't have to hold his cell phone up to his face to see the screen. He could mow the lawn and see where he'd already cut the grass. "We rejoice in the things he can see now that he couldn't see before," Dunmore says. But more than regaining his vision, Brown has been able to get back to planning his future. "Before this procedure, I didn't have any plans, and planning is something I like to do. I was at a standstill, and my life wasn't moving forward," he says. "Now, I feel like the dreams I had in my head can become real."