Life
Pet Therapy of the Ozarks
Norm Knowlton and his four-legged friend, Princess Piper, show how animals and humans can heal each other.
by Jo Jolliff
Jul 2023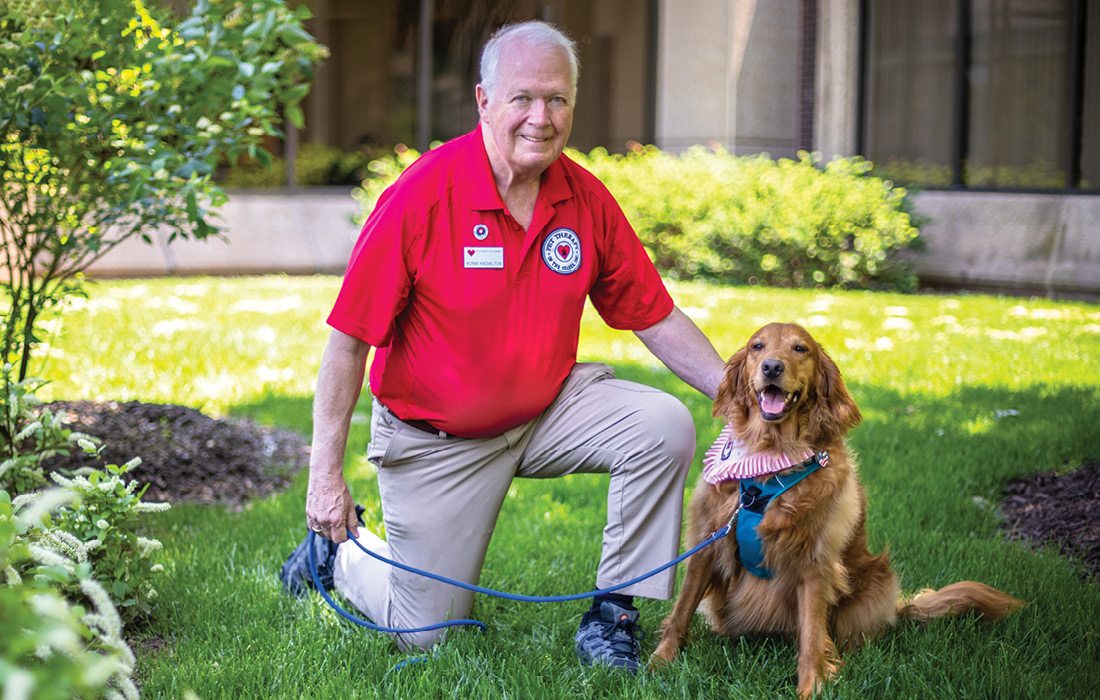 After retiring from 38 years as a physician at CoxHealth, Dr. Norm Knowlton decided to stay on in patient care in a slightly different capacity—one involving two more legs and a whole lot more hair than he was used to. Instead of focusing on symptoms, medicine and finding the best solutions for his patients, Knowlton now walks into patients' rooms accompanied by his red golden retriever, Princess Piper, where he can focus solely on bringing a smile to their face. "I can't think of a better thing to do in retirement than going back to the hospital and caring for [patients] in a different way," Knowlton says. "It just makes my heart feel great."
Knowlton has now volunteered with Pet Therapy of the Ozarks for nine years, the past one-and-a-half of which he's done beside Piper after the passing of his first therapy dog, Lucy. The pair visits patients at CoxHealth in the oncology, neurology, outpatient, physical therapy, rehabilitation and chemotherapy infusion centers. His background in medicine helps prepare him for some of the heartaches the patients in each room face. It also gives him unique insight into just how much pet therapy visits help. Knowlton explains that spending time petting and receiving love from therapy dogs can lower blood pressure and stress levels, increase healing hormones like cortisol, help with discomfort and pain, speed up recovery and reduce the risk of complications like heart attacks.
During his career, Knowlton practiced Internal Medicine, worked as the Chief of Medicine and served as Missouri State Medical Association President. His involvement in the medical community has led to many "small world" encounters with past patients, family members of patients and doctors he previously worked with. Knowlton never knows who to expect on the other side of the door, but Piper has a way of bringing a little joy and laughter their way regardless.
"The reward you get is just watching the faces of people when you take the dog in and see that smile come across their face," he says. "It often brings back memories of their own dogs who have passed away or who they don't get to see while in the hospital and tears come flowing down from their eyes."
Pet Therapy of the Ozarks has over 60 certified dogs and 50 different locations volunteers and their pets can visit including nursing homes, libraries, hospice care centers, hospitals and schools. To get certified, owners of all dog breeds can go through the application and certification process before choosing a location and time that works for them and their furry sidekick. 
If you're interested in supporting Pet Therapy of the Ozarks' mission and volunteering with your dog, visit Pet Therapy of the Ozarks website to apply and find more information or call 417-848-7387.