Life
Celebrate 20 Years with Us!
Say cheers to 20 years! We are celebrating 417 Magazine's 20th anniversary, and we want you to join the party.
By Claire Porter
Jan 02 2018 at 6:51 p.m.
It's been two whole decades since our local-loving publication first sprung to life as an offshoot of Radio 2000. Although we've moved away from our audio roots, we're still lavishing in all things local and readily exploring the latest and greatest restaurants, trails, shops and secrets our area has to offer—in fact, in 20 years, we've produced 432 magazines filled to the brim with the people, places and things that make 417-land so great. If you want a retrospective of how much we've covered—and how much our design has evolved—in all that time, scroll down for a peek at all of the January 417 Magazine covers from the past 20 years. And keep looking, because we'll be running our anniversary Parting Shot takeover all year long.
Since 1998, we've also started custom publishing, event and ticketing divisions; reached an audience of 175,000 readers annually; launched (and shuttered) a few magazines; and won a few awards. We've grown from a multitasking team of five to a bustling company of almost 40 individuals who churn out 30-plus publications and 18 events every year.
If this were a wedding anniversary, we'd be celebrating with china (or platinum, depending on our budgets). But, never ones to do things the traditional way, we're celebrating our 20th anniversary a little differently. Instead of asking you to give us a gift, we've made a little something for you. The 417 Coloring Book highlights 44 of 417-land's most celebrated and nostalgia-inducing destinations in hand-drawn detail, just waiting for your creative hands (and Crayola crayon box) to bring to life. Twin sisters Sara Schmitz Olson and Christa Schmitz Tiggemann, who together form local design company Chrisara Designs, hand-illustrated signature landmarks including Bass Pro Shops, Andy's Frozen Custard and Historic C-Street. Sharpen your colored pencils and pick up a copy on newsstands, on Amazon or at 5 Pound Apparel, Big Cedar Lodge, Dickerson Park Zoo, Elle's Patisserie, Harem & Company, Mother's Brewing Company, Springfield CVB, Springfield Little Theatre and Top of the Rock.
The party doesn't stop there. To celebrate, we're giving a new look to all of our digital products. Our website, 417mag.com, is getting a design overhaul and is featuring more in-depth tools you can use to connect to 417-land. We also have a few more tasty and wow-worthy surprises planned throughout the whole year. Wanna be sure you're in the know? Keep an eye on our social media channels throughout the year, and look for our new website launch on January 24.
Through the Years
It's been a long ride! Here's a peek at what we've been up to in the past two decades.
1998: Radio 2000 starts a magazine and calls it 417 Magazine.
2001: Gary and Joan Whitaker, the current owners, purchase the magazine and create parent company Whitaker Publishing.
2004: Ancillary publications 417 Home and 417 Bride launch, giving readers additional home styling, landscaping, design, bridal and product features.
2006: Current President and Associate Publisher Logan Aguirre joins the family business, and 417 Bride becomes a twice-a-year publication.
2007: 417 Home becomes a quarterly publication, and the company launches a custom publication division, 417 Custom. 
2015: In addition to starting a custom event planning division called 417 Events, Whitaker Publishing launches Biz 417, a bimonthly business magazine.
2016: Online ticketing platform 417 Tix launches, giving area businesses and organizations a digital platform for selling and collecting event tickets. 
Did you know? In our 20 years, we've received awards or recognition from Springfield Business Journal, Springfield Area Chamber of Commerce, FOLIO:, Missouri Association of Publications, City and Regional Magazine Association, Second Street, Niche Media, American Advertising Awards, AITP of the Ozarks, The Alliance of Area Business Publishers and Missouri Division of Tourism and more.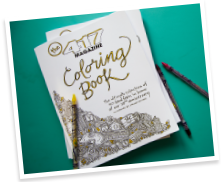 Head to 417mag.com/chrisara to learn more about twin sisters Sara Schmitz Olson and Christa Schmitz Tiggemann of Chrisara Designs, the illustrators of The 417 Coloring Book.
20 Years of Januaries
From our first issue to our 241st, we've covered a lot of ground. The January 1998 issue, the first edition of 417 Magazine, examined the rising trend of treating 417-land kids with antidepressants. We've lightened up since then, devoting several January covers to the delectable dishes from local restaurants and tips and tricks for how to live a fulfilling life. Ultimately, enriching your lives has always been our goal.