Life
Celebrate Springfield
There is a lot to celebrate about living in Springfield, Missouri. This year, Celebrate Springfield is making it official. Find out more about this month long event.
by Jo Everhart
Sep 01 2022 at 8 a.m.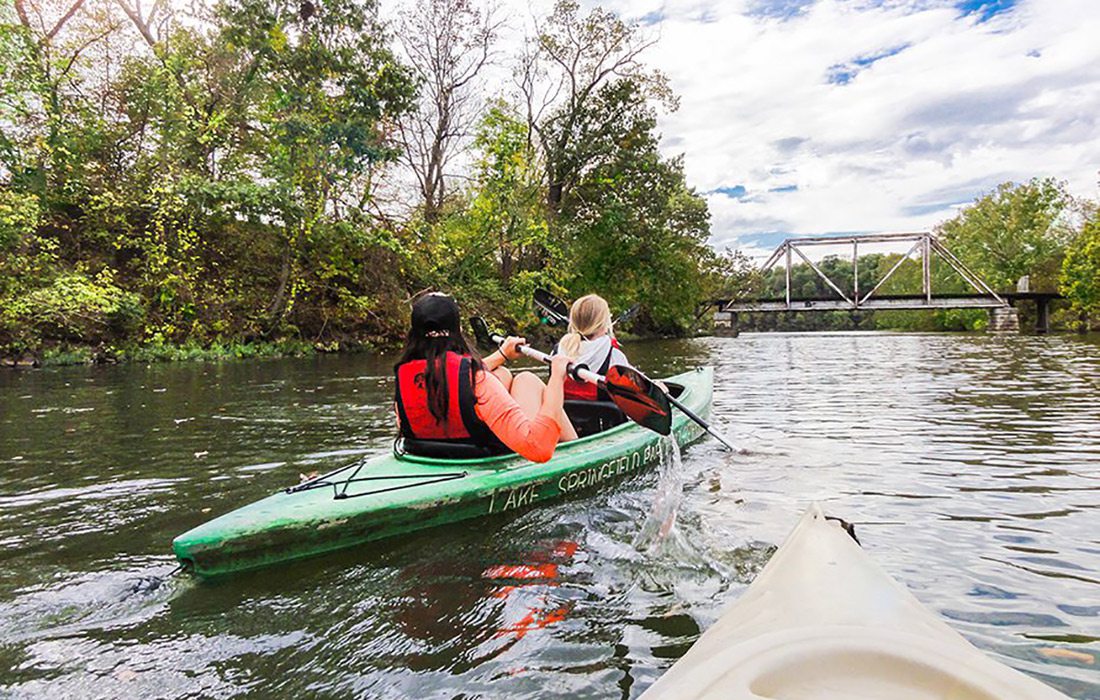 What Is Celebrate Springfield?
The idea for the Celebrate Springfield festival came to Erin Danastasio, executive director at the Hatch Foundation, while kayaking for the first time during the Community Leadership Visit with the Springfield Area Chamber of Commerce last September.
"Pearson's Creek runs through my property so kayaking is quite literally at my fingertips and I thought, 'If I'm not taking advantage of this, who else isn't and why not?'" she says. From there she started thinking about the different barriers keeping people from taking advantage of all Springfield has to offer and how to overcome that, thus Celebrate Springfield was born. She started reaching out to people to become partners of the event and start planning full force. "We have a really good group of people who are stepping up to the plate and helping with the planning," she says.
Danastasio and the rest of the team planning Celebrate Springfield have focused on making the event as inclusive as possible by removing any obstacles that could keep people away. "Our goal is to help remove barriers that are inherent for anyone and to help Springfieldians experience Springfield to a whole other level," she says.
"There is so much beauty in our city that so many people take for granted," says Danastasio. "We're trying to help really immerse everyone and help them experience Springfield in new ways."
Organizers of Celebrate Springfield are working to eliminate the barrier of intimidation by providing info on every activity at celebratesgf.com so people have all the information they need, as well as the barrier of time by providing events throughout the entire month so everyone can find a time that works well for them. They are working to eliminate financial barriers by providing free and discounted tickets to beloved Springfield locations like the Dickerson Park Zoo. "We're partnering with different organizations or [activity organizers] every weekend." Danastasio says. "[Things like] the Art Walk, Dickerson Park Zoo, MIDxMIDWST, Cider Days and a day out at Fellows Lake where people can have a guide take them on tour. The last piece of it is a goal of trying to bring everyone together and celebrate all of these things."
On October 2, Celebrate Springfield inviting the community to a day of face painting, food trucks, live entertainment, T-shirt tie dying with the Springfield Regional Arts Council and a science experiment with the Discovery Center of Springfield, plus transportation from locations with limited transportation with a route to the event at Jordan Valley Park. The aim is to encourage people to "take a moment to celebrate all of the accomplishments that our city has achieved over the past 10–15 years with a big party in the park at Jordan Valley," according to Danastasio. The event includes food trucks, face painting, live entertainment, games and activities, tie-dying t-shirts with kids, the Discovery Center conducting science experiments, a scavenger hunt and more. "Lots of activities for kids and families," says Danastasio. "People can come out and continue to learn and understand all that Springfield has to offer."

Plan Your Celebration
Celebrate Springfield takes place all through the month of September with a wide variety of events and festivals, but the entire month leads up to the Celebrate Springfield party at Jordan Valley Park on October 2 from noon–4 p.m.. The day consists of face painting, food trucks, live entertainment and much more. For full information and updates, you can head to the official Celebrate Springfield, or follow them on Instagram and Facebook.