Trends
Finding Buried Treasure
When digging for a privacy fence in the yard of their Victorian-era home, Tessa and Chandler Cooper found a pile of ornate pottery shards that date back to the 1900s.
By Tessa Cooper
Sep 2022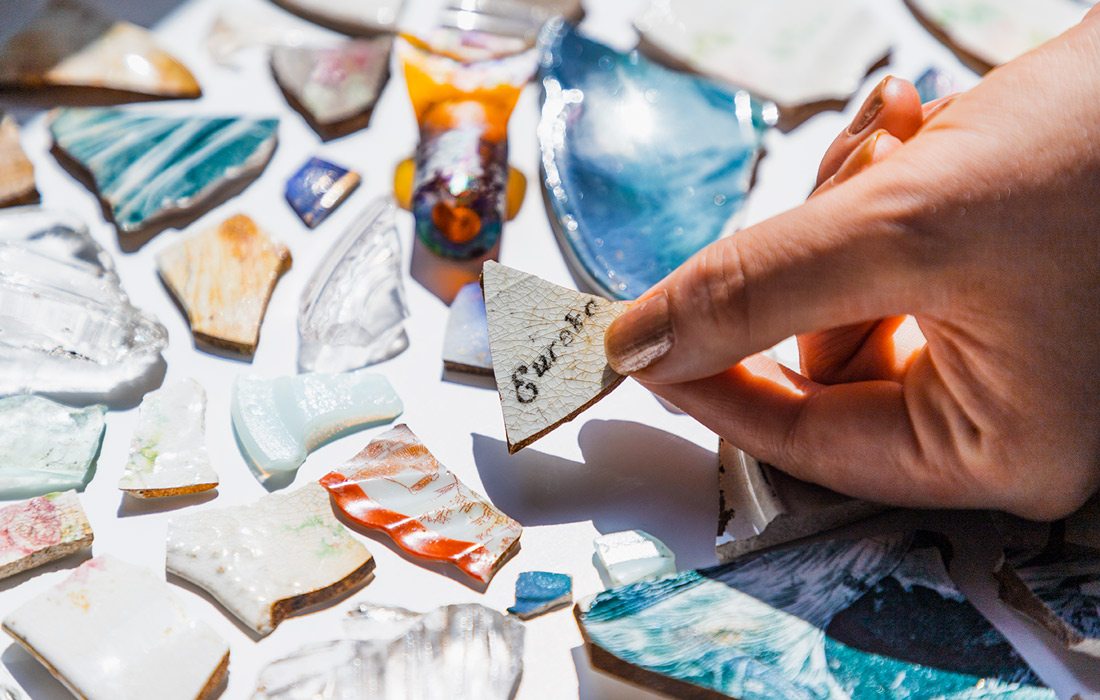 When it comes to saving old homes, people have told me the right house finds you. I certainly believe that's the case for our 1886 Victorian home in Springfield's Midtown historic district. I'd also like to think the fascinating discovery we came across in the backyard found us too. 
While house shopping in 2020, my husband, Chandler, and I often went on walks and drives in our favorite neighborhoods. On one of our strolls in Midtown, Chandler saw our future home with chipped paint and missing windows and said, "What if we bought that?" It wasn't even for sale, but its traces of Eastlake hardware, ornate wood front door and charming original Queen Anne stained glass had already won us over. These little details also made the hard work of restoration that would surely lie ahead seem well worth it. 
I messaged a friend who lived nearby to ask about the home. In a stroke of serendipitous luck, we discovered she was one of the owners. She and her husband bought the decaying house to save it, and they graciously let us begin finishing the good work they started. 
Throughout the major renovation, so many people asked me if we had come across anything interesting hidden in the home. We honestly didn't find many noteworthy things inside since our friends already completed most of the demolition work. I even bought a metal detector to hunt for treasures before the drywall stage, but alas, it detected nothing but old square nails.
About seven months into the project, we started working on the yard. We contracted one of our friends to put up a privacy fence. We went through all the right steps to get permission to dig in our backyard, but our friend called us over to show us that he thought he had hit an old pipe. 
I daringly tugged at the item in question and realized it was actually a shattered, old tea cup. I began pulling the pieces out, and each time I did, a new one appeared. Several of the pieces looked like they went together, like parts of a pink rose patterned tea plate, matching glass shards with a luminescent shine, old amber glass bottle bits and even parts of a small porcelain doll made in Germany. 
One piece has the date 1907 on it, so we are guessing that this pile may have come from around that time. It is an honor to learn more about the people who once lived in our house through this little time capsule. These pieces reveal their interests and their favorite colors. I imagine how sad the former adorer of these objects must have been when they perhaps crashed on the floors of our very house. We already have grand plans for making a mosaic with these pieces, and I know there are still more shards in the backyard to discover. 
We have some theories about why there are so many lovely pieces of pottery in our yard. It could have simply been a trash pile from days before garbage pickup services. I also read that European settlers often used shards of broken pottery to act as a drainage compost in clay-like soil, and the first owner of our home was a Swiss-French immigrant. It may always be a mystery how the treasure trove got there, but I find beauty in that. I am thankful this house and this buried treasure found us.
Follow Tessa Cooper on Instagram.