Life
Five Places to Find Fall Colors in Southwest Missouri
Looking for those fall colors? Here are five picturesque picks of where to find some beautiful scenery in southwest Missouri this fall.
by Jamie Thomas and Michelle Lewis
Sep 01 2022 at 8 a.m.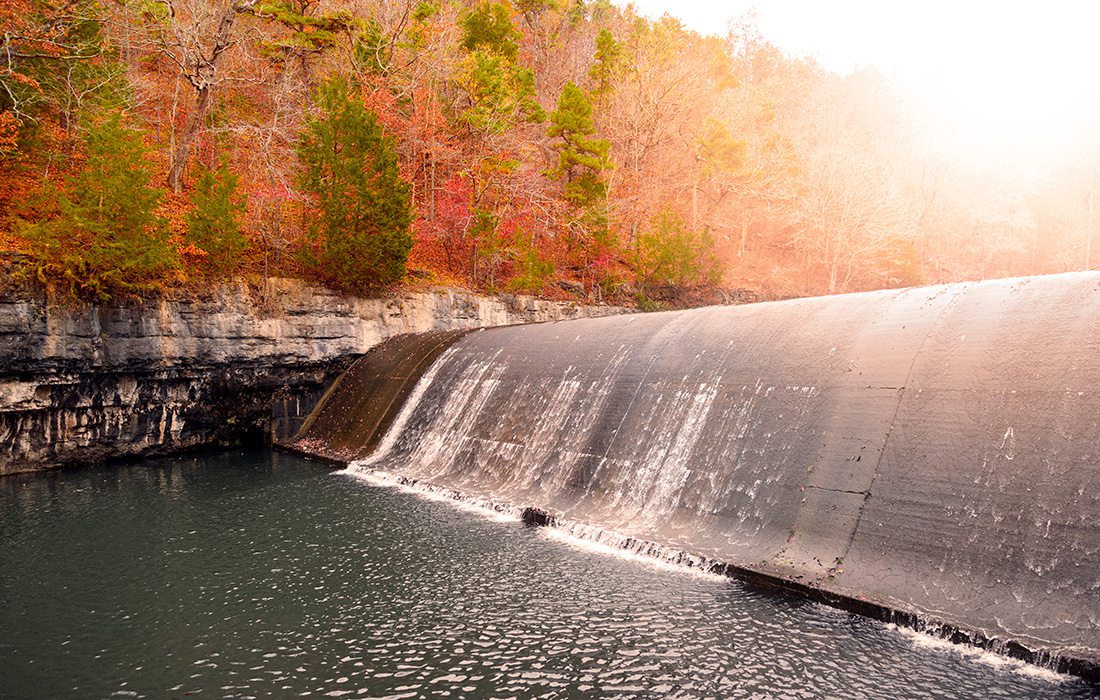 There are plenty of reasons to love the fall. Whether you enjoy the cooler weather, pumpkin-spice being added to any and all drinks, or the many seasonal celebrations in our corner of Missouri, we can probably all agree that the spectacular fall vistas in the Ozarks are like nothing else. Leaves turning red and gold offer up beautiful backdrops for hikes, picnics and camping as we make the most of the outdoors before it gets too cold.
Blue Buck Knob National Forest Scenic Byway
The Blue Buck Knob National Forest Scenic Byway is a 24-mile stretch that's nestled within Mark Twain National Forest. A short drive offers up a lot of opportunities to stop and take in some of the spectacular fall colors, plus a few unique sights like the Noblett Creek dam. Check out our Scenic Fall Drives story for more details.

Branson Scenic Railway
For a more old-school way to see some of the rich reds, oranges and yellows that blanket southwest Missouri in the fall, you can climb aboard the Branson Scenic Railway. This 40-mile, old fashioned train trip takes you through valleys and tunnels around Branson. Grab a seat on the upper deck to really get the most of your surroundings. Find more unique ways to experience fall colors and views in Branson here.
Ha Ha Tonka State Park
If you want to turn your fall-color tour into a road trip, Ha Ha Tonka State Park doesn't just have beautiful scenery, but some unique sights, too. Ha Ha Tonka is home to the ruins of a turn-of-the-century stone castle, originally built by a businessman from Kansas City. Take a look at some spectacular photos and read more about Ha Ha Tonka here.

Mizumoto Japanese Stroll Garden
One of the top places to relax within Springfield's city limits is the Mizumoto Japanese Stroll Garden. Not only will you find yourself in peaceful surroundings (which, let's be honest, we all need right now) but you'll be surrounded by some gorgeous Japanese-style landscaping—perfect for an autumn date night. Keep in mind the gardens close for the year at the end of October.
Table Rock Lake
Hikes, strolls and drives are all well and good, but how about admiring the colors of fall from the water? Table Rock Lake is a must-visit if you want to capture that incredible fall feeling that you can only find in the Ozarks. Plus there are a few more exciting ways to make the most of the lake if you don't feel like just floating. Take a look at a quick round-up of ways to enjoy Table Rock Lake in the fall.
Ruth and Paul Henning Conservation Area
For a chance to enjoy unspoiled hidden Ozarks wilderness just a short drive south of Springfield, trek to Branson to visit the Ruth & Paul Henning Conservation Area. After you arrive at the parking lot, make the scenic overlook your first stop, and take in a gorgeously sprawling Ozarks vista. Then embark on a short hike to the top of the 40-foot lookout tower to see a panoramic view of the rolling White River Hills. There are plenty of hiking options at this 1,534-square-foot park. At Ruth & Paul Henning Conservation Area, you can find 5.6 miles of hiking trails that wind through steep hills covered with oak and hickory trees. Dispersed between the trees are a series of scenic glades and open desert-like regions that locals call balds. In fact, after the Civil War, an infamous vigilante group met on these balds and earned themselves the name "The Baldknobbers." Learn about the history of the land when you view historical ruins of homesteads while you are hiking. Francis Skalicky, media specialist for the Branson Department of Conservation, recommends giving yourself an early start to the day by waking up and driving to the conservation area in the morning to watch the sunrise from the parking lot of the scenic overlook. The overlook offers a postage stamp view of everything Branson ever was and everything Branson is today.
Insider's Guide to Outside