Life
Finley Farms Raises the Riverside Bridge in Ozark
The fully restored, historic Riverside Bridge is raised again at Finley Farms in Ozark.
by Jamie Thomas
Mar 30 2021 at noon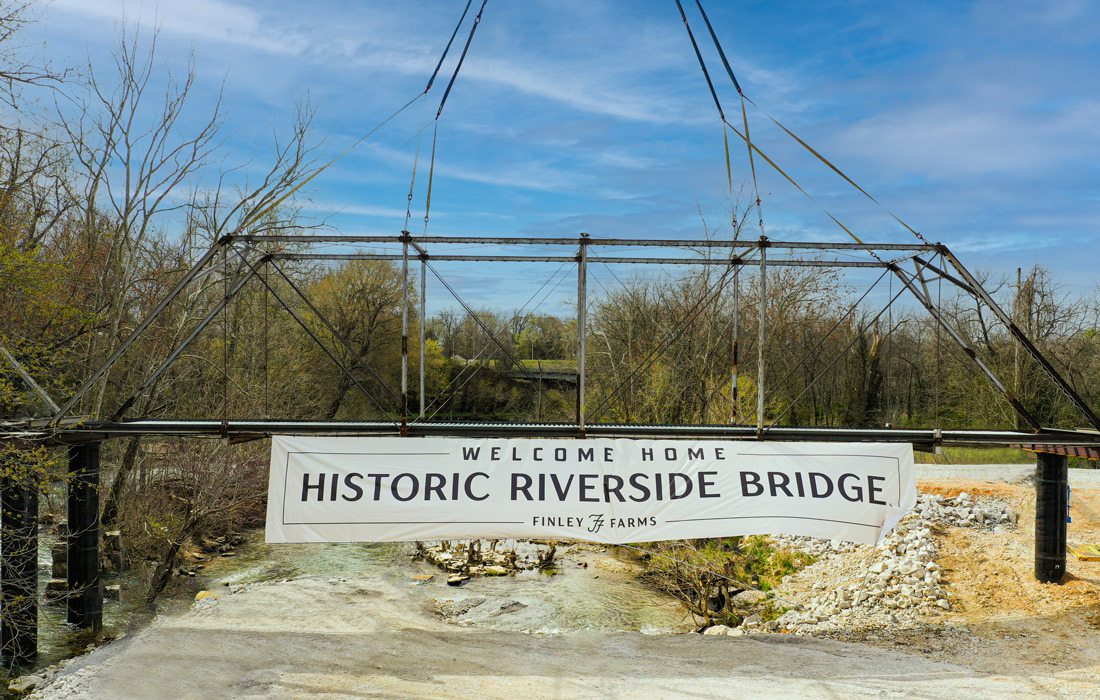 On Tuesday, March 30, Finley Farms announced the raising of the Riverside Bridge in Ozark, Missouri. The historic bridge was at risk of being destroyed by repeated flood damage but, thanks to grassroots efforts from a group of committed local figures and citizens, the structure has been saved. Thanks to conservationist and founder of Bass Pro Shops Johnny Morris, along with daughter Megan Stack, who serves as the driving force behind Finley Farms, the bridge has been fully restored and relocated. The bridge is part of a new planned space at Finley Farms that will include farm-to-table inspired dining and event options at The Ozark Mill. The bridge will also serve as a way to connect the community to the outdoors, as well as to the long and storied history of southwest Missouri.
"The Riverside Bridge holds so much history for the City of Ozark and the Ozarks region," said Megan Stack in a press release. "Finley Farms is a historic preservation project grounded in a celebration of community and craftsmanship, and relocating this iconic bridge is a fantastic symbol for what we aim to achieve here. We're grateful for the hard work and passion of the community members who worked to preserve the Riverside Bridge so today could become a reality."

The bridge will serve as a foot bridge spanning the Finley River, connecting The Mill and the Chapel. 
"We envision many special events and intimate dinners taking place over the river on the Riverside bridge," Stack said. "When not in use for a special event, the community can enjoy  the bridge, which serves as a connector to the many wonderful local trails that we are blessed to have here in the Ozarks."
The bridge was originally built in 1909, after a record flood washed away the wooden bridge that had stood next to the Ozark Mill. The bridge was moved 1.5 miles in 1924, and closed for repairs in 2010. In 2015, a devastating flood damaged the aging structure even further, forcing a permanent closure.
In 2018, the bridge was award to the Morris family by a selection committee made up of the State Historic Preservation Offices, Ozarks Special County Roads District and Christian Countyafter, after a bidding process. The bridge was since disassembled and fully restored by the Nabholz Corporation and Great River Engineering.
Restoration efforts continue on The Ozark Mill, the focal point of Finley Farms. The Workshop, a community-focused coffee shop and craft space, opened in November 2019. For more information, visit finleyfarmsmo.com or facebook.com/finleyfarmsmo.