Reviews
We Review Nawab's Indian Cuisine in Springfield, Missouri
If you're a fan of Indian cuisine, Nawab's is Springfield, Missouri's newest restaurant that you have to try for yourself. In the meantime, here's Jorge Cespedes's review.
by Jorge Cespedes
Apr 01 2022 at 8 a.m.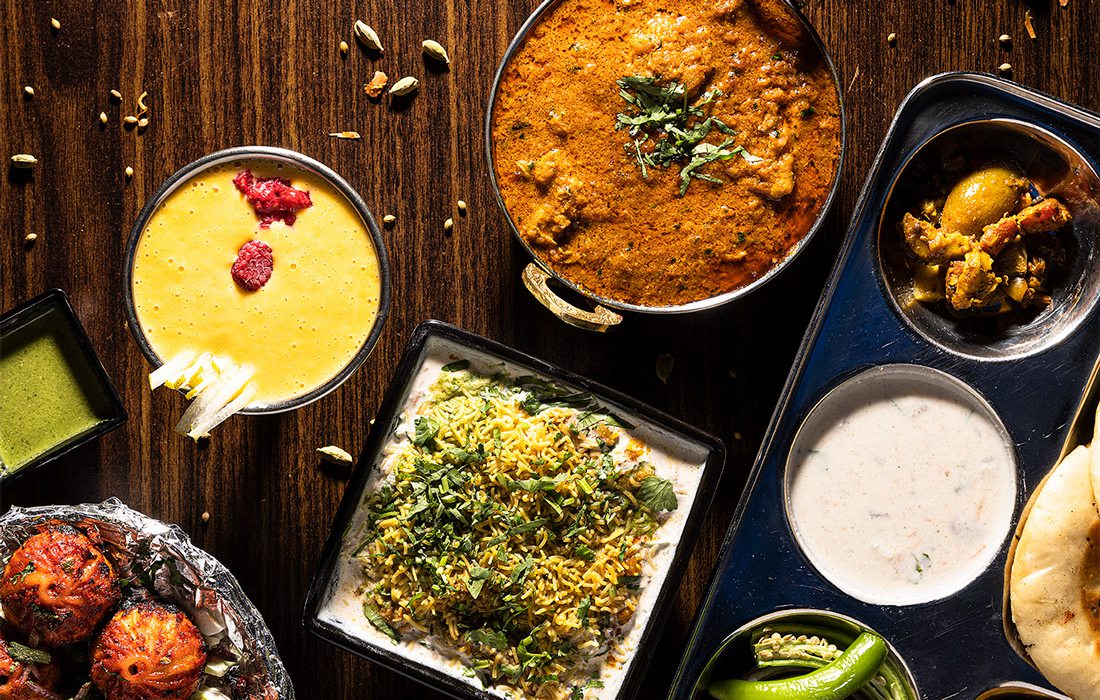 Are you a newbie to Indian cuisine or a total fan of the delicious flavors that it can bring in every dish? Whatever your situation is, you're in for a treat. It's richly varied with fresh natural ingredients, wholesome sauces and super flavorful spices. Imagine building layers upon layers of flavors and putting all of that into one dish.

Now, that brings up the topic of curry and what that means. Curry is not a specific spice but a blend of spices that end up creating a sauce, which can be of different textures, colors and completely different flavors depending on what part of Asia it comes from. Either way, any curry dish will be delicious and the newest player in town, Nawab's Indian Cuisine Tandoor Bar, is here to help us navigate this amazing world.

The restaurant, located at the Kickapoo Corners Shopping Center on South Campbell, is decorated with waves of colors, textures and unique cultural pieces. One wall has more than a dozen small beautifully decorated umbrellas with patterned beads and colorful fabrics that make your imagination play with the idea of twirls, parties and great dance stunts. Others have images of ingredients normally found in Indian cuisine such as cardamom pods, paprika, cloves, dry nuts and much more. Once seated, indulge in some cold Indian beers while looking through the extensive menu.

This menu will be a little overwhelming at first with lots of options to choose from but don't worry, just take your time and read down each segment and try to picture what your overall experience will be. I recommend you explore little bits and pieces of each segment to really get ahold of all that Indian cuisine can be. They have a traditional appetizer list, and an interesting section of the menu called From the Streets of Delhi. That immediately jumped at me because of how trendy street food has become in the last few years. And street food normally offers fun and unexpected items. The other cool section of the menu is called Indo-Chinese, and it offers several dumplings plus a few noodle dishes.

You can imagine I had to order from those sections to start the meal, so I started with the Indo-Chinese segment and ordered the Murgh Momos (dumplings) with minced chicken and Indian spices and they did not disappoint at all. They were delicious, flavor-packed and so fun to eat. Then, I had to explore the Delhi street food and order the Bhalla Papdi Chaat, delicious fried lentil fritters with crispy crackers dunked in creamy yogurt, mixed with Indian spices, topped with mint and tamarind chutney then garnished with cilantro and pomegranate; just imagine what all these flavors put together can taste like—and once you've done that, multiply it several times and you'll be there.

Entrée-wise, I had to try one or two curries because it tends to be the specialty of this style Indian restaurant. I started with a chicken dish called Murgh Rogan-e-Josh that's just so tasty, made with boneless chicken, cooked in an onion sauce and flavored with fennel seeds and a touch of yogurt. Then I had to move onto one of my favorite meats ever, lamb, and I went for a dish called Hara Bhara Lamb, which is made with tender pieces of lamb cooked with lots of spinach and a spicy cream sauce. Two delicious and totally different flavors and dishes. Oh, and don't forget trying one or two of the many naan bread options.

Let's wrap it up with a small dessert and in this case, I tried the mango ice cream made with milk, mango, saffron and cardamom as a fantastic small, sweet bite to finish. This restaurant has so much to offer, it will take many flavorful visits to experience it all.