Gardening
Sunflower Festival Begins to Bloom
Golden Grove Farms' Sunflower Festival kicks off July 17. Family-friendly atmosphere meets beautiful venue as attendees cut their own flowers, participate in games and crafts and listen to live music nightly.
By Jennifer Johnmeyer & Abigail Blaes
Jul 09 2018 at 8 a.m.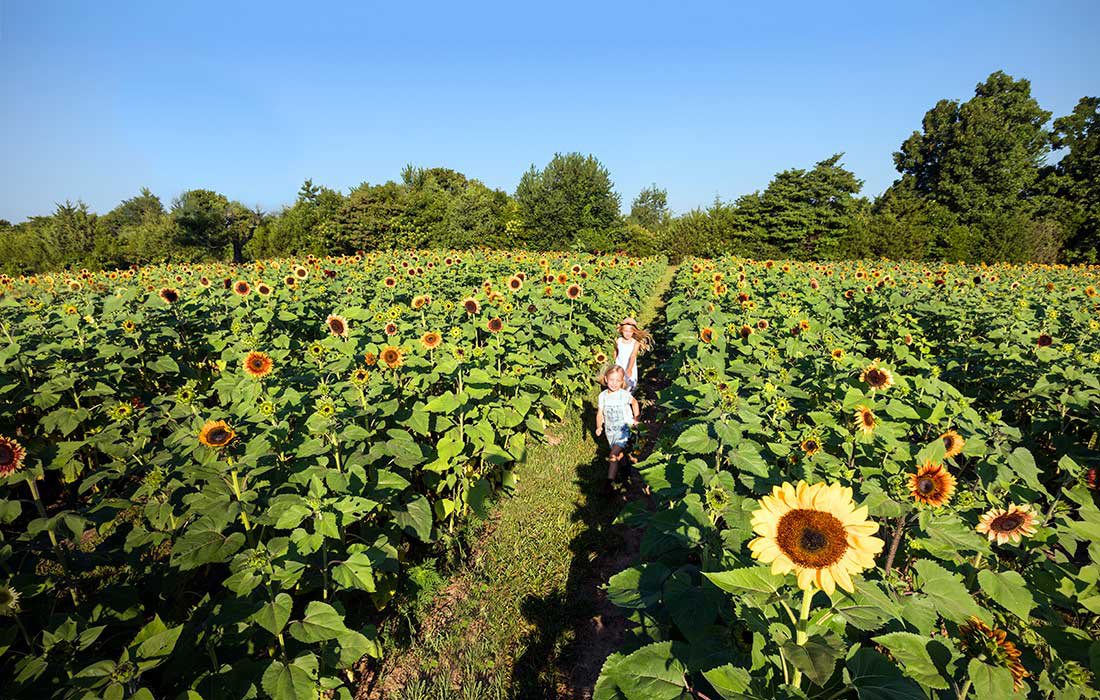 We Midwesterners consider certain icons to be staples of summer living. We all know the music that signifies the impending arrival of the ice cream truck. Baseball, sprinklers, outdoor music, barbecues and fireworks are also old, familiar friends. But few things compare to the visual, living splendor of a freshly-bloomed field of sunflowers.
Enter Kelley and Nelson Nichols, owners of Golden Grove Farms (4950 E. State Hwy. KK, Fair Grove). Pre-farm, the couple had two goals: to find projects they could work on together, and to have something to focus on after retirement. When they married, Nelson owned a worn ranch house with six acres in Fair Grove. Kelley's creative eye saw the land and envisioned a splendor that could achieve their dream. 
And that vision bloomed. In 2014, Kelley and Nelson began growing sunflowers, selling them at produce stands around Springfield. The initial success bolstered their resolve to create something greater, and the sunflower festival concept was born.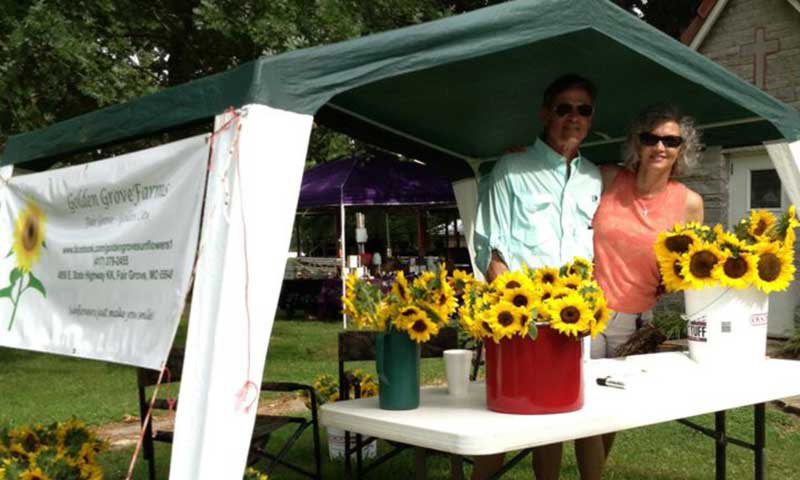 Why sunflowers? "Sunflowers just make you smile," Kelley says. Who can argue that logic?
Nelson and Kelley are hoping to make this year's sunflower festival bigger and better than its inaugural year. The sunflower festival starts Tuesday, July 17 and run through Sunday, July 22. The week features a surplus of musical guests, local art, take-home items, henna, photo opportunities, activities for the kids, and vendors.
Gloves, pruners and baskets are provided to cut the flowers. The Nichols encourage festival-goers to bring along buckets with water to get the flowers home in mint condition. A potting bench provides an ideal spot to bundle your flowers with rubber bands, or you can grab a vase and create your arrangement before you go. 
You can bring your own meals and drinks each day, but if you're wanting a quick snack, a soft drink, or a meal, Golden Groves is happy to provide. There will be snacks and drinks for purchase throughout the event. You can also purchase a pulled pork dinner on Thursday evening to support Kadyn's Krew and the Cystic Fibrosis Foundation.
Each day features musical guests and a beautiful view of the sunset. Booked musicians include The Shandies, The Detours, The David Dove Band, Uke 66, Emma Bennett, Amy Marrone and Charles Curless. Artists play daily from 6 to 8 p.m. Keep an eye on Golden Grove's Facebook or website for updates.
Calendar of Events
Every day features food, sunflowers, local art, souvenirs and live music.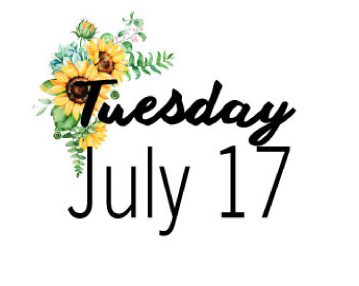 The David Dove Band performs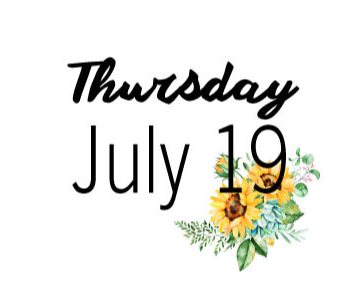 Emma Bennett performs

Kadyn's Krew Cookout
Amy Marrone and Charles Curless performs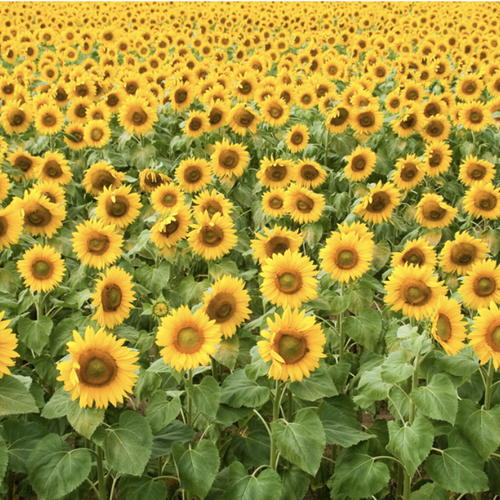 More Summer Sunflowers
Sunflower Hill Farm
245 Terry Road, Augusta
If you're wanting to explore these field, don't be surprise if you run into a wedding party. Sunflower Hill Farm is a beautiful scene for special events.
Grinter Farms
24154 Stillwell Road, Lawrence, Kansas
Follow them on Facebook to find out when the flowers are at their peak. Usually it's in early September. Flowers are $1 each.
Crighton Family Farms Sunflower Field
452 E. New Melville Road, Willard
This working farm is a good place to take pics, but don't pick the flowers!
Garbee Sunflower Field
Highway 14 between Billings and Clever
It's another great photo op, but be sure to leave the flowers where they are.