Gardening
Sunflower Festivals and Farms
Family-friendly atmospheres meet beautiful venues as attendees cut their own flowers, snaps selfies, participate in games and crafts and listen to live music nightly at these sunflower festivals.
By Jennifer Johnmeyer, Abigail Blaes and Jo Everhart
Aug 01 2021 at 8 a.m.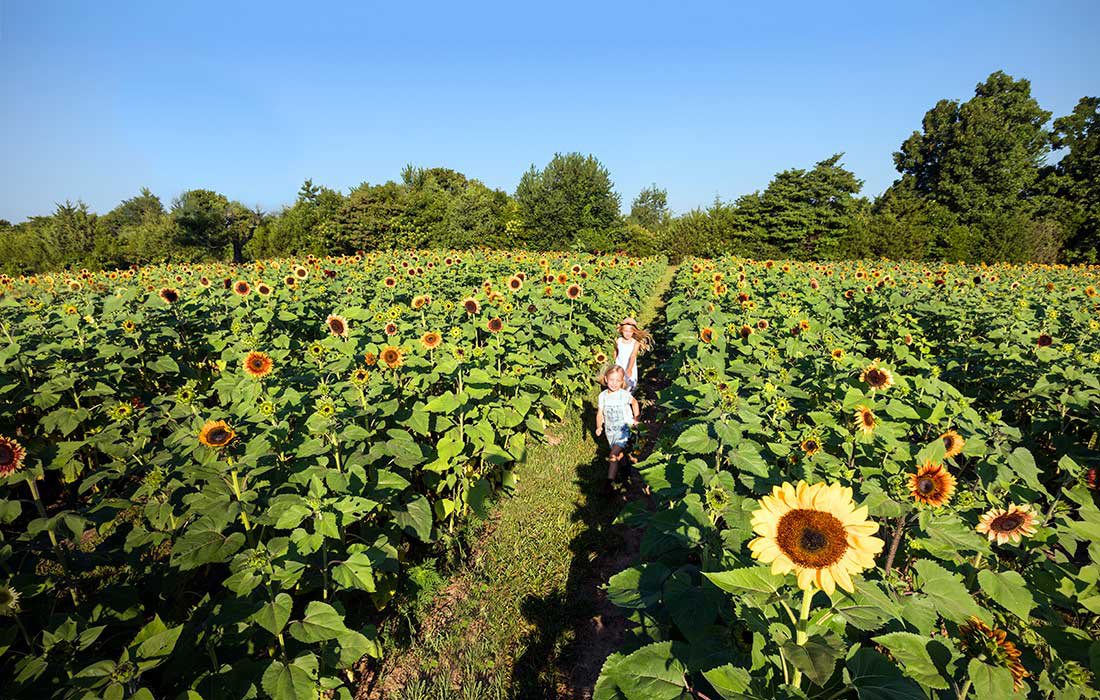 This article has been updated with new event information for 2021.
After an excessively rainy spring, the sun is a decidedly welcome guest in 417-land as we rapidly approach the midpoint of summer. 
We Midwesterners consider certain icons to be staples of summer living. We all know the music that signifies the impending arrival of the ice cream truck. Baseball, sprinklers, outdoor music, barbecues, and fireworks are also old, familiar friends. But few things compare to the visual, living splendor of a freshly-bloomed field of sunflowers.
Enter Kelley and Nelson Nichols, owners of Golden Grove Farms. Pre-farm, the couple had two goals: to find projects they could work on together, and to have something to focus on after retirement. When they married, Nelson owned a worn ranch house with six acres in Fair Grove. Kelley's creative eye saw the land and envisioned a splendor that could achieve their dream.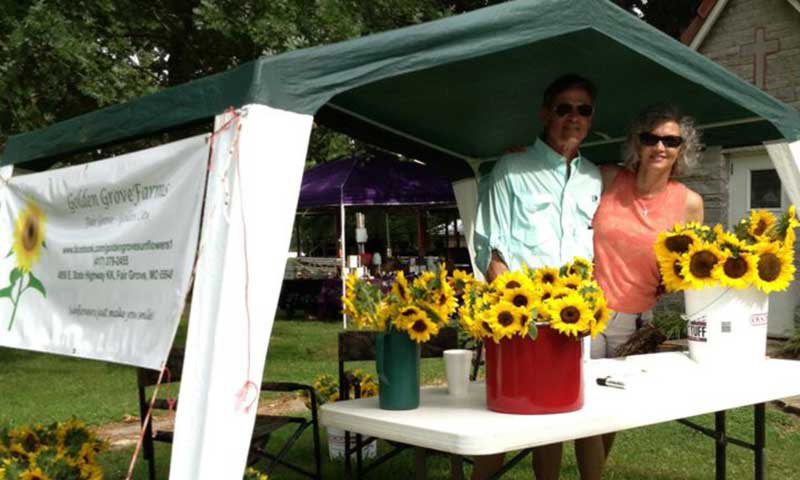 And that vision bloomed. In 2014, Kelley and Nelson began growing sunflowers, selling them at produce stands around Springfield. The initial success bolstered their resolve to create something greater, and the sunflower festival concept was born.
Why sunflowers? "Sunflowers just make you smile," Kelley says. Who can argue that logic?
Wednesday, July 28 marks the start of Golden Grove Farms' sunflower festival. The format provides something for everyone, and includes access to the sunflower field for perfectly curated social media posts, flower cutting, games and crafts for the kids, and shaded picnic areas. Gloves, pruners and baskets are provided to cut the flowers. The Nichols encourage festival-goers to bring along bucket with water to get the flowers home in mint condition. A potting bench provides an ideal spot to bundle your flowers with rubber bands, or you can grab a vase and create your arrangement before you go. Additionally, Nelson and Kelley are proud to raise funds the Cystic Fibrosis Foundation through the sunflower festival.
Picnic meals are welcomed, but should you forget the basket back home on the kitchen counter, no worries. Provisions on-site include beverages, chips, cookies, trail mix and ice cream. Interested in watching the sunset on a field of flowers? You can do that, too, and enjoy live music while you do so.
Booked musicians include The Shandies, Uke 66, George Lenzi, Scott Duncan, The Missing Man Trio, Amy Marrone and David Hinson. Artists play daily from 6 to 8 p.m. Keep an eye on Golden Grove's Facebook for updates.